EVGA Wants Your Old GeForce4 ACS and ACS2 Video Cards
---
---
---
Ron Perillo / 3 years ago

EVGA wants to take a trip down memory lane. After all, they have introduced many innovations throughout the years. Many of which are still in use today. One of which is the "blower" style fan, as well as the heatpipe heatsink design on a graphics card. Specifically, these are the GeForce4 video cards using the Asymmetric Cooling System (ACS). The first is the GeForce4 MX 440, introduced in February 6, 2002. The other is the GeForce4 4600Ti launched a month later on March 1st, 2002 using ACS2. In fact, they are feeling nostalgic about these that they are willing to part with 1,000 EVGA bucks for users who own these cards in their collection.
ACS and ACS2 History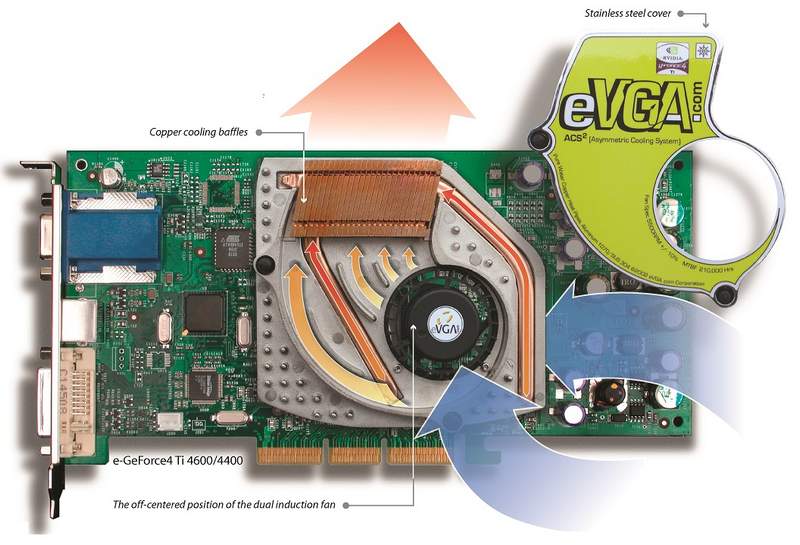 The Asymmetric Cooling System was made as a serious attempt to improve video cards are cooled. While it is easy to overlook now, the idea of slapping a big heatsink on a video card was unheard of back then. With the ACS, the much larger heatsink provides a larger surface area for heat dissipation. The blower style fan which is off-centre from the GPU was able to push the hot air from the copper heatpipes away. It is basically the forefather of the current generation EVGA ACX and iCX cooling systems.
The ACS2 improves upon the first design because it was necessary. The GeForce4 Ti 4400 and Ti 4600 were much hotter than other GPUs. Not only that, but the memory temperatures were also rising. Which is why the ACS2 is larger. It allows for a greater surface coverage for the components. With the use of three copper heatpipes, heat also moves faster away from the components.
Contest Rules
If you have one of these ACS or ACS2 cards, then EVGA will pay 1,000 EVGA bucks for it. EVGA bucks is the virtual currency used as a gift certificate on their online store. This is equivalent of exactly 1 buck, so 1,000 will get you some lovely piece of EVGA hardware. The only limitation is that the contest is available for a maximum of 3 ACS owners and 3 ACS2 owners. Which means if you have one of these cards, then better submit your information quickly to win.
Learn more and enter now at https://www.evga.com/articles/01177/