Explosion Shakes Cape Canaveral As Falcon 9 Rocket Explodes on Launch Pad
---
---
---
Alexander Neil / 5 years ago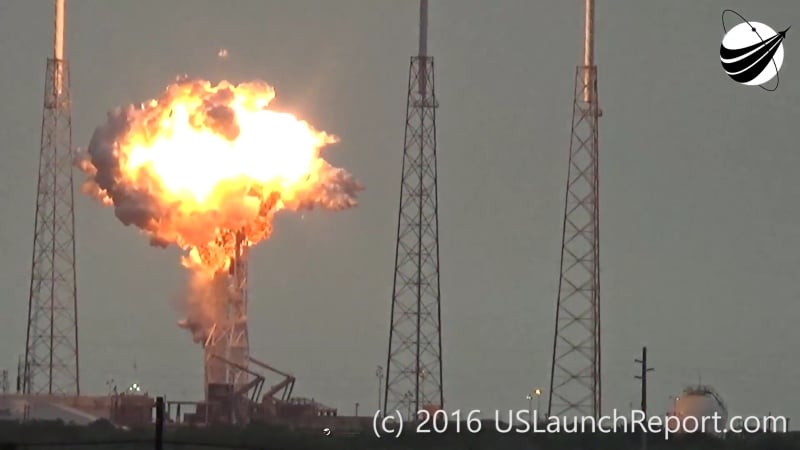 On Thursday morning one of SpaceX's Falcon 9 rockets exploded on its launch pad at Cape Canaveral's Air Force station during a routine test-firing in preparation for Saturday's delivery of a communications satellite into orbit. The blast was large enough to shake buildings over a mile away with a huge plume of smoke rising above the complex. Reports suggest that despite the scale of the explosion, no one was hurt in the incident which SpaceX state was an "anomaly" while the rocket was having fuel loaded.
The payload that the rocket was due to launch on Saturday was an Israeli-built Amos-6 satellite, created as part of a collaboration between Facebook and Eutelsat, that was destined to deliver broadband internet coverage to sections of sub-Saharan Africa. Unfortunately, this was also lost in the blast with Facebook's founder Mark Zuckerberg stated that he was "deeply disappointed" to hear that it had been destroyed. He also stated on his Facebook account that "we remain committed to our mission of connecting everyone, and we will keep working until everyone has the opportunities this satellite would have provided."
SpaceX has released a statement on the incident, explaining that "the anomaly originated around the upper stage oxygen tanks and occurred during propellant loading of the vehicle." They continued to state that "as per standard operating procedure, all personnel were clear of the pad and no-one was injured. We are continuing to review the data to identify the root cause." The company's founder Elon Musk posted on Twitter that the cause of the incident was still unknown, however, said that there would be more information on it released soon.
Loss of Falcon vehicle today during propellant fill operation. Originated around upper stage oxygen tank. Cause still unknown. More soon.

— Elon Musk (@elonmusk) September 1, 2016
It is definitely unfortunate to see such an incident happen, both due to the loss of the communication satellite that would provide a remote part of the world with internet connectivity, but also because it puts SpaceX's future launch schedule in jeopardy. With the first of the recovered boosters scheduled for a relaunch in October, we can only hope that SpaceX resolves the root of the problem and ensure their launches continue to go ahead.