Failed GoldenEye 007 HD Remake Footage Discovered
---
---
---
Ashley Allen / 5 years ago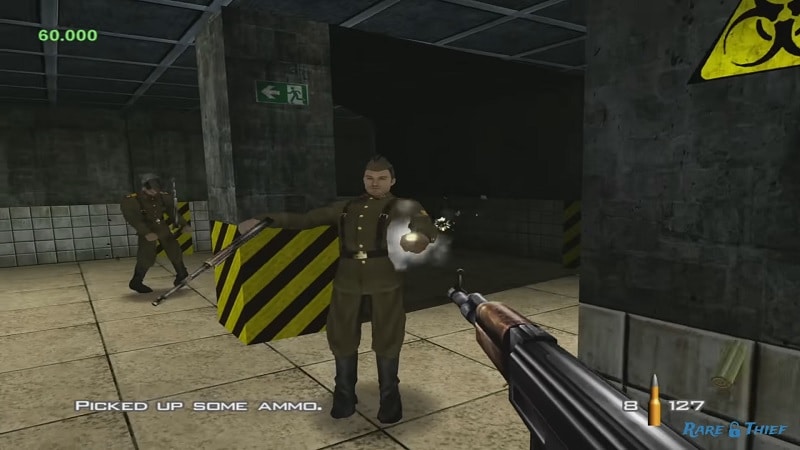 Nearly a decade ago, game developer Rare was developing an HD remaster of its 1997's classic Nintendo N64 first-person shooter GoldenEye 007, which was abruptly cancelled before it was completed. For eight years, all evidence of the game remained buried, but now Rare Thief – a YouTube channel that specialises in revealing footage of cancelled Rare projects – has posted a video of its opening 30 minutes:
The remake collapsed – despite being close to completion – back in 2008 after Nintendo and Microsoft failed to reach a financial agreement to bring the game to Xbox 360's Xbox LIVE Arcade.
"That was a tricky one," Nick Burton, Senior Programmer at Rare, told VideoGamer at the time. "To be fair, I kind of wished that the differences got sorted out, but obviously there's the licensing issue for Bond, even if it's something that's already come out," said Burton. "It's incredibly hard to solve because there's so many licence holders involved. You've got the guys that own the license to the gaming rights now, the guys that have the licence to Bond as an IP, and there are umpteen licensees."
Even immediately following the cancellation of the GoldenEye remaster, Burton was sceptical that the game would see the light of day.
"The ball's not in anybody at Rare's court really. It's squarely in the license holders' courts. It's a shame. It's kind of locked in this no man's land. There's nothing on LIVE Arcade, there's nothing on Wii," Burton explained. "It's just what happens legally sometimes. Not necessarily with games, but you see it with music and films. Things get locked in this legal limbo. Even most of the parties involved, probably all the parties involved want to solve it. It's such a complex issue."
Eight years later, and this video is the closest we've gotten to seeing a release of GoldenEye 007 HD.