First Hyperloop Track to Start Construction Within Weeks
---
---
---
Ashley Allen / 7 years ago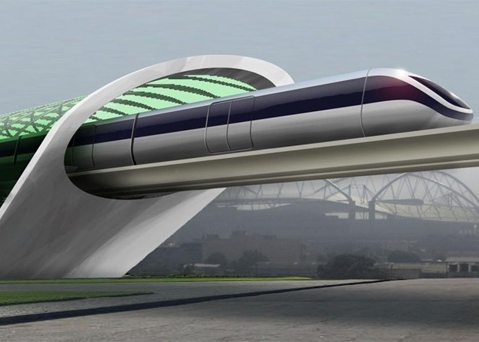 The first test track for Elon Musk's Hyperloop transportation system will begin construction in California next month, the project's Chief Operating Officer Bibop Gabriele Gresta revealed at the Transport to the Future in London event this week.
Speaking to Dezeen, Gresta hailed Hyperloop as "the closest thing to teletransportation," and said that "It will change completely humanity."
The brainchild of Tesla and SpaceX CEO Musk, Hyperloop is a transportation system based around magnetically propelling sealed carriages through vacuum tubes. Construction on the $150 million (£98 million), five-mile test track will begin in November in the Quay Valley region of California, estimated to take 32 months to complete, and aims to transport 10 million passengers during the prototype phase. The first testing period will involve firing empty trains through the Hyperloop tubes at speeds of 760 miles-per-hour. "We will crush every record on the ground," Gresta boasted.
"You can substitute the entire flight industry from Los Angeles to San Francisco with one tube, four times," Gresta added. "Now if this will not disrupt the air industry I don't know what will."
While the prototype will be built in the US, forming part of a proposed Los Angeles to San Francisco route, Gresta believes that the first commercial Hyperloop will likely be contructed abroad. He said, "There are other countries that are in a more advanced discussion phase and they have the political will, the lack of infrastructure, a high density of population and less regulatory problems to make it happen."
Image courtesy of Dezeen.