The First Rule of Rumblr is You Don't Talk About Rumblr
---
---
---
Peter Donnell / 7 years ago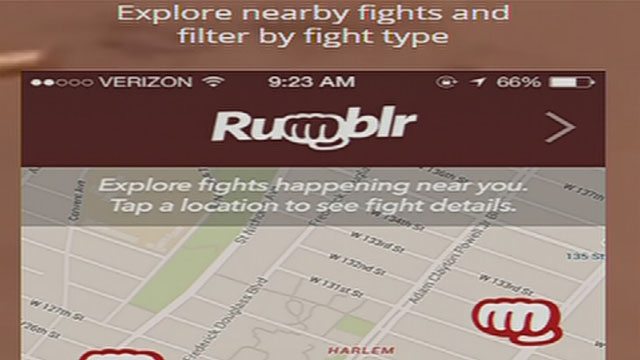 Whoops, I think I just broke the first rule of Rumblr, and no doubt the second and third rule too if we're following Fightclub etiquette. A new app has cropped up and much in the same way that apps like Tindr can hook you up with people you want to have fun with, Rumblr will help you find someone to punch in the face… no, I'm not joking; Tyler Durden is moving into the world of mobile apps it seems.
"We can't just ignore the fact that boys, men, they all fight. We've always fought for the life of humanity. So why can't we just provide them a way to do it more efficiently," said Matt Henderson, one of two self-described recreational fighters behind the Rumblr app.
Users of the app have their own profiles, can mark people they want to fight and if two people agree you can set a location, roll on down and beat the heck out of each other. Naturally, I expect this app is going to garner quite a lot of negative attention, but while I think the idea is a bit stupid, can we really judge the efforts of two consenting adults in this context? I'm seriously asking!
"We've always been recreational fighters since middle school," said Henderson. "Think of some athletic fighting. I mean, you're not trying to kill the other person, maybe you're trying to have a little testosterone orchestra."

"When you agree with someone, to meet and go out and get into a fight, something that can cause serious bodily harm and it's someone you don't know — that's a little more than a gamble. That's almost like playing Russian roulette," said Officer James Holmes, Phoenix Police Department.
Public fighting can get you arrested, and there are legal ways to get yourself a black eye through legitimate fighting sports.
"We're kind of all hands off after people meet," said Jack Kim, the second half of the Rumblr duo. "Beyond that we don't condone any specific type of violence and we do specifically state when you sign up, we're not legally supporting any of what you're doing here."
More than 78,000 people have signed up for beta testing of the app, which will be available within the next couple of weeks, with a public release in approximately two months.
So, would you give it a go, or is this one to set a few Darwin awards aside for?