Flash Memory Density Surpasses Traditional Hard Drives
---
---
---
Alexander Neil / 6 years ago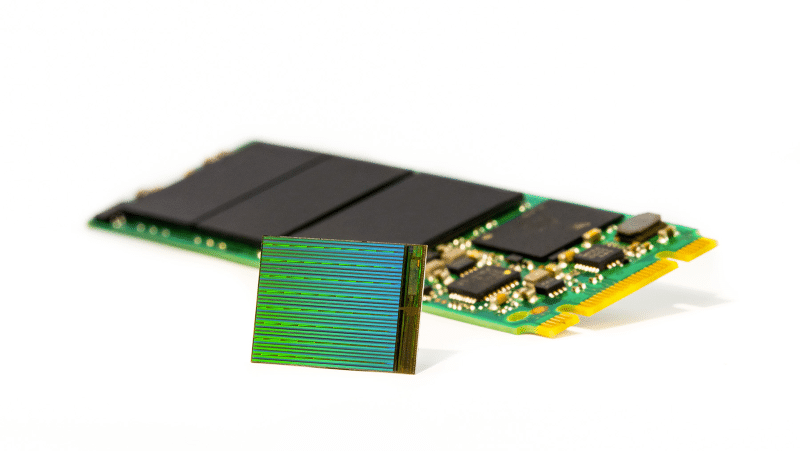 SSDs are most definitely on the rise, being the go-to source of faster boots and the best loading experience for software and games. Traditional disk-based hard drives have always continued to rule the domain of mass storage, having advantages over SSDs in both areal density and price per Gigabyte. One of these advantages is about to become history now, with Micron revealing at the 2016 IEEE International Solid State Circuits Conference that its NAND flash storage had areal density beyond that of hard disk drives.
Micron is far from the only company aiming to improve the performance and density of flash storage. SSD market leader Samsung revealed in 2015 that their flash storage offerings had as much as 1.19Tbits per square inch (Tbpsi), predicting that by 2016, this could reach as much as 1.69Tbsi. Micron's revelation of their 3D NAND technology had smashed the aims of Samsung, having reportedly demonstrated density as high as 2.77Tbpsi in their laboratory tests. This puts the 3D NAND head-and-shoulders above the densest HDDs around, which only offer around 1.3Tbsi, with many consumer drives offering as little as 850Gbsi despite using techniques like shingled magnetic recording to increase density.
Of course, many of the super-high density flash devices shown at ISSCC are definitely laboratory pieces and not consumer devices, SSDs that are on the market are definitely not far behind. Samsung announced last year that they had plans to release a 16TB SSD and Fixstars already offer a 13TB SSD costing a whopping $13,000. And while price per GB, HDDs still hold an advantage, the tables could be turned as soon as 2017, with the tumbling price of SDDs vastly outstripping the relatively stable price of hard drives.
What this all means is that the future could be bleak for the hard drive. With its main advantages of density and price set to vanish in the next few years, it is likely that we will see more and more SSDs appearing in both desktops and laptops. I for one look forward to the mass adoption of flash memory technology over the traditional hard drive as I doubt many will miss the times waiting for their hard drive to spin up or the painful sounds of their parts failing.
Image credit to Micron