All Formats UK Games Charts For December 23rd.
---
---
---
Peter Donnell / 9 years ago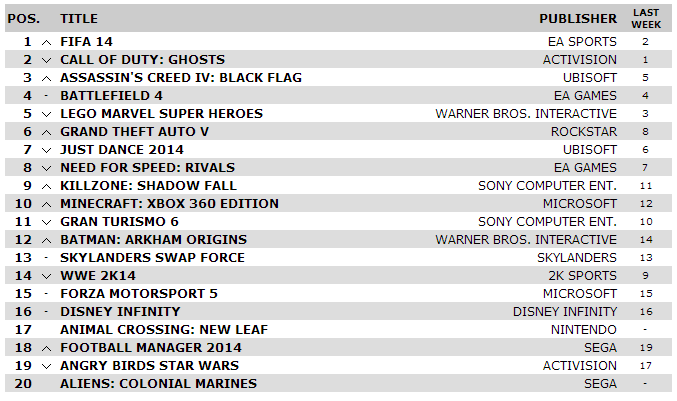 The Christmas frenzy is in full swing and last minute shoppers have made a big impact on the sales chart this week. Amazingly Aliens: Colonial Marines placed at 20th, no doubt due to some crazy discounts or unwitting consumers picking up a copy of one of 2013's worst received titles for a quick stocking filler. Even more incredible that Aliens: Colonial Marines making the charts is Angry Birds Star Wars, the fact that publishers had the audacity to put a free mobile game on to disc and charge £40 / $60 for it upsets me to no end, this should have been a couple of quid as a digital download at best!
There are plenty of big hitters in the charts too, including several next gen efforts such as the Xbox One based Forza Motorsport 5 in 15th place and Killzone: Shadow fall in 9th. Grand Theft Auto V take's the 6th spot up from 8th, Battlefield 4 holds steady in 4th.
the top three spots are no surprise overall, with Assassin's Creed IV still going strong, Call of Duty in 2nd place and Fifa 14 in first. I am impressed that Fifa hit the top spot and not Call of Duty, although PlayStation 4 Fifa bundles may have had a big hand in this.
What titles are you hoping for this Christmas, anything from the charts or do you have your heart set on something else?