Fractal Design Core 500 Mini-ITX Chassis Review
---
---
---
Peter Donnell / 7 years ago
Introduction
---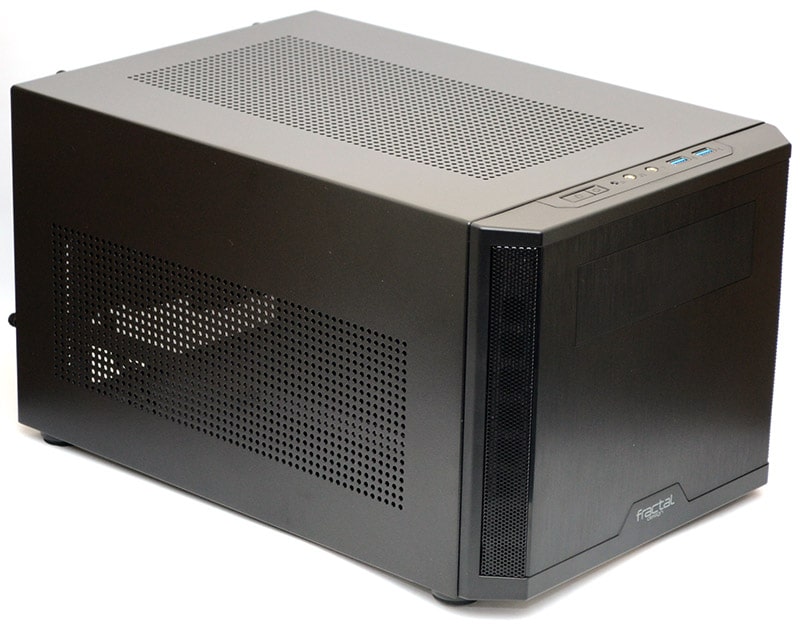 Fractal Design have a long history of creating high-end, very high-quality products, but in recent years they've also turned their attention to a more consumer friendly end of the market, with more affordable, yet still very stylish and well-made products, such as the Core 500 we have in the eTeknix office today.
"The Core 500 is the perfect PC case for those looking for a small, compact chassis that lets you build your computer without compromising on component selection."
Designed for mini-ITX motherboards, but still offering support for a large GPU, a standard ATX PSU and more, the Core 500 is bound to appeal to those wanting a compact workstation or gaming system. With prices around £50 here in the UK, it's also going to appeal to those who don't have a huge amount of money to spend on their chassis, leaving more of the budget to focus on better performing internal components.
Key features
Brushed aluminum-look front panel with a sleek, three-dimensional textured finish
Very compact case with a volume of only 19.5 liters
Extremely good water cooling support for its size, supporting radiators up to 280mm long
Smart drive bay placement allows you to fit up to three 3.5″drives, three 2.5″ and one 5.25″ drive simultaneously
Supports Mini-ITX motherboards, ATX power supplies and graphics cards up to 310mm in length
Supports tall CPU cooler towers, up to 170mm in height
Featuring a Fractal Design Silent Series R3 140mm rear exhaust fan for great cooling
Big magnetic filters for the side and top air intake together with a PSU filter ensures a dust free interior
There's certainly enough room for some high-end hardware in this chassis, with ample drive mounts, a 5.25″ bay and more.
Specifications
Mini ITX, Mini DTX motherboard compatibility; NOTE: motherboards with SATA ports that are angled 90 degrees may conflict with installation in the case.
2 expansion slots
3 – 3.5″ HDD positions
3 – 2.5″ dedicated SSD/HDD unit positions
1 – 5.25″ bay (removable)
CPU coolers up to 170mm in height
ATX PSUs, up to 170mm in length (non modular PSUs); ATX PSUs, up to 160mm in length (modular PSUs)
Graphics cards up to 310 mm in length (note: graphics cards longer than 170 mm will not fit with PSUs that exceed 170 mm)
Colours available: Black
Case volume: 19.5 liters
Case dimensions (WxHxD): 250 x 203 x 367 mm
Case dimensions – with feet/screws/protrusions: 250 x 213 x 380 mm
Net weight: 4.4 kg
Package dimensions (WxHxD): 285 x 335 x 450 mm
Package weight: 5.3 kg
What's interesting is that while the chassis does come fitted with an R3 fan in the back, you can still add more fans to the top, and even a decent size AIO cooler.
Rear: 1 – 120/140 mm fan (included is 1 Fractal Design Silent Series R3 fan, 1000 RPM speed)
Top: 2 – 120/140 mm fan (not included)
Water cooling compatibility (note: not compatible with AIO water cooler units that feature the pump on the radiator):

Top – 280, 240, 140 and 120 mm radiators. (Thickness limitation of 100 mm for both radiator + fan) (240 and 280 mm radiators require removal of the ODD bay) (280mm radiator can be maximum 325mm in length)
Rear – 120 mm radiator (not compatible with the rear 3.5″ HDD position)

Dust filters: Magnetic filters on side and top panel, PSU filter
First impressions of the chassis are positive, as it has a really good weight to it, feels pretty solid and as is always the case for Fractal Design products, it has a flawless black paint job and matching black plastic trim.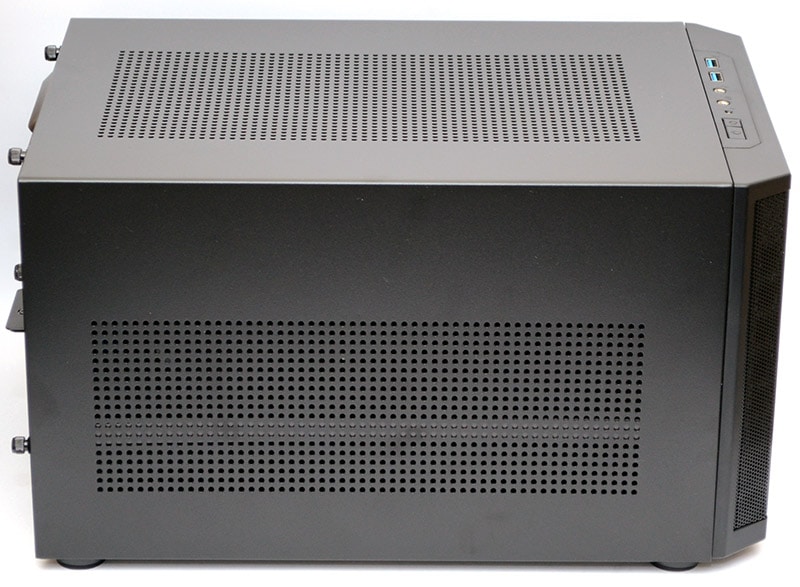 There's a huge strip of ventilation down the left side, perfect for airflow to your graphics card, and there's a little more ventilation on the right side, which is where your PSU will exhaust, as the PSU is mounted towards the front of the chassis.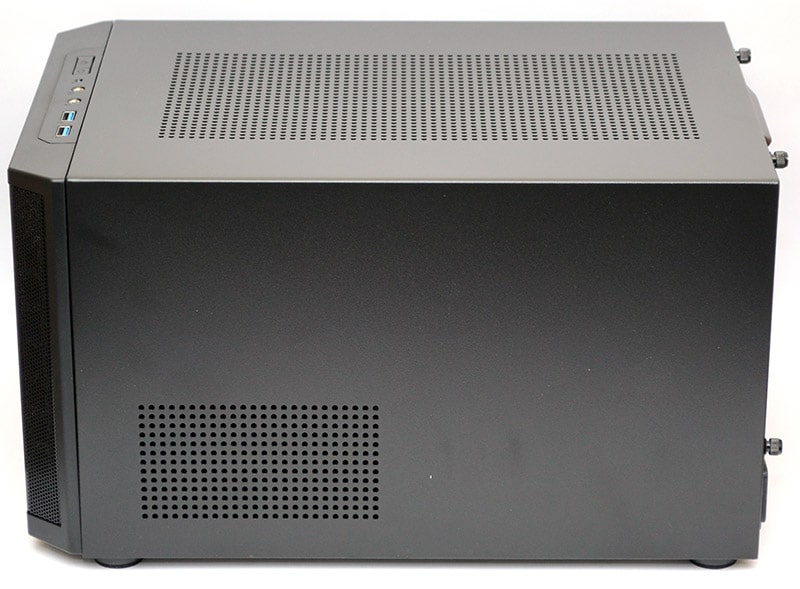 The front panel is fairly straight forward, with the 5.25″ drive bay at the top. Not a lot of people use the 5.25″ drive these days, but it's still nice to have one, especially on a chassis that's likely to end up under your TV. There's some ventilation towards the front, with a vertical strip on the left and right edges, which are angled to break up what would otherwise be a bland and boxey design.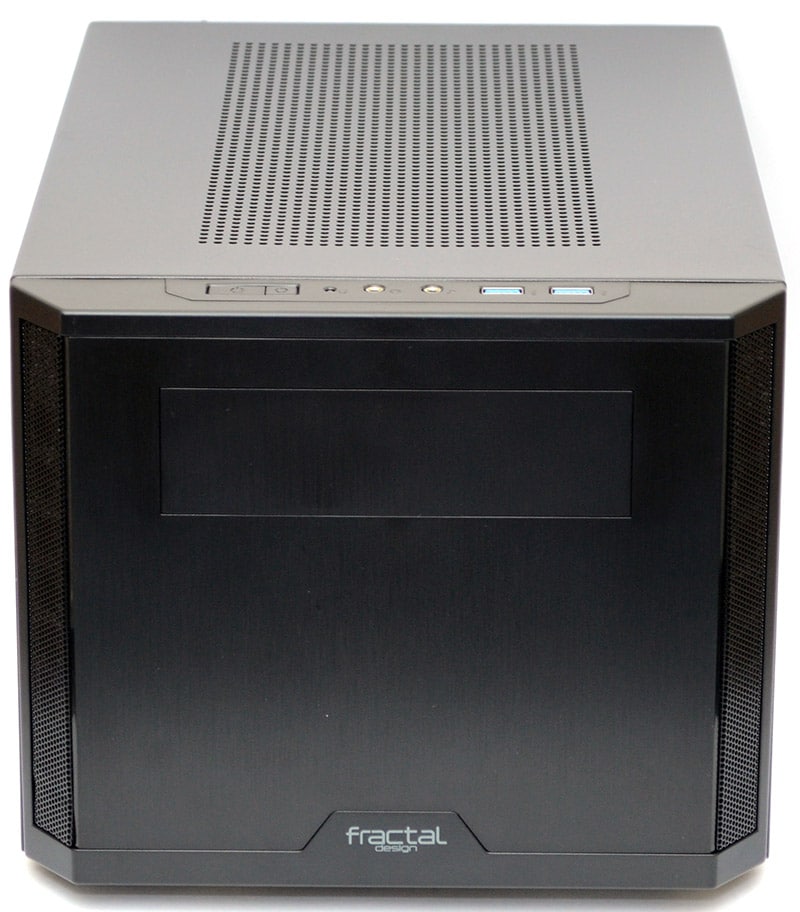 The front I/O has all the basics, with two USB ports for you flash pens, controllers or Wi-Fi dongle, as well as easily accessed audio jacks for your headset.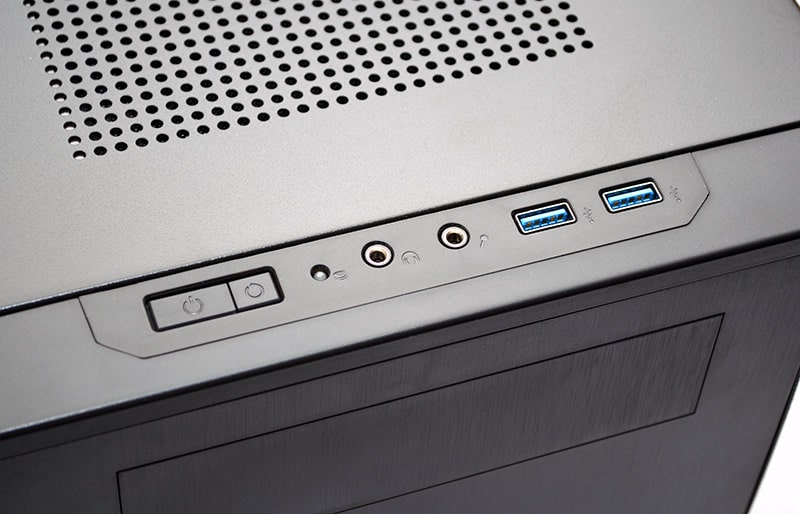 Around the back, you'll see there are four thumb screws holding the single piece left, top and right side panel component in place. The power cable pass-through is in the bottom left, which leads through to the PSU mount at the front edge of the chassis. There's a high-quality 140mm fan pre-installed, which is certainly a welcome addition, but there are optional 120mm mounts there if you need them. Finally, we have a pair of expansion slots which come fitted with reusable ventilated metal covers.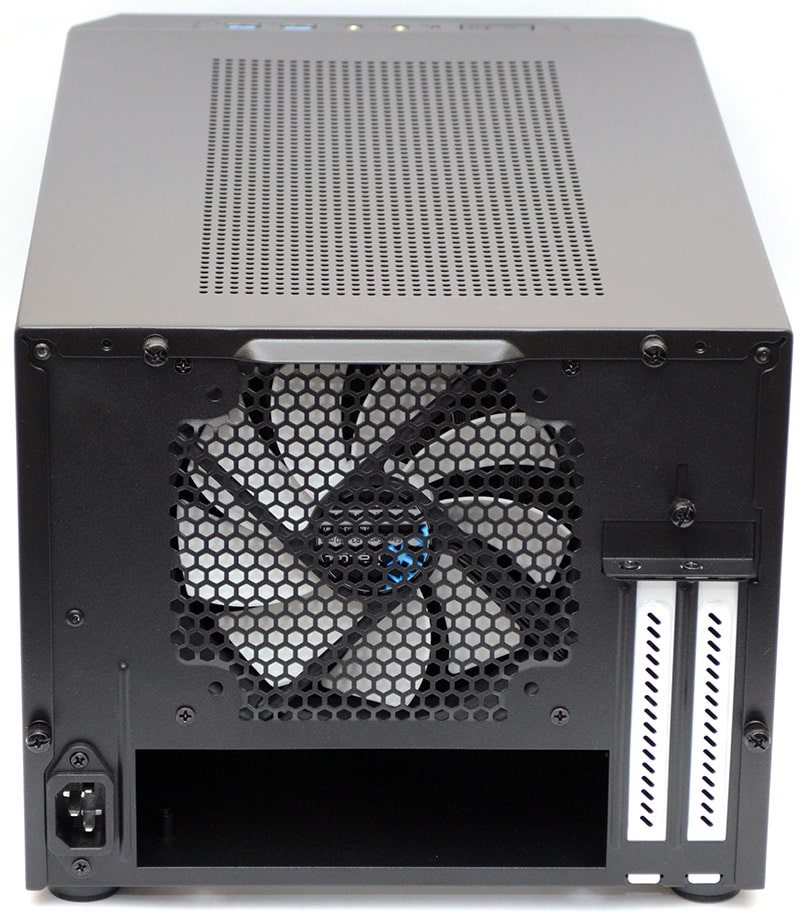 On the base, a slide out dust filter for the PSU, as well as four durable feel with anti-vibration/slip rubber washers on the bottom.