Friday the 13th Game Adds Surprising New DLC
---
---
---
Mike Sanders / 5 years ago
Spring Break DLC reveals Scantily clad councillors
Friday the 13th, the game, has it's problems. Scantily clad camp councillors, however, is no longer one of them. Yes, the Spring Break DLC brings the beach front fashions of 1984 to the Crystal Lake Camp. I am not certain that Jason Voorhees or his mother will approve.
When Friday the 13th originally launched, we reviewed the game and although you can read a more in-depth analysis here, it wasn't very good.
The game felt like a poor Dead by Daylight clone which, in my opinion, pitched for a franchise they never thought they would get and got crushed under the weight. While recent patches have improved the game, it does, still, have it's problems.
One of these problems was Camp Councillors, in their frustrating, having more fun in killing each other with the weapons rather than using them to combat Jason.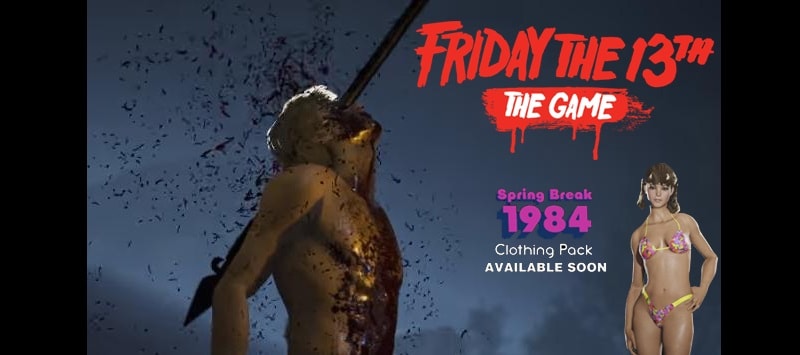 Oh you're just a Dead By Daylight fanboy!
Yes, I am, but I do not love it so much that I don't want variety. I sincerely want Friday the 13th to be a fun alternative and it simply isn't. In fairness, patches since the original release have fixed a number of the more frustrating issues, however, the game does still have problems.
To the last of my understanding, a significant drop in the community is one of them.
DLC such as this, certainly puts a fun spin on the game. I should note though, that these beach costumes are all you get. For $2 it's no more than a quirky perk to be different.
In regards to Friday the 13th, my position remains the same. This DLC does help bring a more fun nature to the game, however, unless it is for sale, it's not worth it at full price.
If you have been thinking about this game for a while, the Steam Autumn sale isn't that far off.
The steam page can be viewed here.