Futuremark Video Shows-Off Live DX12 Raytracing Tech Demo
---
---
---
Ron Perillo / 5 years ago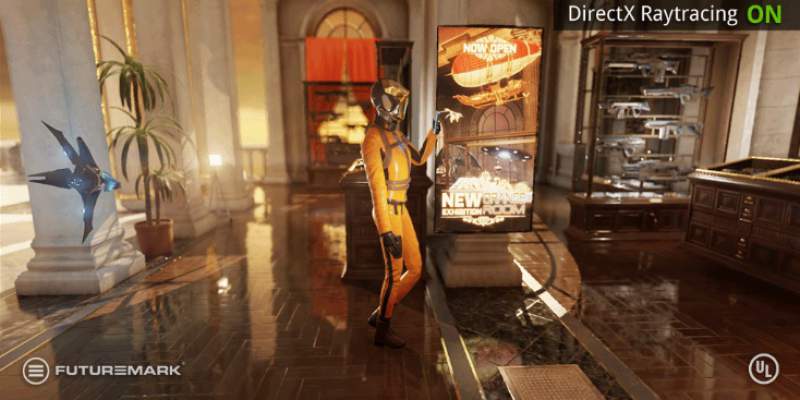 DirectX Raytracing Technology
GDC 2018 is in full swing, and with it comes the latest announcements from Game Developers and game technology. Futuremark took the opportunity to launch a short video demo showing off what they have been working on. It utilizes DirectX 12 Raytracing technology and what makes it even more impressive is that it is in real-time.
We have seen before how beautiful pre-rendered Raytracing graphics can look. Rendering accurate reflections in real-time is difficult. Plus. there are many challenges and limitations when using the existing methods. What Futuremark did however is to explore ways of combining DirectX Raytracing with existing methods to solve some of these challenges. The minute and a half long video below demonstrates how far along Futuremark's efforts have come:
The real-time demo has a lot of reflective surfaces, including a mirror which accurately renders the objects. More importantly, the lights are also bouncing accurately and reacting dynamically to the objects. This of course also affects the reflection on the marble floor, the glass on the display case and all other reflective surfaces.
Until now, these effects have been too computationally demanding for regular gaming GPUs. Especially for use in real-time games. Now GPU technology are advanced enough that it is now possible to use rasterization for most of the rendering. Furthermore, a smaller amount of raytracing to enhance shadows, reflections, and other effects that are difficult to achieve with traditional techniques are now possible as well.
When Can Gamers See This Technology in Action at Home?
Other than the video, users will soon be able to try out this demo for themselves. Futuremark intends to release a new 3DMark benchmark using DirectX Raytracing. The release date of which is expected to be sometime towards the end of 2018.
For more information on DirectX Raytracing technology, check out the most recent entry from the Microsoft Developer's blog.
Support eTeknix.com
By supporting eTeknix, you help us grow and continue to bring you the latest news, reviews, and competitions. Follow us on Facebook and Twitter to keep up with the latest technology, share your favourite articles, chat with the team and more. Also check out eTeknix YouTube, where you'll find our latest video reviews, event coverage and features in 4K!
Check out our Latest Video