G.Skill Ripjaws MX780 RGB Laser Gaming Mouse Review
---
---
---
Peter Donnell / 6 years ago
A Closer Look
---
The mouse is certainly attractive, at first glance I wouldn't think it out-of-place on Batman's utility belt. There's a lot of different materials and finishes gone on here, with grippy rubber on the side, soft-touch plastics on the top and a thick aluminium frame that gives it great strength and a lightweight construction.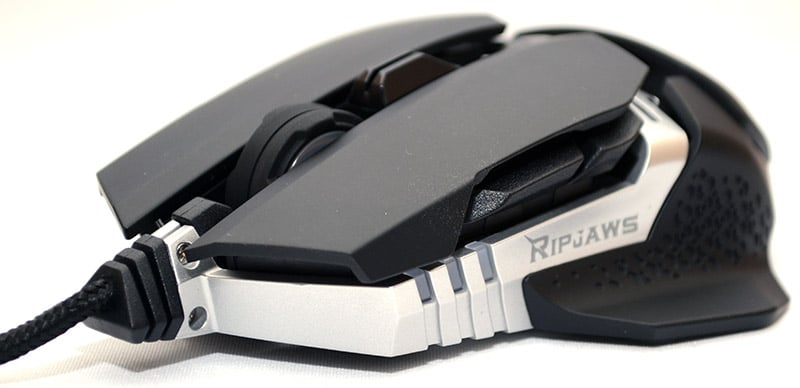 There's an L-shaped wing to the left side, giving your thumb a comfortable resting position, with two side buttons located slightly under the top panel which forms the LMB.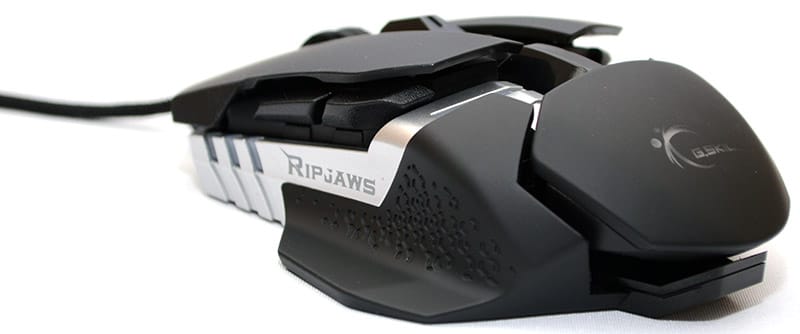 The right side of the mouse has the exact same design, albeit with a different grip being installed, but that's can be swapped out to turn the mouse into a left-handed version of its self.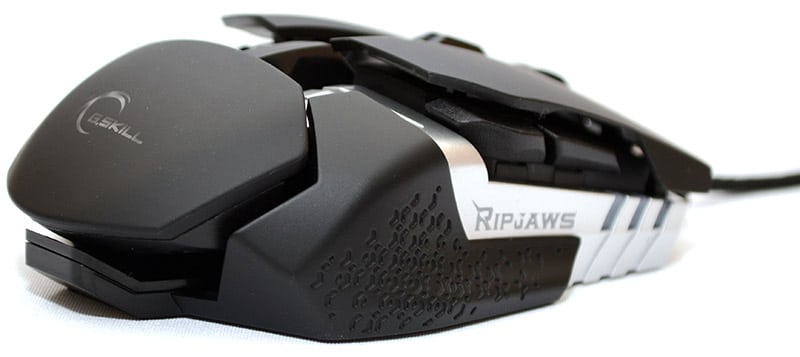 There are three small LED lights on both the left and right side, cut nicely into the aluminium frame, which looks pretty cool in my opinion.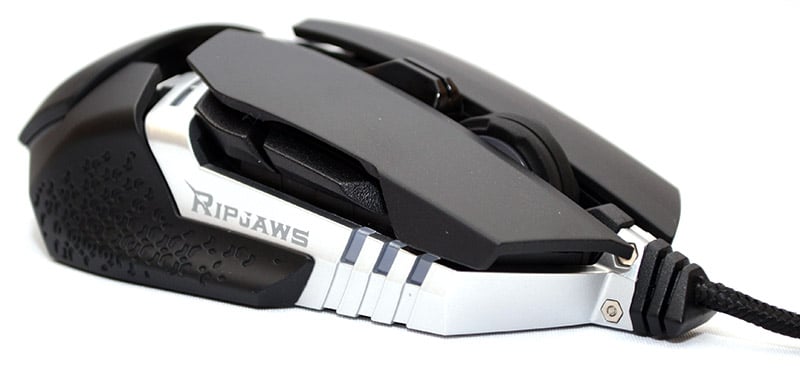 At the back of the mouse, an LED backlit G.Skill logo.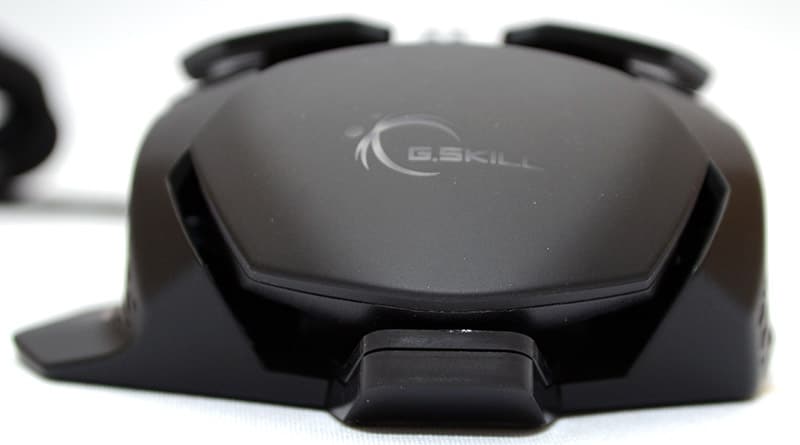 Four more lights sit between the base palm rest of the mouse and the completely separate LMB and RMB panels.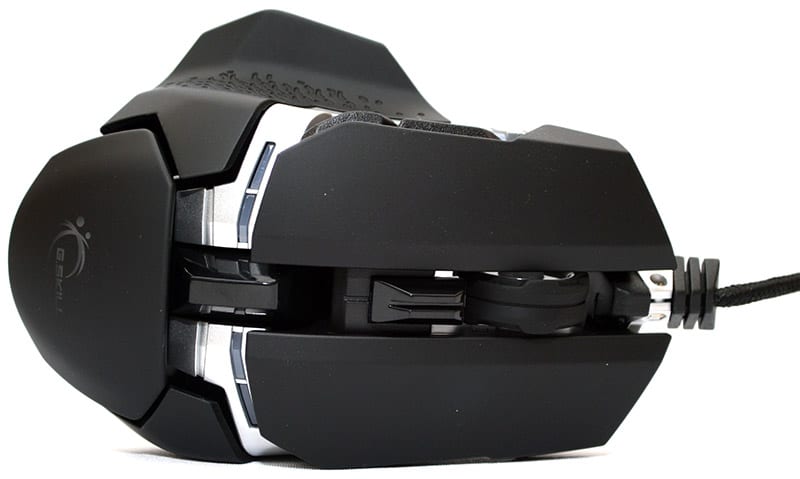 Flip the mouse over, we can see that the scroll wheel benefits from a cut-away, allowing the wheel to be as bit as possible without compromising on the depth of the mouse. There's a good amount of slipmats too, and having tested it, it glides like a light breeze over any quality gaming surface. There's also a small tool hole at the back, which can be used with the included Allen key; you'll see why in a moment.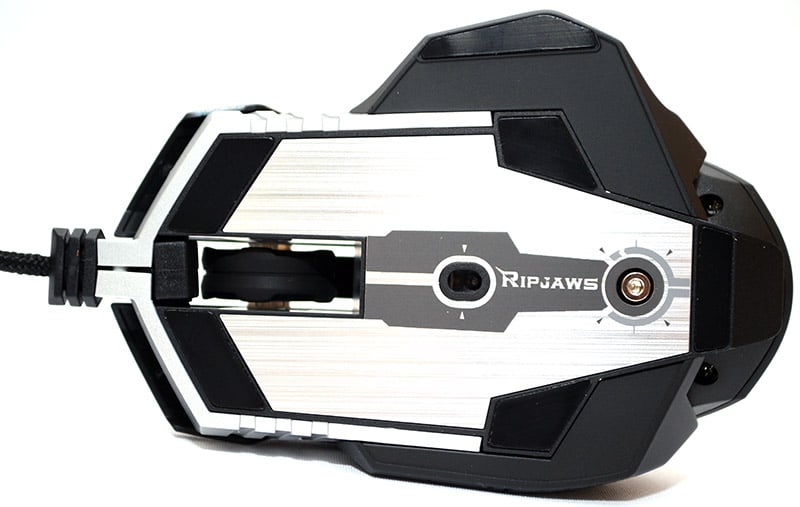 Here is the mouse in right-handed mode, looks pretty cool! The ergonomics are nice and wide too, lending well to both fingertip and plam-rest grip styles.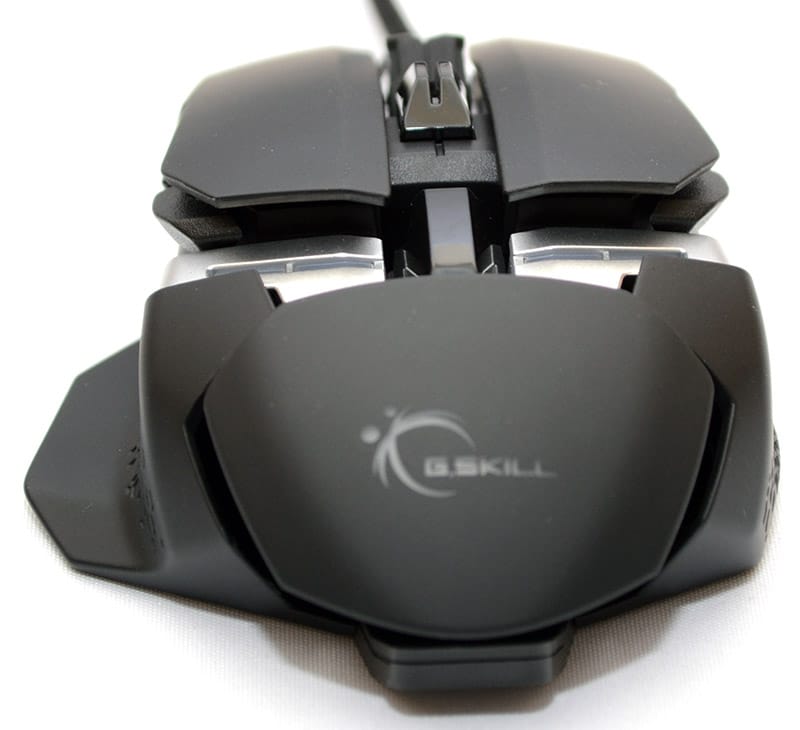 The panels are held in place with strong magnets, so they don't fall off when in use, but can be removed easily enough when you need to.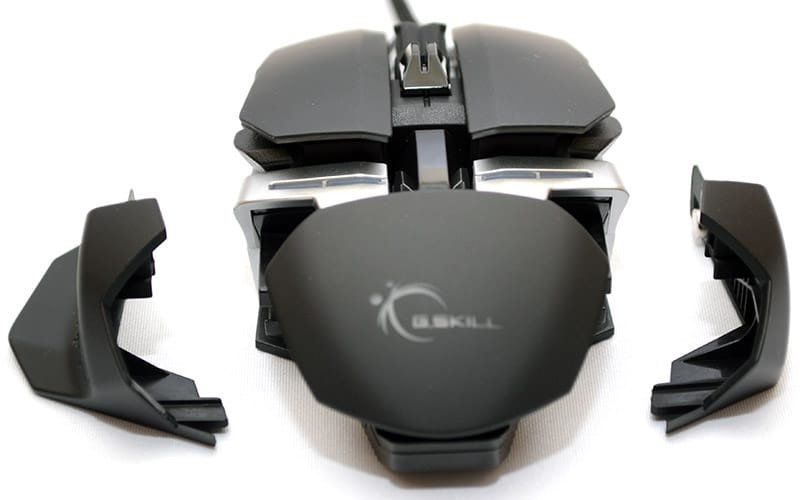 Then you can grab the spare set and quick-snap them into place; you know have a left-handed mouse!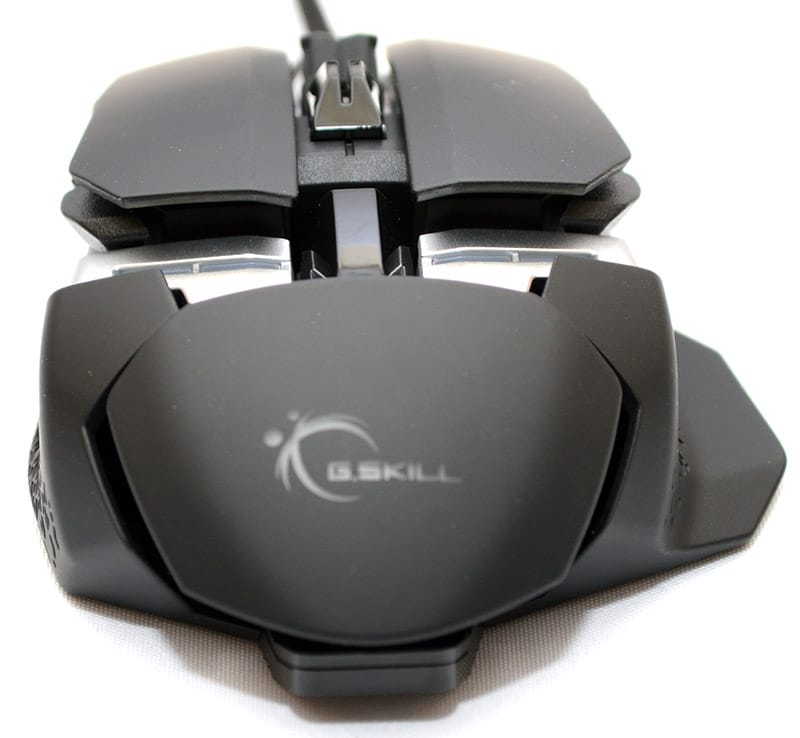 Not content with that level of adjustment? Pull off the side panels and you'll find a snug hole on each side of the mouse, perfect for fitting one or both of the 4.5g weights. That's not all we can do either, notice how the back of the mouse is sloping downwards?

Now we've got extra weight and the back of the mouse has been adjusted upwards.

This is great for fitting the mouse to your hand shape and grip style, light, heavy, high, low, left, right, so many easy to adjust options!

Of course, G.Skill aren't done with customisation yet, and with four-zone RGB lighting, you'll find a lot of tweaking can still be done to dial in your favourite colours.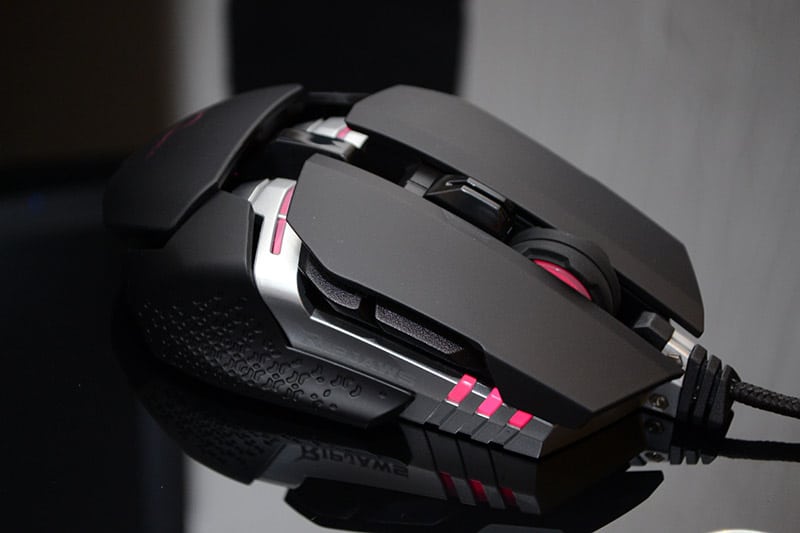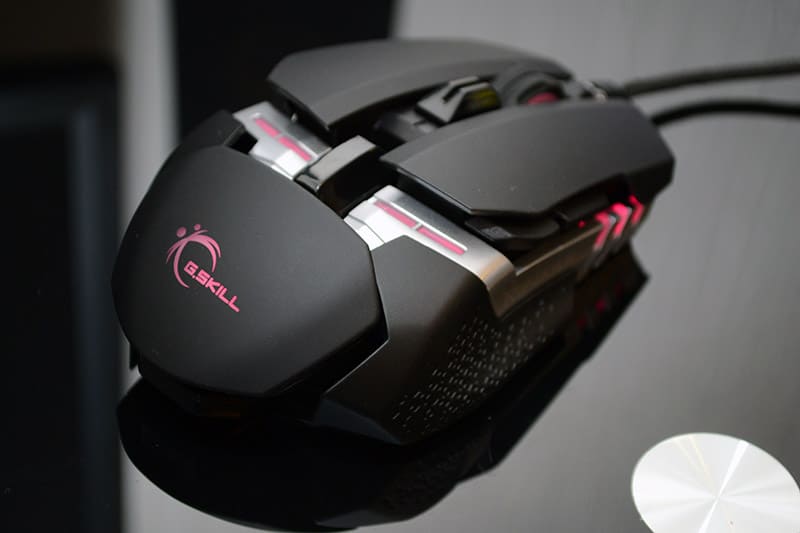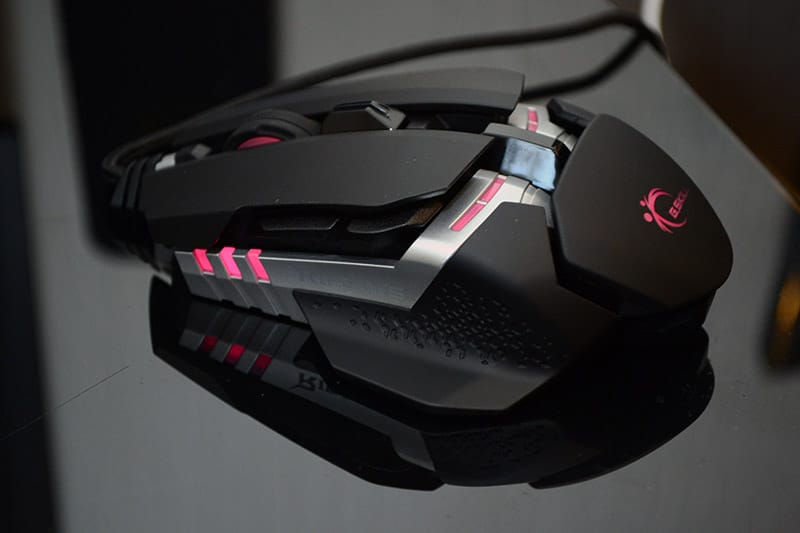 The software is nicely designed, with everything clearly laid out, giving you quick access to all of the important features.
All the switches are fully programmable, allowing you to set macros, shortcuts, DPI modes, sniper button, and more to any of them with ease. You can also set a full bank of settings to a profile and even swap profiles from the mouse via a shortcut, or even save the profiles directly to the mouse.
There's full X and Y sensitivity adjustment available, with DPI profiles that can be toggled between 1 and 5 levels via the software.
The RGB lighting is self-explanatory, with seven unique lights that can be set to any of the available colours.
It's not full-RGB (16.8 Million), but there are 24 options to choose from, which is more than enough choice for most.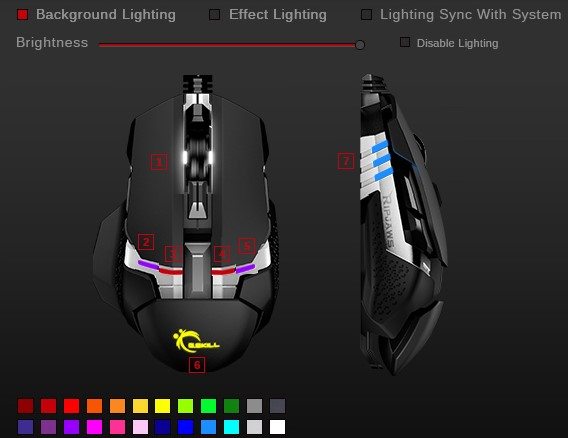 One thing I've noticed over the years is that laser sensors often suffer from jitter, especially at high DPI settings. However, the G.Skill mouse performed extremely well, giving silky smooth performance, even at 8200 DPI! How this is possible, I'm not really sure, but they may well have one of the best performing laser sensors I've ever tested, and I've tested a lot.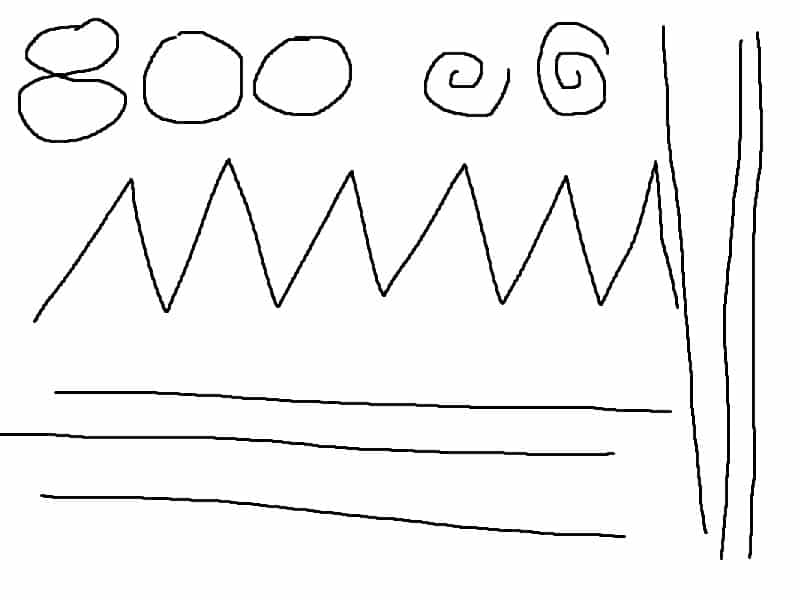 Gaming on this mouse is absolute bliss, the tight ergonomics profile you with a stable trip and the fast glide, as well as the smooth sensor, gives excellent precision. If you're playing a lot of FPS titles where mere pixels can mean the difference between a perfect headshot and looking like a noob, you're going to want this mouse.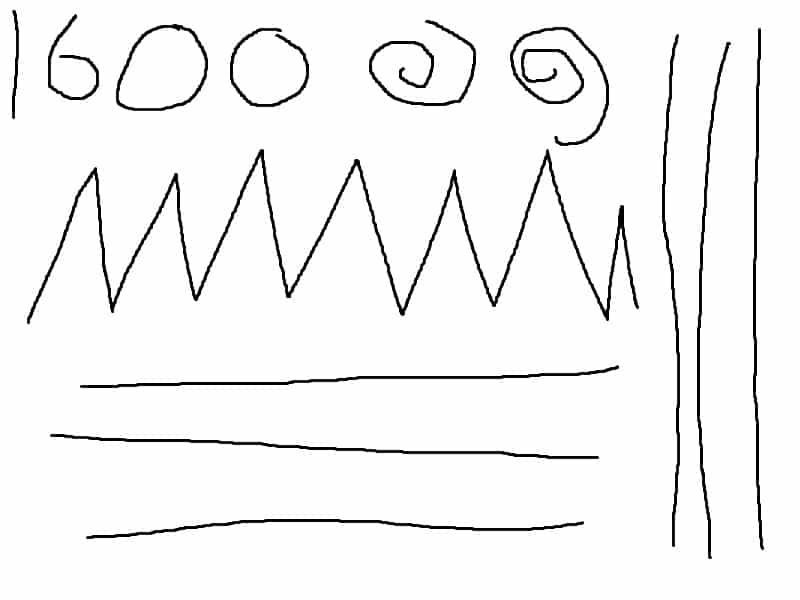 the programmable buttons are very handy, especially for MMO gaming, as you can still use both sets of side buttons, making profile switching and macros easy to deploy. Of course, there's also the benefits of the weight tuning systems and the adjustable ergonomics. I wasn't completely happy with the fit of the mouse at first, but I raised the back, added the weights and once setup, I was happy using this mouse all day and all night for work and gaming.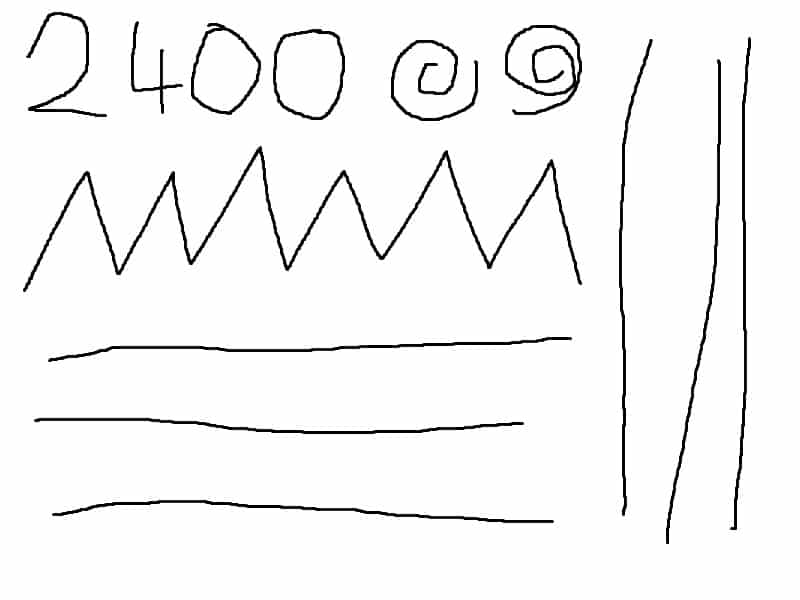 The switches are snappy and very responsive, great for firing off rapid shots, especially good for FPS gaming or a few frantic bouts of LoL.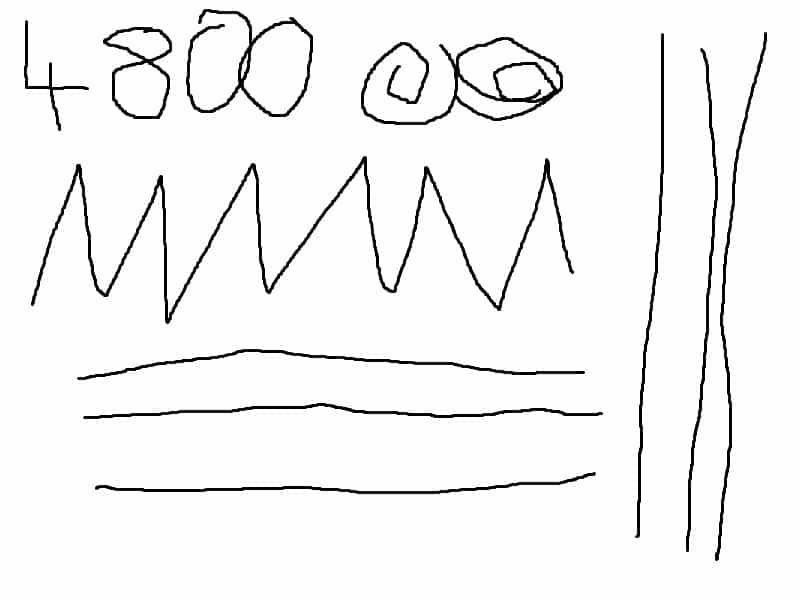 Most of all though, I love how adept this mouse is for day-to-day work, it's nimble and comfortable to use, making it a joy to use for editing work in Photoshop. However, when you want to switch up the profile and play your favourite games, it's every bit as capable as any other high-end gaming mouse and then some.