GALAX Unveils Single Slot GTX 1070 Graphics Card
---
---
---
John Williamson / 5 years ago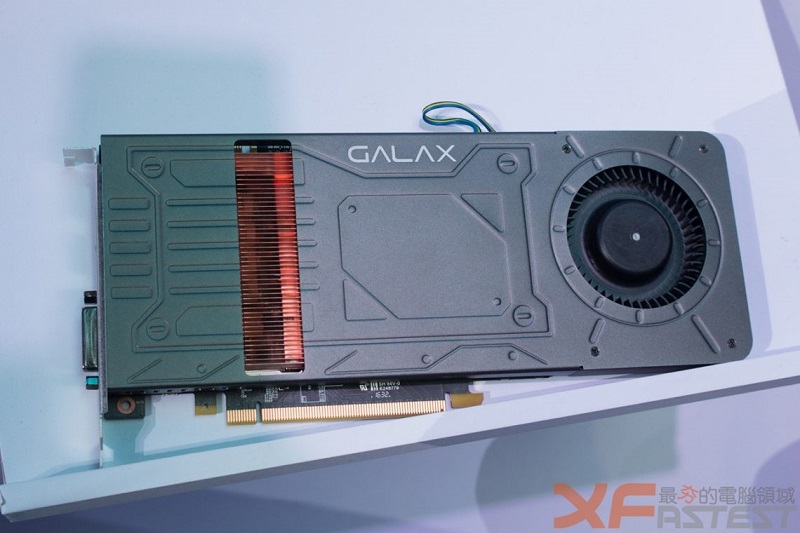 GALAX is already becoming an iconic name in the overclocking world and their graphics cards are often at the forefront of setting new world records. Popular models like the HOF Limited Edition have a stylish white PCB and been overclocked beyond 2.5GHz using LN2. The stringent chip binning and unbelievable power delivery contribute towards these incredible overclocks! Recently, at a GALAX event, a new overclocking world record of 3.0GHz was set on the HOF GTX 1060. Not only that, the company unveiled a brand new single-slot GTX 1070, the first of its kind. This particular graphics solution appears to house an HDMI 2.0b port, DisplayPort 1.4 and dual-link DVI-D.
On another note, the product requires a single 8-pin PCI-E connector and has side ventilation to improve airflow. I'm not overly fond of the trailing fan cable and hope this will be cleaned up for the final version. As you can see, the single slot card is tiny compared to GALAXY's more substantial designs. although this may cause the card to run hotter or to have weaker overclocking headroom. Despite being a blower design, the finish looks extremely high-quality and rather sleek.
The graphics card's custom PCB is much shorter than the reference design and extended due to the cooling fan. The lack of a backplate is to be expected due to the single-slot form factor which shouldn't weigh much or apply pressure on the PCI-E socket. From an aesthetics standpoint, a backplate would be advantageous and add a more premium feel. Sadly, there's no information regarding the core clock or boost but I'm sure these details will be revealed soon.
Are you a fan of GALAX's new single-slot GTX 1070?