Gamdias Hermes Gaming Keyboard Review
---
---
---
Peter Donnell / 8 years ago
Introduction
---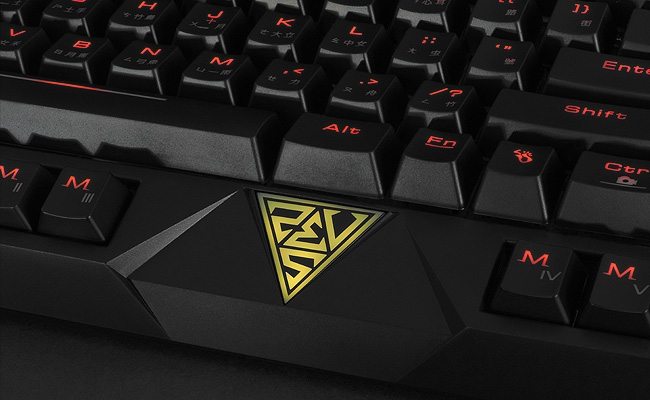 Gamdias are one of the newest players in the gaming peripheral market, and while they may have only been at this a couple of years, they've made some big impression with the laser like focus for creating awesome products. It was only recently we reviewed our first Gamdias product, the Hephaestus headset, and it's easily one of the coolest headsets we've ever tested. Today I'm hoping that Gamdias can create something as unique and innovative as the Hephaestus headset with their new keyboard, although initial impressions tells me they certainly can.
"Here at Gamdias, we strongly believe innovation plays a vital part of our success. The ability to still create gaming products that are unique and different in a crowded market is what drives us forward. Hermes mechanical gaming keyboard is a prime example of what Gamdias is trying to achieve, with all the features that you would normally see on a top of the range mechanical keyboard plus a few more pioneering features. The likes of 13 additional macro keys that are situated ergonomically on the keyboard that are suitable for both left and right-handed gamers. Furthermore, a rigid magnetic wrist-rest that also acts as a dust cover to prevent from food and drinks. Last but not least, the addition of Gamdias Element coupled with Cherry MX Blue mechanical switches bring Gamdias gamers 20% faster response time to dominate in any battlefields." – Gamdias.com
Gamdias take their gaming pretty seriously and they know many of their customers do too. They've crammed a lot of features into the Hermes and its got enough features to keep your average play at home gamers satisfied as much as it does the eSports elite.
GAMDIAS Element increases clicking speed by 20% and reduces keyboard clanking noise
Fully mechanical keyboard with Cherry MX Blue switches with 50 million click life cycle
32-bits ARM Cortex premium micro-processor offers superior computing performance
512KB on-board memory for keys and profile assignments
13 additional macro keys
Anti-ghosting with full N-key roll over
On-the-fly macro recording
Ergonomically designed wrist rest magnetically attaches to keyboard for gaming comfort
Wrist rest doubles as a protective cover when keyboard is not in use
Windows key lock during In-Game mode
Built-in USB pass through port with additional earphone and microphone jacks for quick peripheral access
Military grade braided cable with Gold-plated USB connector
Designed for right and left-handed gamers.
The keyboard is a little on the large size, clocking in at 474 x 310 x 39mm, but that's not uncommon for a full size mechanical gaming keyboard. All the usual bells and whistles are here too with macro keys, multimedia keys, N-Key rollover, Macro recording, key lock, audio / USB pass-through and more.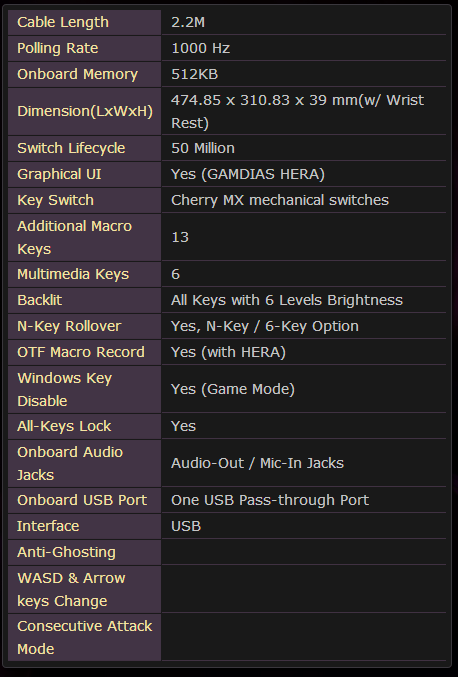 The Hermes comes packaged in a rather huge box, this is because the keyboard comes bundled with a massive wrist rest / dust cover combo. There is a great picture of the keyboard on the front of the box, and a small cut-away so you can see the UDLR arrow keys.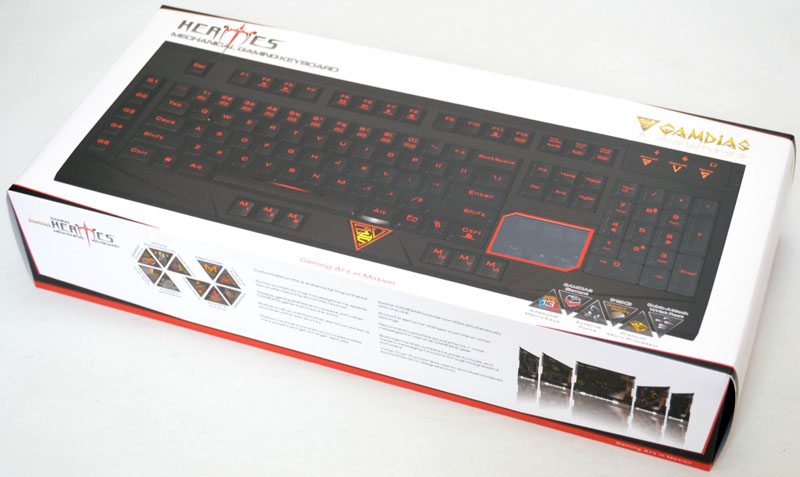 On the side of the box you'll find a quick rundown of some of the extra software features, these include macro profiles, voice-over functions, soundFX control, timer alerts and more.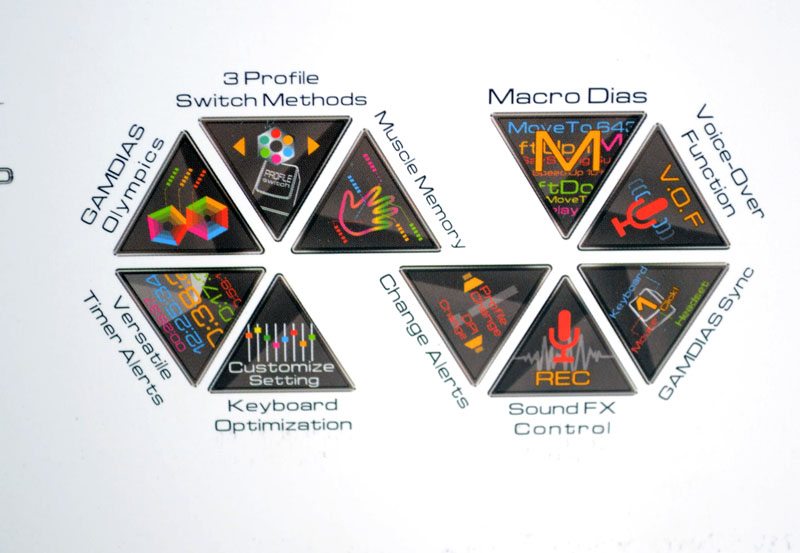 Even more details of the features are on the other side of the box, long story short; there are a lot of features.

Around the back of the box there is another cut-away giving us a sneaky peak at the finish on the wrist rest.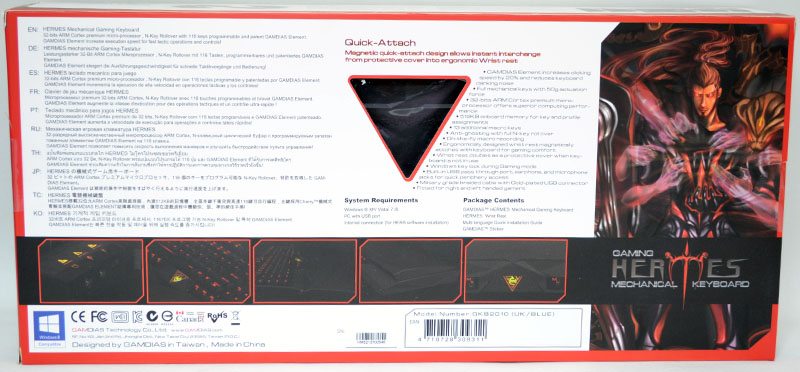 Under the slip cover is a nicely reinforced box with the keyboard under protective wrap and secured using hollow boxes and thick packing foam.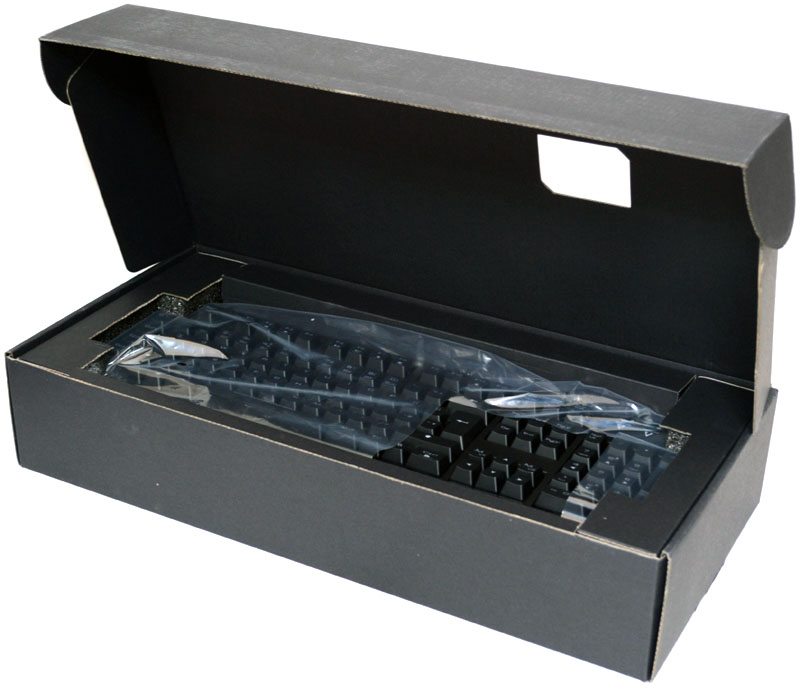 In the box was a multi language installation guide, warranty information and a couple of Gamdias stickers.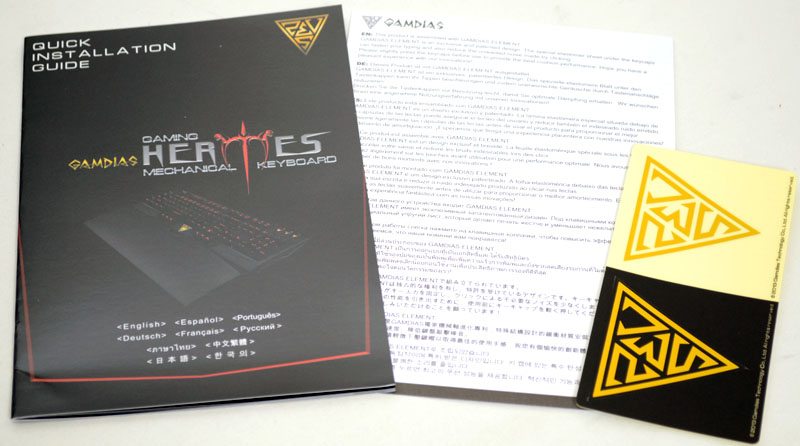 The user manual is a big vague, leaving only one page of busy information per language. For a keyboard with so many features, I would have liked a more detailed run down of how to operate them all.