Gamer Storm Captain 240EX RGB AIO CPU Cooler Review
---
---
---
Mike Sanders / 4 years ago
A Closer Look
---
The first thing you are going to want to have a look at is that water block and radiator. Both are in a nice black gloss finish with the pipework between nice and strong. You would have nothing to fear from pinching here and the length should be more than acceptable for any system build. As for the water block, without the RGB effects, the black does look a little plain.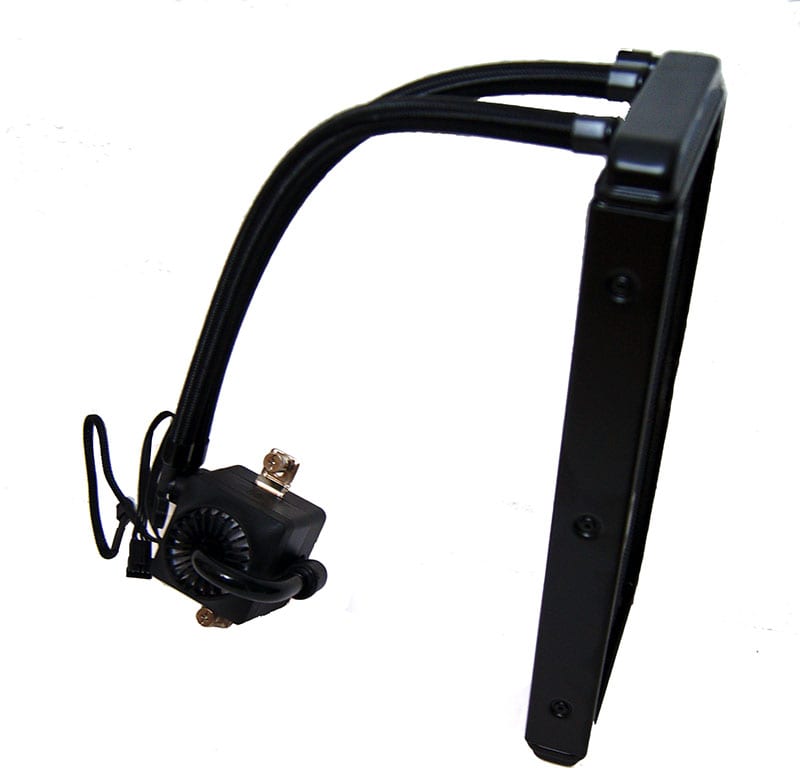 A closer look at the water block gives you a clue as to the RBG effects that are in store for you. I must note though that I was particularly impressed with the block design. When installed it completely covers the surrounding area of the processor which gives it a nice plush look to the motherboard.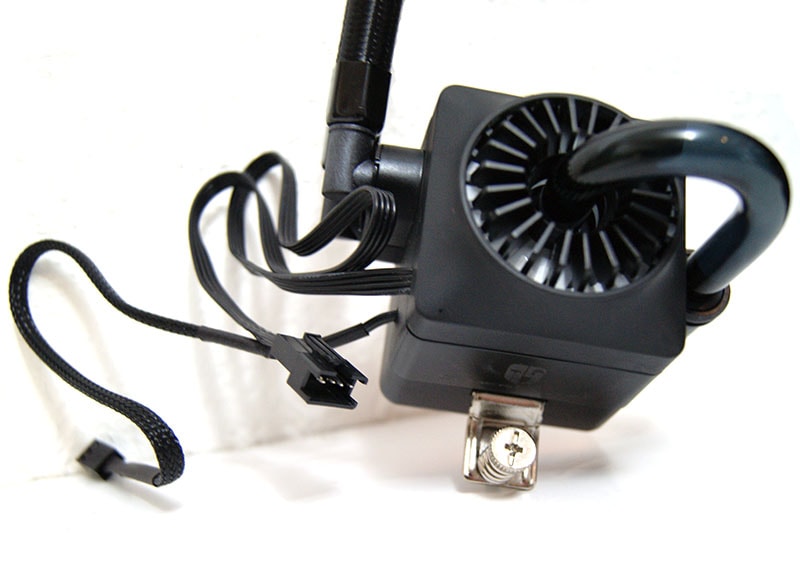 The contact plate is a nice large size, and with the squared profile, which should extend beyond the edge of your processor comfortably, coverage is no issue. The plate does come with pre-applied thermal paste although we do remove this to ensure that our testing is conducted in a fair comparative manner with other products.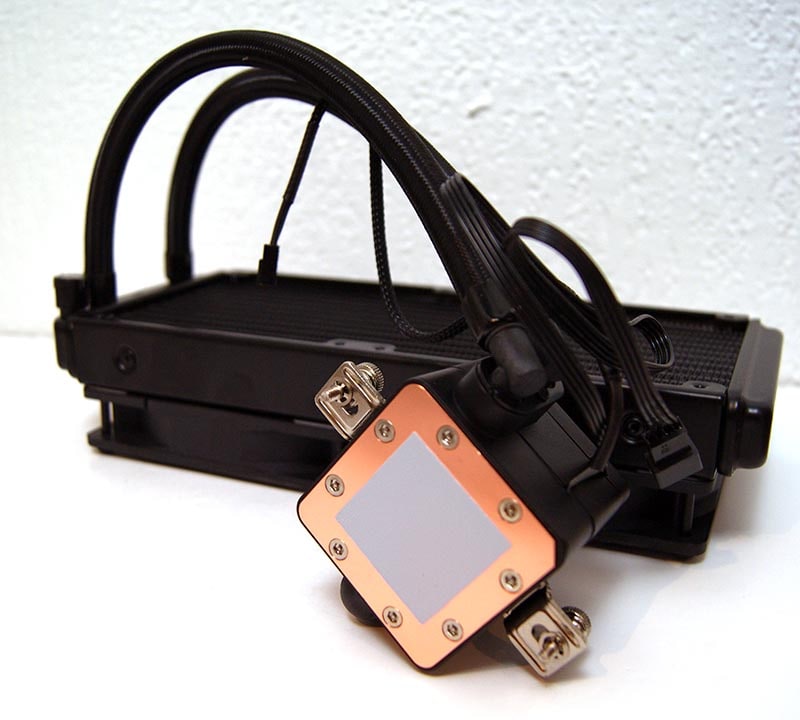 Fans and Radiator
The cooler comes with two 120mm Gamer Storm fans which mount directly onto the radiator. The design is fairly standard. However, the fin tips to the 9 fan blades are a nice touch, and in addition, the cushioned corners make the installation perfect to avoid any unnecessary vibration which could occur. The Gamer Storm logo is also lightly embossed on the exterior edge.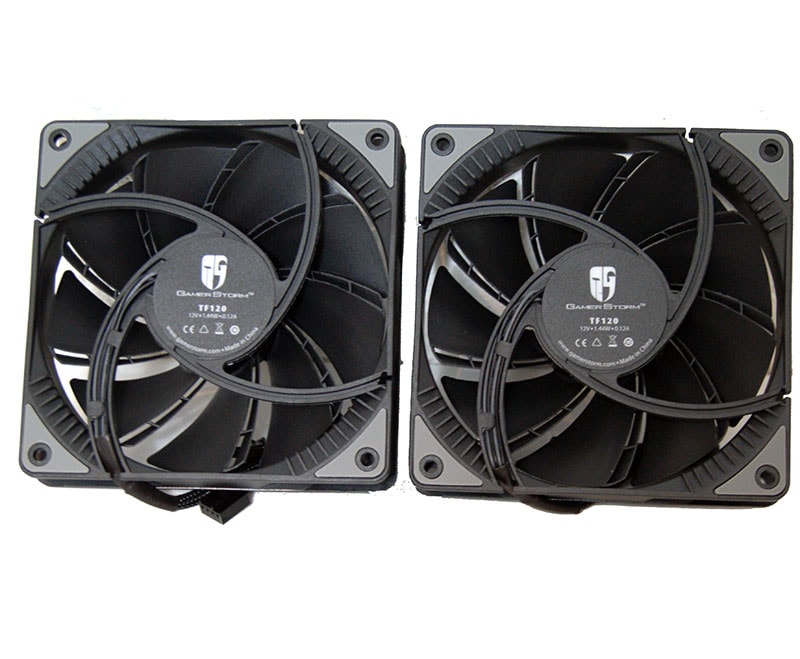 Once mounted the fans looks impressive and professional. A lot of minor touches have gone into the design to make this look both sleek and understated. It's also a nice addition that the screws are coloured to match the design. It might sound a ridiculous point, but nothing can spoil the look of a radiator worse than when screws are left in their plain colouring.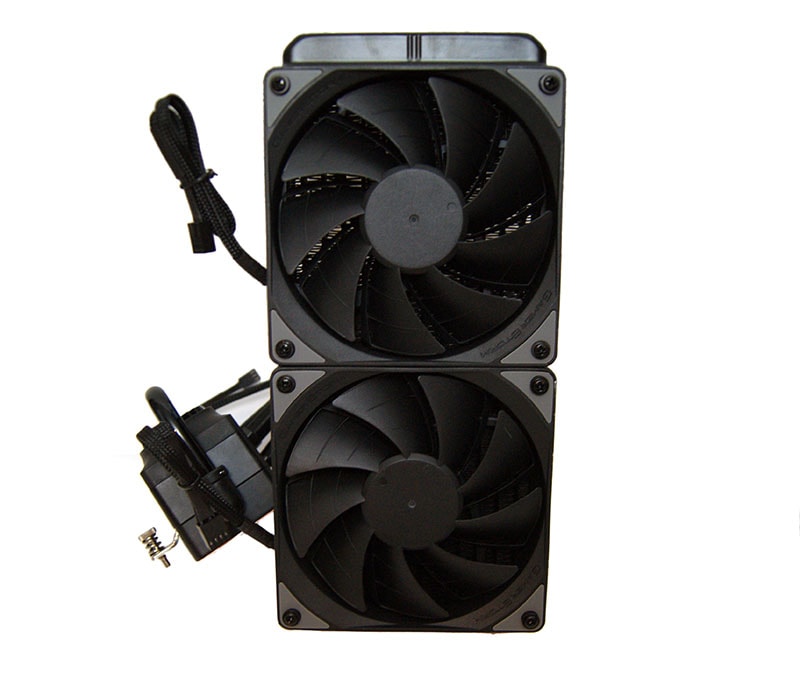 RGB lighting in action
It can often be difficult to explain how RGB lighting effects operate and for coolers with RGB lighting as such a clear feature we think it's important that you know what to expect. We have therefore included a brief video below showcasing the lighting effects in action for both the water block and the LED strip lighting. Remember that this cooler does not have lighting on the radiator or fans and as such, they are not included.
Test System and Methodology
---
Please note that our testing system was completely revised in September 2017. That means all previous results have been scrapped, and a new set of benchmarks introduced. For a look at our previous reviews, please consult our most recent review that used that system. Please note that we re-tested the Noctua NH-D15S as our base benchmark for cooling results.
Test system:
Gigabyte Aorus Gaming 9 Z270
Intel Core i7-7700K Delidded w/ NT-H1 under IHS
Gigabyte GTX 980 Ti
32GB Crucial DDR4 2400 MHz
512GB OCZ SSD
be quiet! Dark Power Pro 800W
Lian Li T80 Test Bench
All testing conducted using NT-H1 thermal paste
We'd like to say a big thank you to Gigabyte, Noctua, Crucial, Intel, OCZ, be quiet!, and Lian Li for providing us with the above testing equipment and their on-going support.
Testing Methodology
We always use Noctua Noctua NT-H1 thermal paste to make sure testing reveals the efficiency of the tested coolers not the efficiency of the bundled thermal paste
Prime 95 is run for 10 minutes to calculate "load" results
Unigine Superposition is run for 10 minutes to calculate "gaming" results
The average temperature across all cores is taken
Fans are left to operate at default PWM profile speeds unless otherwise stated
For water cooling tests, all pumps have been operated at 12 volts unless otherwise stated
Ambient temperatures should be between 21-23 degrees in all our tests unless otherwise stated
Acoustic measurements are taken 10cm horizontally and 10cm vertically away from the CPU cooler with the VGA fan disabled
Stock tests are performed using "out of the box" settings for the CPU
Overclocking tests are performed with the CPU set to 5 GHz and 1.345v
All coolers were tested under identical settings unless otherwise stated.
There is approximately a 1-degree Celsius margin of error in our temperature recording software CPUID HW Monitor
There is approximately a 1.5dBA margin of error with our Benetech GM1351 decibel meter
In all these graphs we may have a few "reference" results of particular products that do not fit within that category for comparative purposes.
Software Used