Gears of War 4 DLC Brings New Maps and Balances Weapons
---
---
---
Peter Donnell / 5 years ago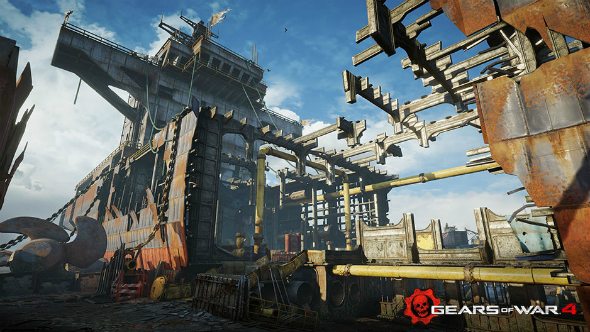 The next major update for Gears of War will bring two of the franchise's most popular maps back into the mix next month. Both Drydock and Checkout will be coming in the multiplayer DLC, alongside a major title update which will offer a range of tweaks, improvements and weapon balancing.
The update will be released on the 1st of November for Season Pass holders, and then on the 8th for the public playlists. The rather significant changelog below will apply to all owners of the game from the 1st, not just Season Pass holders.
Gears of War 4 weapon changes
Lancer 
Very short range damage has been slightly reduced.
Gnasher 
Very short range damage slightly reduced.
Short range damage slightly increased.
Active damage boost ratio slightly increased to offset damage reduction.
Stopping power completely removed.
Hammerburst 
Body damage significantly reduced.
Headshot damage slightly reduced.
Active reload cooldown increased by 2 seconds.
Fixed an issue where Escalation weapon respawn timers would sometimes not be consistent
All secondary weapons (minus the Longshot) are at 60s respawns.
The Longshot, Shock and Incendiary grenades are at 90s respawns.
All power weapons are at 120s respawns.
Gears of War 4 changelist for Windows 10
Make sure to update your Windows OS to Build 14393.222 or later for the game to update. You will not be able to get the update and online games will stop working if this is not done.
Execute and Point of Interest keys can now have the same key binding on Windows 10.
Windows 10 version now displays the version number on main menu.
Users can now rebind Spectator Mode controls on Windows 10.
Abnormalities to the UI on high resolution displays have been addressed.
Mouse and Keyboard users can now switch weapons during countdown at the beginning of the round.
Windows 10 players can now have true offline LAN lobbies.
Average FPS has been now incorporated to the benchmark screen on Windows 10.
Added in game language selection.
Roadie run turn rate on Windows 10 is now a consistent rate instead of reduced when holding the forward key.
Pickup and drop fortifications has been moved to the "Q"/Mark Target key bind instead of "C"/Point of Interest on Windows 10.
Gears of War 4 gameplay changes
Team Reviving with players on turrets no longer causes stacking skills in Horde.
At times the gnasher would fire rounds that would not register or expend ammo despite audio and visual FX. This has been addressed.
Ammo crates would sometimes not appear in TacCom in Horde. This has been corrected.
Players who get a kill right after you die in Dodgeball will now be able to count toward a respawn for your team including yourself.
Escalation will now display COG/SWARM DOMINATION when a victory was made from a Domination.
The EMBAR at times could continuously be used in Arms Race after your team has switched to the next weapon. This has been addressed.
Bonus supply crates will now fall in accessible areas even when the Fabricator is placed along walls.
Users will no longer receive objectives in bounties by killing meat shields.
Leader in Guardian will now always be rewarded to the user who killed the prior rounds Leader.
Players should now be able to pick up all power drops in Horde.
Players will no longer appear invisible if they are saved from a Snatcher.
Players can no longer roadie run before countdown.
Bots will be a bit more difficult in Social Versus backfilling
Shock grenades will no longer auto refill after each Horde wave.
Addressed an issue that sometimes allowed for Horde private matches to not start up.
Fixed an issue in which flying enemies could drop power on high ground areas that were inaccessible by the player.
Addressed an issue where players would sometimes not be able to play co-op campaign with another friend.
Removed score from repairing in Horde.
Fixed a few bounties not awarding proper XP values
Fixed an issue where players could push other players out of bounds on Lift.
PC and Xbox One can now play cross play on LAN.
Added Iberian Spanish in-game and cinematic voice over