Gears Of War 4 Featuring Marcus Fenix's Son
---
---
---
Gareth Andrews / 8 years ago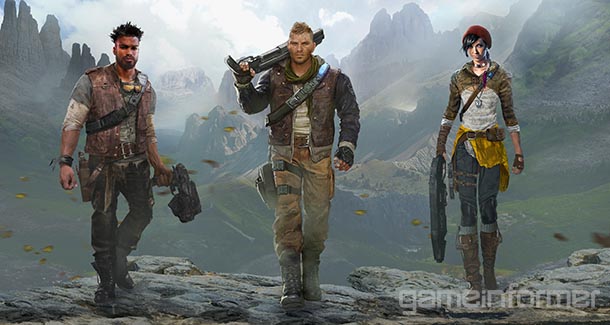 Warning: this article will contain information regarding Gears of War 4. If you want to experience the game without any spoilered content, this may be an article you want to miss.
Now that we've done that, let's get talking about what we really want to know. Details. Gears of War 4 looks to the be the latest in the series of Gears games, the first of which since Microsoft  purchased the series from Epic Games, its creators. The first bit of information we've received about the game is finally here, and that includes screen shots of the new cast and some details about them.
First up you have JD Fenix, featured in the middle above. The name should ring a bell as JD is actually the son of Marcus Fenix, the main character from the original Gears Of War games. Next up you have Delmond (Del) Walker, JD's long time friend and fellow soldier, found on the left. Before the game took place, JD and Del go AWOL from COG (the military in the Gears of War series) only to find Kait Diaz (found on the right), an outsider who seems to have taken kindly to the former COG soldiers.
Set 25 years after Gears of War 3, the game looks to have a closer feel to the original Gears Of War game, rather than its sequels. With Liam McIntyre, known for playing the Weather Wizard on CW's The Flash, voicing JD Fenix, the main character will be filled with the rich feeling a good actor brings to the game. Kait Diaz is being voiced by Laura Bailey, known for voicing Olympia Vale in Halo 5: Guardians and Jaina Proudmoore in Blizzard's World of Warcraft. With Del being voiced by Eugene Byrd, known for his recurring roles on Bones and CW's the Arrow.
With such a talented line up behind the game, we might even be able to look past the bad release of the previous Gears of War game in the Ultimate Edition on PC.