GeIL Enhance Corsa DDR3 1600MHz 8GB Memory Kit Review
---
---
---
Andy Ruffell / 9 years ago

GeIL have been releasing a lot of new memory kits lately, and so have many other brands on the market, with the majority being quad channel kits, aimed at the newest X79 platform from Intel. Whilst GeIL have done the same, as you may have already read here, they have also been focussing on other platforms too including AM3+ and Z68 in the hope that they can hit the market from all angles.
GeIL have two major ranges of memory, including the Evo Corsa and Enhance Corsa. The latter, which we'll be looking at today gives the flexability of overclocking your memory to tried and tested speeds that GeIL have personally stressed themselves giving you piece of mind, where it matters most. Their 1333MHz kit that we saw a little while ago has the functionality to run at 1500MHz using CAS latency 9 whilst the 1600MHz kit that we're looking at today can run at 1700MHz using CAS 9.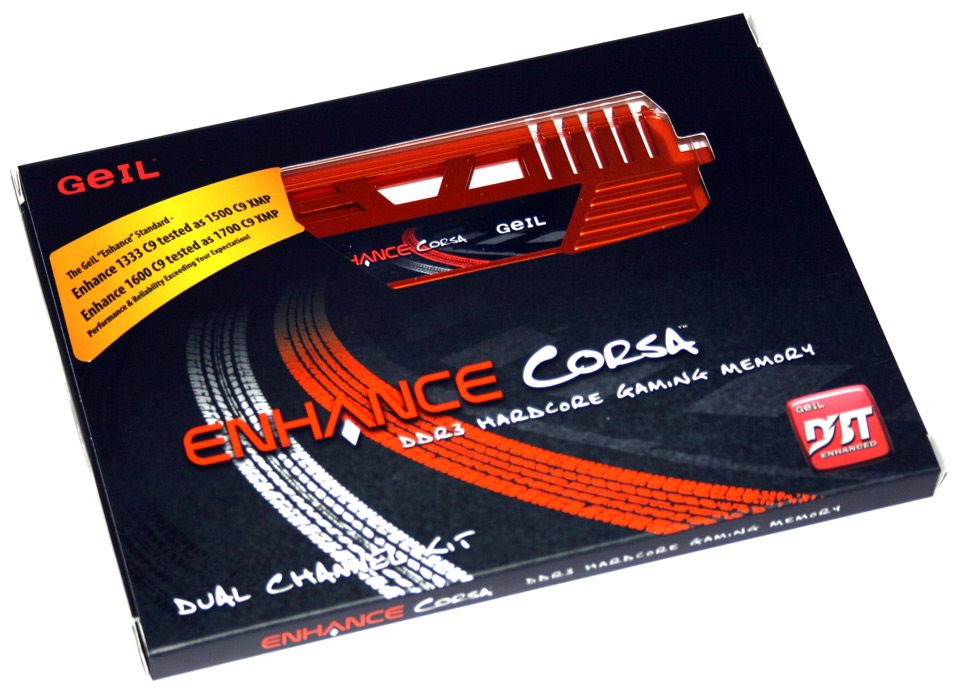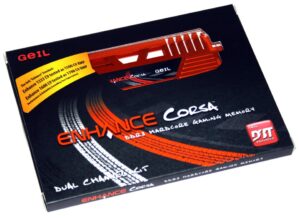 This particular kit runs at a stock frequency of 1600MHz but has that extra functionality to use the stock timings of 9-9-9-28 and run at 1700MHz. On an AMD system this is easily achievable, but due to the constraints on a Z68 platform, it requires slight tweaking of the BCLK.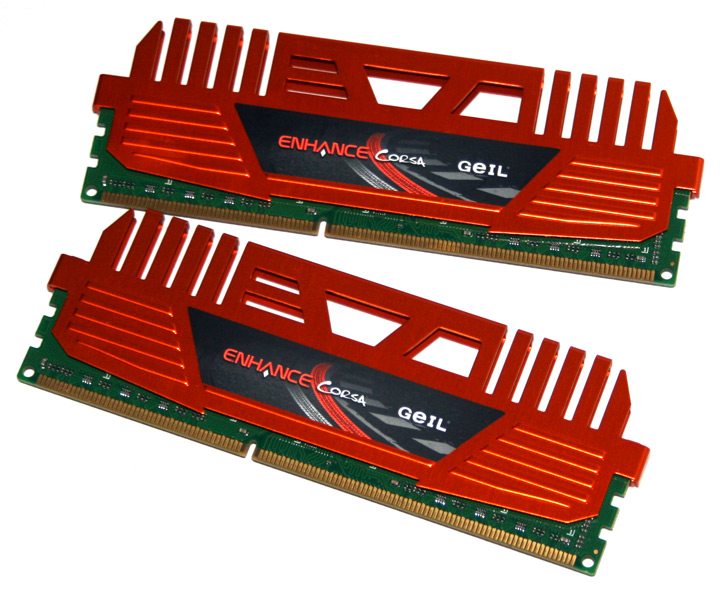 The kit comprises of two memory modules that include the famous EVO heatspreaders. Whilst they are quite large and protrude over the PCB of the modules, they do look very stylish, but may not be functional for users with large CPU coolers. The bright orange colour scheme is also an odd choice as not many boards on the market will match up with it.
The modules are 4GB in capacity each and operate at 1600MHz which is ample for most types of systems. If using Intel Z68, you'll find that the XMP profile can be set at the appropriate speed with 9-9-9-28 timings and a stock voltage of 1.5V. Setting the speed to 1700MHz involves raising the speed of the modules, whilst the timings and voltage can remain the same at 9-9-9-28 at 1.5V. Whilst this is a nice overclock, we want to see how far these modules can really be pushed.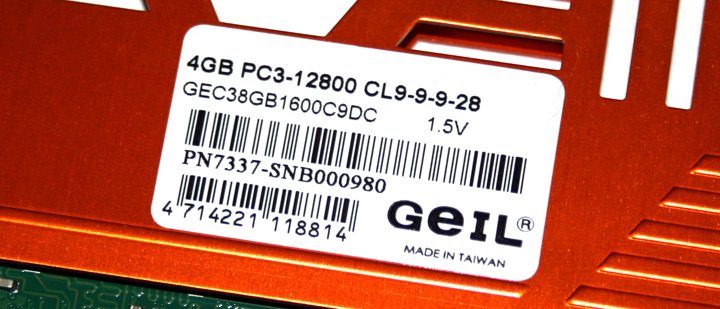 Test system:
Asus Maximus IV Extreme-Z
Intel Core i7 2700k
Gigabyte GeForce GTX 580 SOC
Corsair H80
Corsahir HX1050W
Kingston V+100 128GB SSD
Lian Li T60
3 x AOC E2795VH
The first thing to do was to see how the memory runs at stock in terms of benchmark performance and to make sure that incompatibility was not an issue. When booted, the XMP profile #1 is for 1700MHz, but due to the dividers, we could choose 1600MHz or 1866MHz. Going with 1600MHz as that is the stock speed of this memory, we found that the system booted fine with it's stock timings of 9-9-9-28 at 1.5V.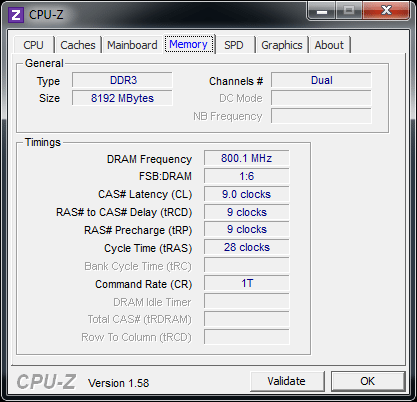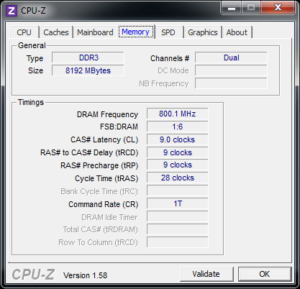 One thing that we did notice was the fact of the timings being set with a 2T command rate from the XMP profile. Wanting to get the very best performance from this kit, we set the command rate to 1T and found that it booted into Windows fine, with 100% stability.
Once we were happy with the stock timings and 1T command rate, we continued to see how the memory performance was at stock speeds. For a 1600MHz kit, it's nothing out of the ordinary and performed pretty much how we expected it to.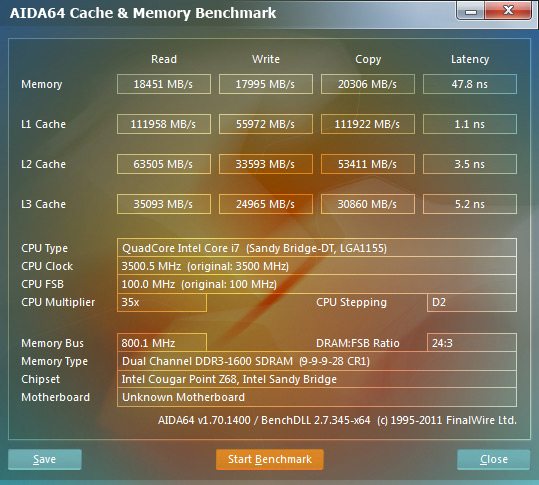 At stock speeds, we managed to get a read speed of 18451 MB/s, a write speed of 17995 MB/s and a copy speed of 20306 MB/s. The latency for the memory at stock speed was 47.8 ns.
Now that we've managed to see the potential behind the memory and its stock speed, we were eager to push it to see how far it could go. The first thing that we did was to try the 1866MHz memory divider using the same timings, and things were looking hopeful and we booted into Windows 100% stable and stressed the memory to make sure.
Knowing that the next memory divider was 2133MHz, we weren't overly hopeful but wanted to try it none the less. We continued to loosen off the timings and attempted 2133MHz and to our astonishment and amazement, it booted at 2133MHz with timings of 11-11-11-31-2T.
While these timings aren't fantastic, Sandy Bridge cares more for bandwidth opposed to latency so we were keen to see if they could be pushed further, and could then focus on tightening the timings up a bit.
Now, we knew that 2400MHz would be completely out of the question as it's such a big jump from 2133MHz, so instead we started to raise the BCLK to gain that little bit extra from the memory and started to increase in small notches to squeeze every last piece of performance from these modules. We wanted to start small, but the BCLK would not budge by even .1MHz so we were left with 2133MHz as our final overclock.
We're sure that if we dropped the multiplier on the memory back down to 1866MHz, it would allow for some extra bandwidth via the BCLK but we decided to settle at 2133MHz as it's still a fantastic jump from the stock speed of 1600MHz.
Now that we had our maximum overclock, we wanted to attempt to tighten up the timings and managed to, but only by a slight amount and ended up booting and being 100% stable at 11-11-11-28-2T. Adding extra voltage didn't help either.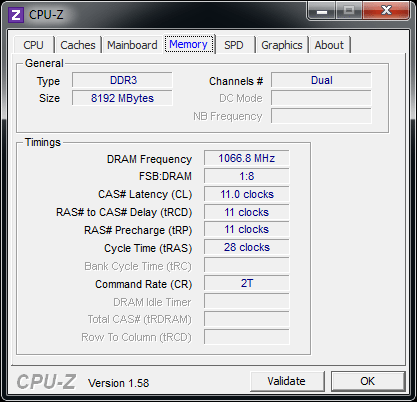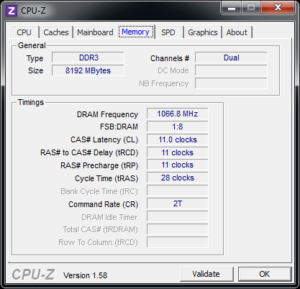 We were keen to see how the overclock had changed the performance on the memory, if at all. We ran AIDA64 again and were given a  read speed of 20465 MB/s, write speed of 18188 MB/s and a copy speed of 21898 MB/s and the memory latency had dropped to 43.4 ns. Some really great results considering this memory is rated at 1600MHz.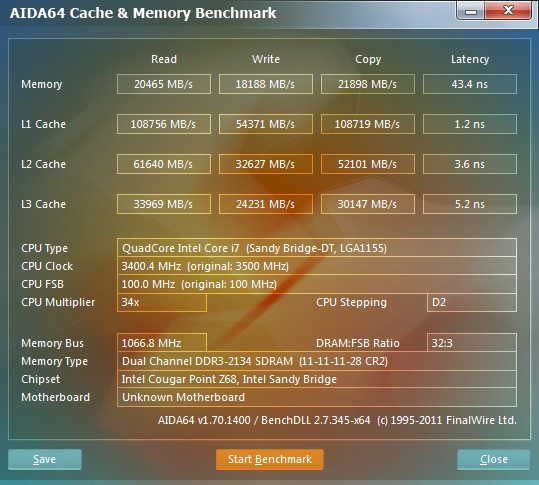 We already knew the potential behind the Enhance Corsa range was something special after looking at the 1333MHz kit and seeing great results, so we held high hopes for the 1600MHz kit too, but wasn'r expecting quite what we saw today.
The kit jumped from 1600MHz to a massive 2133MHz with only a simple increase of the voltage and loosened timings. It really was that simple and we do believe that on an AMD based system, we may even be able to push this kit closer and maybe even over 2200MHz, as AMD works slightly different and can sometimes handle higher speeds of memory slightly better than Sandy Bridge.
As GeIL have only recently come back into the UK market, sales are still a bit sparse at the moment, but we should expect more retailers adopting these kits soon.
For now, a quick search will reveal a price of around £30 for this particular kit from a few reputable retailers, which in our opinion is fantastic value for money considering the overclockability that you get bundled in, as well as the tight timings that you get at stock speeds.
I feel myself wanting to say the same as what I did about the 1333MHz kit, and that's purely because this kit has done exactly the same and left me quite stunned to tell you the truth, and it's not very often that it happens. Finding a memory kit that ticks all of the boxes is generally something that you have to pay top dollar for, but not with this particular set.
It's cheap, reliable, performs great and has mass amounts of headroom, so in our eyes it really does tick every box. The only downside that people might see is the colour scheme, but we're not being picky considering the other key bonus points it has.