Gelid Tranquillo Rev.2 Quiet CPU Cooler Review
---
---
---
Luke Hill / 12 years ago

Gelid's most recent 'claim to fame' in the CPU cooling market was back in 2009 via the appealing and low noise orientated Tranquillo. The Tranquillo offered good CPU cooling performance while keeping noise output to the bare minimum thanks to the use of a quiet fan. Gelid's Tranquillo was very popular in the budget and home user market especially at the price tag of around £25 which we have more recently become accustomed to. Today we will be looking at an update of the original Tranquillo CPU cooler by Gelid, the Gelid Tranquillo Rev. 2.

Gelid most certainly haven't forgot the traits that boosted the original Tranquillo into the highly acclaimed list of 'purchasable' coolers. Quiet operation is again the main event with the Tranquillo Rev. 2 while Gelid also look to up the ante a little bit with the cooler's performance. The 1500RPM PWM fan and "intelligent PWM fan control curve" should definitely keep a CPU cool while performing quietly. The updated features that the Rev. 2 Tranquillo offers over it's Rev. 1 brother are; better orientation of the 4 copper heatpipes as to not interfere with the motherboard components, a substantially larger heatsink is located on top of the cooler's base, finally, new mounting hardware allowing the Tranquillo Rev. 2 to be mounted in 4 orientations on the AMD platform is included.

The word 'gelid' derived from the Latin word 'gelidus' meaning 'extremely cold' or 'icy'. Let's hope the Gelid Tranquillo Rev. 2 can keep our CPU "icy cold".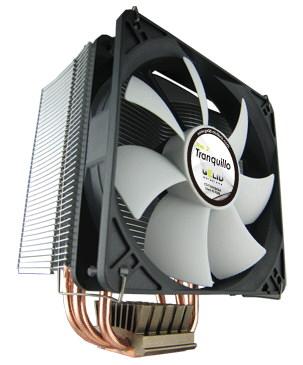 Features:
4 power heatpipes
Unique heatsink shape design
360 degree mounting direction for AMD socket
Optimal heatpipe constellation
Improved fan blade design
Intelligent PWM fan control curve
Specifications:
[TABLE=class: retailers-tab, width: 100%]
[TR]
[TD=class: tab-col-blue]Air Flow (CFM):[/TD]
[TD=class: tab-col-blue-end]58 max[/TD]
[/TR]
[TR]
[TD=class: tab-col2]Bearing:[/TD]
[TD=class: tab-col2-end]Hydro Dynamic Bearing[/TD]
[/TR]
[TR]
[TD=class: tab-col-blue]Cable Length (mm):[/TD]
[TD=class: tab-col-blue-end]500[/TD]
[/TR]
[TR]
[TD=class: tab-col2]Current (A):[/TD]
[TD=class: tab-col2-end, width: 420]0.18[/TD]
[/TR]
[TR]
[TD=class: tab-col-blue, width: 170, bgcolor: #F7F7F7]DC Voltage (V):[/TD]
[TD=class: tab-col-blue-end, width: 420, bgcolor: #F7F7F7]12[/TD]
[/TR]
[TR]
[TD=class: tab-col2, width: 170]Fan Dimensions (mm)[/TD]
[TD=class: tab-col2-end, width: 420]120 (l) x 120 (w) x 25 (h)[/TD]
[/TR]
[TR]
[TD=class: tab-col-blue, width: 170, bgcolor: #F7F7F7]Fan Speed (RPM):[/TD]
[TD=class: tab-col-blue-end, width: 420, bgcolor: #F7F7F7]750 – 1500[/TD]
[/TR]
[TR]
[TD=class: tab-col2, width: 170]Heat Sink Dimensions (mm):[/TD]
[TD=class: tab-col2-end, width: 420]74 (l) x 125 (w) x 153 (h)[/TD]
[/TR]
[TR]
[TD=class: tab-col-blue, width: 170, bgcolor: #F7F7F7]INCLUDED:[/TD]
[TD=class: tab-col-blue-end, width: 420, bgcolor: #F7F7F7]GC-2 Thermal Compound & Installation Kit for AMD & Intel sockets[/TD]
[/TR]
[TR]
[TD=class: tab-col2, width: 170]Life time MTTF at 40C (h):[/TD]
[TD=class: tab-col2-end, width: 420]50 000[/TD]
[/TR]
[TR]
[TD=class: tab-col-blue, width: 170, bgcolor: #F7F7F7]Noise Level (dBA):[/TD]
[TD=class: tab-col-blue-end, width: 420, bgcolor: #F7F7F7]12 – 25.5[/TD]
[/TR]
[TR]
[TD=class: tab-col2, width: 170]Static Pressure (mmAq):[/TD]
[TD=class: tab-col2-end, width: 420]1.6[/TD]
[/TR]
[TR]
[TD=class: tab-col-blue, width: 170, bgcolor: #F7F7F7]Warranty (years):[/TD]
[TD=class: tab-col-blue-end, width: 420, bgcolor: #F7F7F7]5[/TD]
[/TR]
[TR]
[TD=class: tab-col2, width: 170]Weight (g):[/TD]
[TD=class: tab-col2-end, width: 420]645[/TD]
[/TR]
[/TABLE]