Gigabyte Aero 14 GTX 970M Gaming Laptop Review
---
---
---
John Williamson / 6 years ago
Introduction
---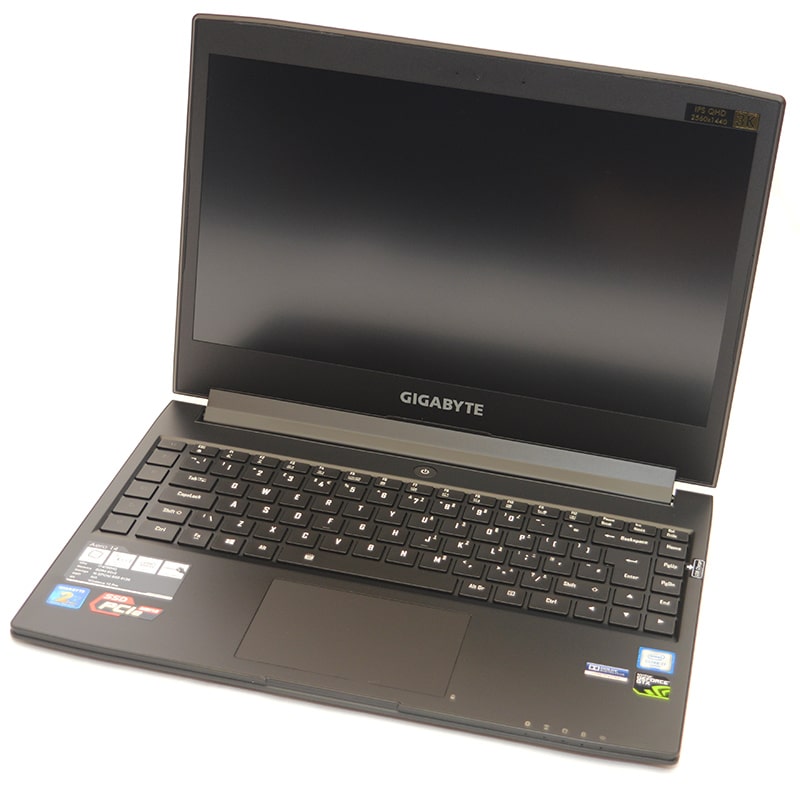 Consumers usually consider gaming laptops instead of traditional desktops because of space constraints or require a portable form factor. While this is the theory, many gaming laptops sporting impressive specifications are cumbersome and difficult to carry on long journeys. Unfortunately, technological restrictions have made companies employ heftier cooling hardware to prevent thermal throttling which results in a thicker frame. This also increases the weight and makes one question if the extra horsepower is worth the inconvenience. Honestly, I've never understood the appeal of extremely heavy gaming laptops featuring two MXM cards given the limited upgrade path and expense. In an ideal world, gaming laptops should retain a lightweight construction and find a better balance between portability and raw performance. Thankfully, new manufacturing processes and refinements in the cooling apparatus have helped matters.
Interestingly, Gigabyte has unveiled a brand new laptop entitled the Aero 14 which manages to incorporate a relatively capable graphics chip. Even though the performance pales in comparison to higher-end Pascal offerings, it's a decent solution and has enough horsepower to uphold stable frame rates when applying modest graphical presets. Unbelievably, this enjoyable gaming experience is possible on a machine weighing a mere 1.89Kg and measuring 19.9mm thick.
Not only that, the Aero 14 utilises an Intel Core i7-6700HQ with a frequency up to 3.5GHz, 16GB DDR4 memory and an incredibly fast 512GB NVMe M.2 boot drive. On another note, the unit has a premium 2560×1440 IPS display with 178-degree wide viewing angles and the 94.24Wh battery can apparently last around 8-10 hours. Gigabyte has also included dual 1.5-watt speakers, Intel Wireless 802.11 AC, Bluetooth V4.1, USB 3.1 Type-C connectivity and individual macro keys. As you can see, this is a wonderful package and I'm expecting the Aero 14 to be a revolutionary product which changes people's perceptions of gaming laptops.
Specifications
Name: Gigabyte Aero 14
Processor: Intel Core i7-6700HQ @ 3.5GHz
System Memory: 16GB DDR4 2133MHz
Main Boot Drive: 512GB Samsung MZVLV512 NVMe M.2 SSD
Additional Storage Drive(s): N/A
Graphics card: NVIDIA GeForce GTX 970M 3GB
Dimensions: 335(W) x 250(D) x 19.9(H) mm
Weight: 1.89Kg with battery
Display: 14-inch QHD (2560×1440) 60Hz IPS Anti-Glare
Optical Drive: N/A
Wireless: Intel DualBand Wireless-AC 8260 
Battery: Li-Polymer 94.24Wh
Speakers: Two 1.5 Watt Speakers
OS: Windows 10 Pro 64-Bit
Warranty: 2 Years
Price: £1559.99
Packing and Accessories
Gigabyte has adopted a really sleek and sophisticated box design which contains a gorgeous snapshot demonstrating the laptop's slim profile. The packaging is quite detailed and even highlights the faux carbon fibre section.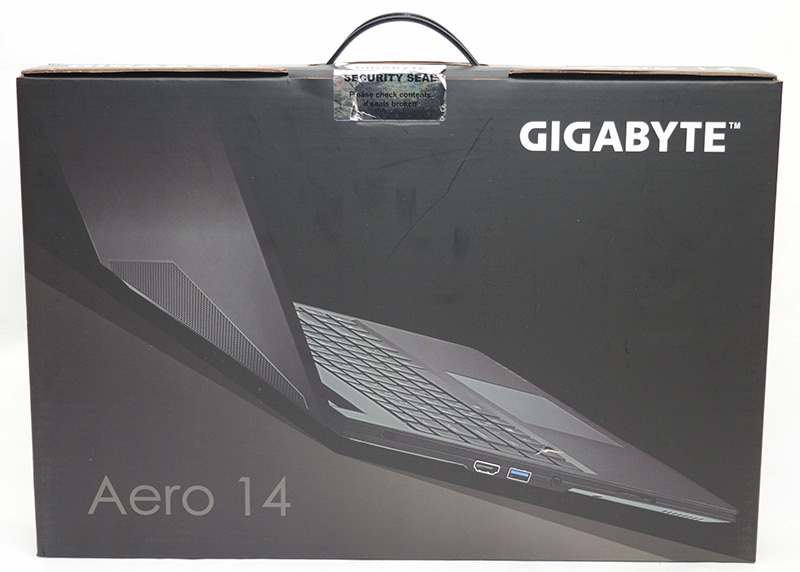 On the opposite side, there's another image showcasing the laptop's stunning finish. Gigabyte has done extremely well with the packaging because it evokes a premium feel and creates a sense of excitement during the unboxing process.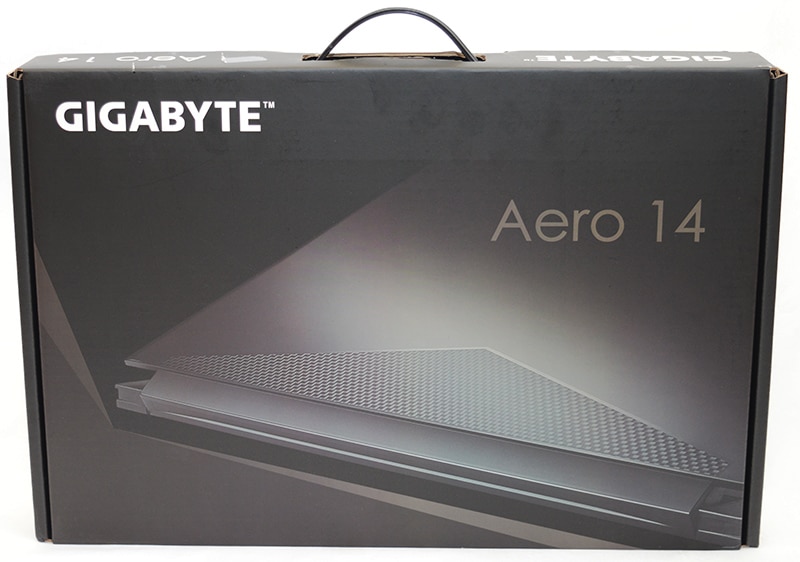 Once the top cover has been removed, the end-user is presented with the laptop itself, protected by a soft felt case, and various compartments for the documentation and power adapter. This arrangement is fairly standard because it offers superb protection and allows the end-user to remove each item in a quick and painless way.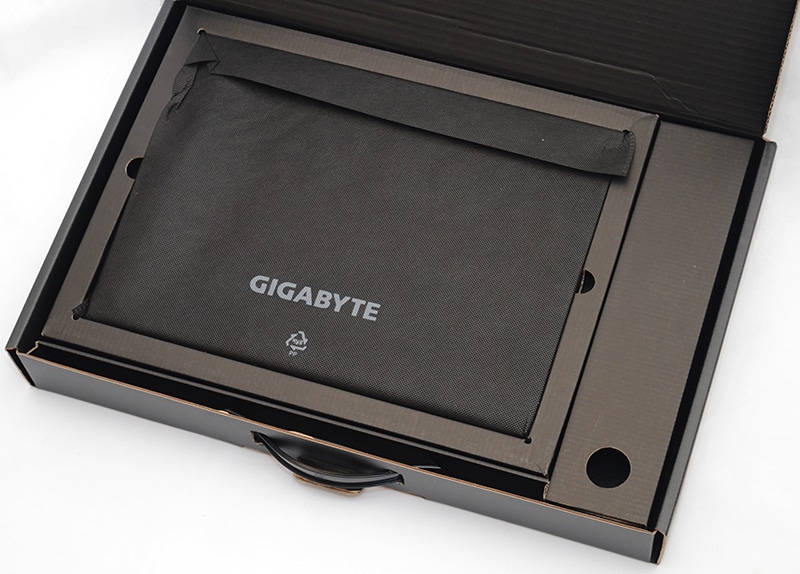 In terms of accessories, the laptop comes with a compact power brick, AC adapter, Windows 7 USB 3.0 flash drive installation guide, PowerDVD 12, user's guide, USB 3.0 to RJ45 adapter, global warranty card and driver/software disk. Gigabyte has made a fairly embarrassing blunder by using optical media for the software/driver disks considering the unit lacks an optical drive. Granted, it's easy enough to buy an external drive or copy the files from another laptop but this shouldn't be the case. Hopefully, this is resolved fairly quickly and USB drives are deployed for the software/installation media in the near future.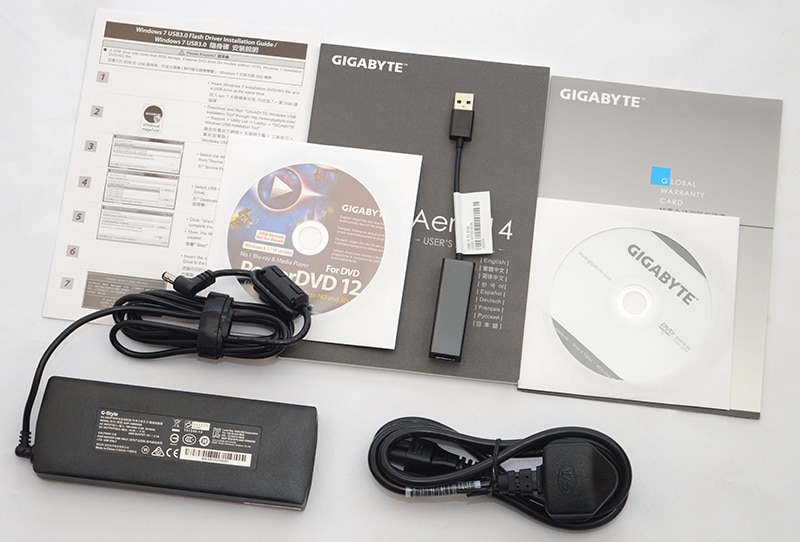 The Aero 14's power adapter has an AC input of 100-240V, around 2.A and 50-60Hz rating. Additionally, the DC output is 19.5V, 7.7A while the USB output reads 5V, 2.1A.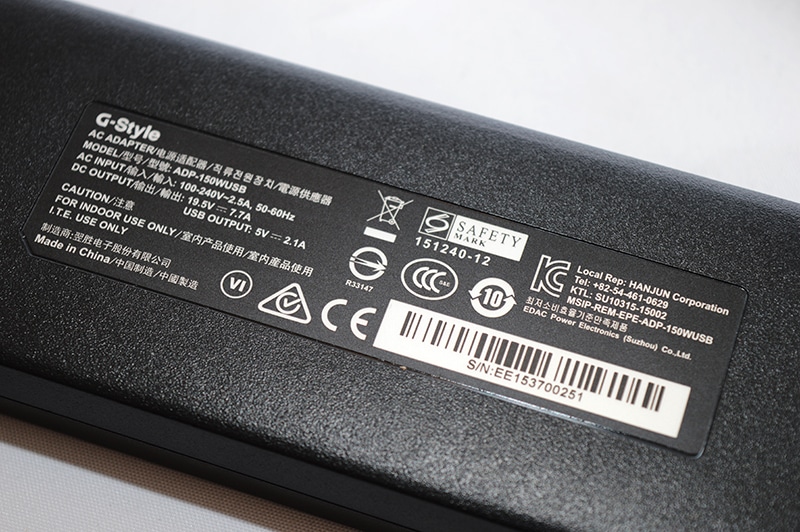 The ability to connect a USB device directly into the power brick is quite novel and I've found it extremely useful. In particular, the integrated port is handy when you need to suddenly charge a smartphone or tablet and have exhausted the laptop's USB ports.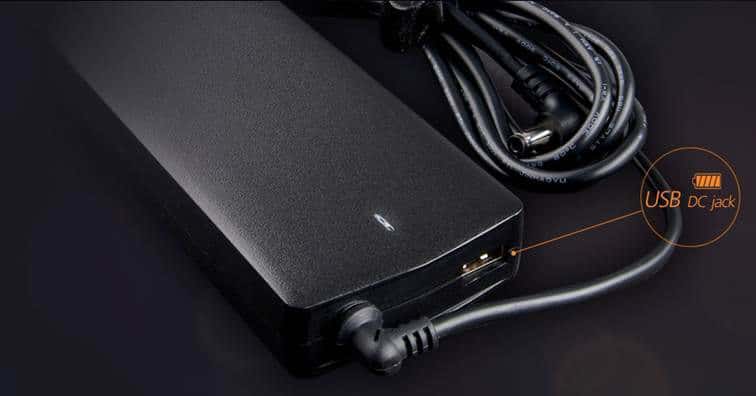 CPU-Z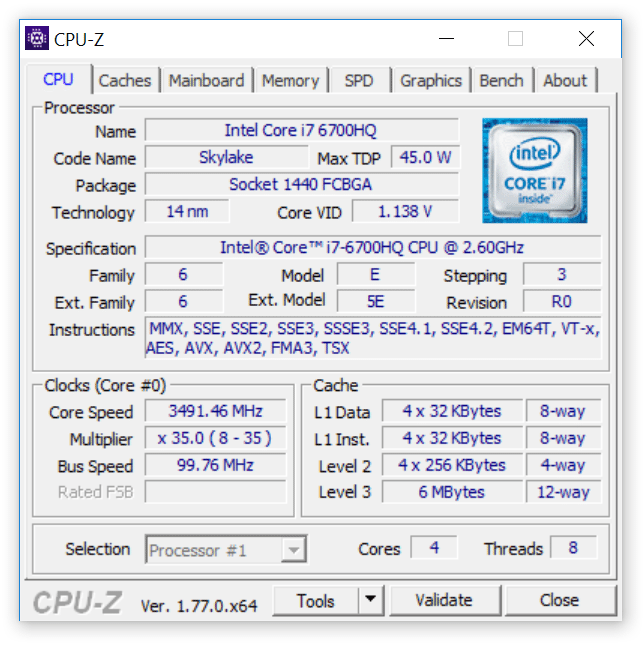 GPU-Z