Gigabyte AORUS Z270X-Gaming 7 LGA1151 Review
---
---
---
John Williamson / 6 years ago
Introduction
---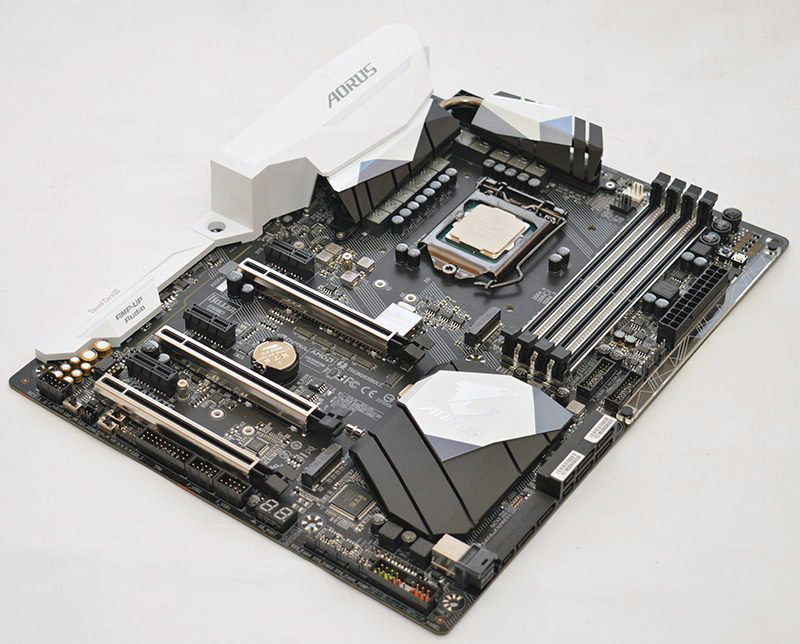 Gigabyte has progressively been expanding the AORUS brand into different product areas and designed to be a seal of quality which customers can rely on. As you might expect, Gigabyte is hoping the AORUS series obtains a loyal following and provides a legitimate alternative to ASUS' ROG brand and MSI's Gaming Dragon line-up. Of course, motherboards are an integral part of Gigabyte's history and they've forged an impeccable reputation for manufacturing innovative designs which push the technical envelope to new heights. The highly-anticipated arrival of Kaby Lake seemed the opportune moment for Gigabyte to proudly display their first motherboard sporting the AORUS name.
The Gigabyte AORUS Z270X-Gaming 7 opts for a stylish black and white colour scheme which should appeal to a great number of people. Additionally, the product supports a wide range of connectivity options including Thunderbolt 3, USB 3.1, U.2, M.2, SATA and SATA Express. Rather impressively, the motherboard incorporates 8 hybrid PWM/DC controlled fan headers and 9 temperature sensors which allow you to customise water cooling hardware more effectively. On another note, the motherboard houses two Ethernet solutions, a quad-core Creative Sound Core3D audio processor and spectacular lighting system. It's even possible to attach RGB strips directly to the motherboard and change their behaviour in Gigabyte's comprehensive software package. Evidently, the Gigabyte AORUS Z270X-Gaming 7 is a feature rich motherboard and I'm expecting it to excel alongside the new Intel Core i7-7700K.
Specifications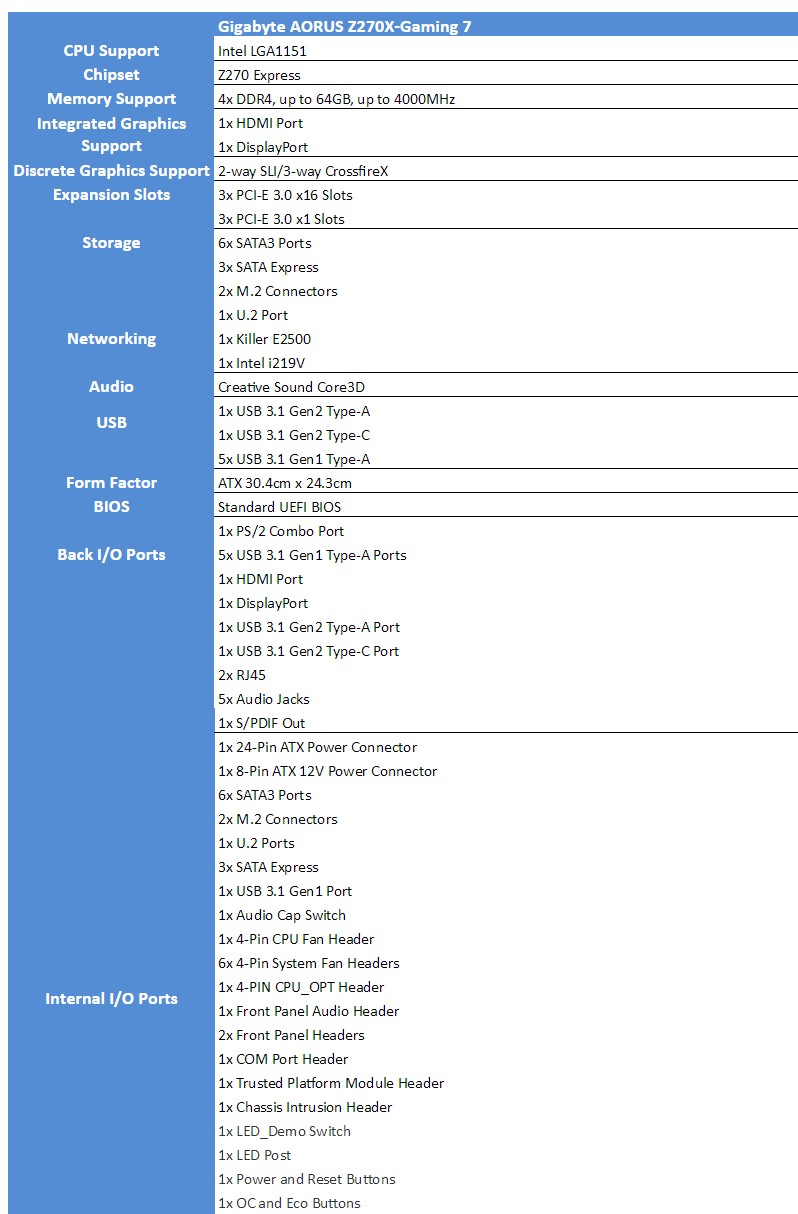 Packaging and Accessories
The motherboard arrives in a sleek box which contains the really striking AORUS logo. This combines with the stealth black background rather nicely and captures your attention. Additionally, the packaging outlines the motherboard's RGB functionality, VR credentials and other essential features. It's clear Gigabyte is trying to push the AORUS series quite aggressively because the company's name takes up so little space on the box design.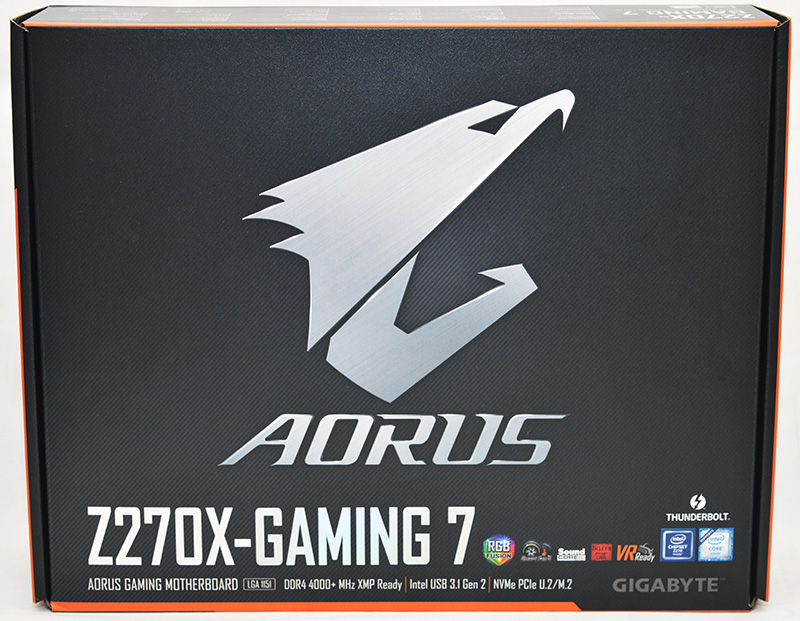 Switching to the opposite side, the end-user is provided with an incredibly detailed rundown of the motherboard's audio circuitry, dual Gigabit LAN, Thunderbolt 3 connectivity, RGB effects and premium component selection. The information is presented in an easy-to-understand manner via a logical layout.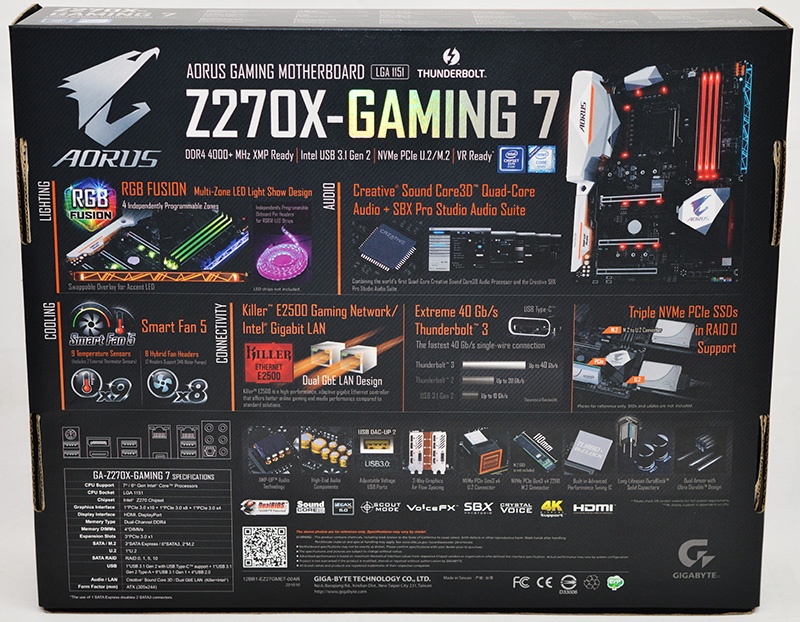 In terms of accessories, the motherboard is bundled with a user's guide, AORUS stickers, I/O dust covers, 3-slot HB SLI bridge, cable labels, G-Connector, Velcro straps, two thermistor cables, an RGB LED strip extension cable, four SATA cables, I/O shield, drivers/utilities disk and installation guide. The only extra I would include is some kind of CPU installation tool which could help those without prior building experience. Saying that, it's not a huge omission and I'm presuming the majority of people know how to install a CPU in the traditional way.