Gigabyte AORUS Z270X-Gaming 9 Review
---
---
---
John Williamson / 6 years ago
Introduction
---
The Z270 platform has become the catalyst for Gigabyte to greatly expand the AORUS name into new a product area and rival other popular brands such as ASUS' ROG series. Even though it's still an early stage, the AORUS range is shaping up quite nicely and appears to be reserved for Gigabyte's higher-end offerings. In addition to the Gigabyte AORUS X270X-Gaming 7 which has an astounding array of features, the flagship motherboard entitled the Gigabyte AORUS X270X-Gaming 9 has even more special extras to speak of including an integrated EKWB G-Frost hybrid water block and Creative Sound Blaster certified ZxRi audio solution with Hi-Fi grade WIMA capacitors. Not only that, the motherboard has a dedicated RGB lighting pin header and spectacular illumination across the I/O cover, PCH, DRAM and power circuitry.
On another note, the Gigabyte AORUS X270X-Gaming 7 comes with triple upgradable OP-AMPs and the Killer Doubleshot-X3 pro networking hardware. Connectivity-wise, there's support for dual U.2, M.2, SATA, Thunderbolt 3 and SATA Express. Unbelievably, the motherboard utilises a 22-phase VRM and manages to boost the PCI-E lanes to 32 which makes it a great choice for multi-GPU users. Despite this only being a small taste of the motherboard's full capabilities, it clearly demonstrates the huge leap in features compared to the Gigabyte AORUS Z270X-Gaming 7. Given the immense specification, I wouldn't be surprised if Gigabyte manages to produce the most luxurious Z270 motherboard for today's launch by a considerable margin.
Specifications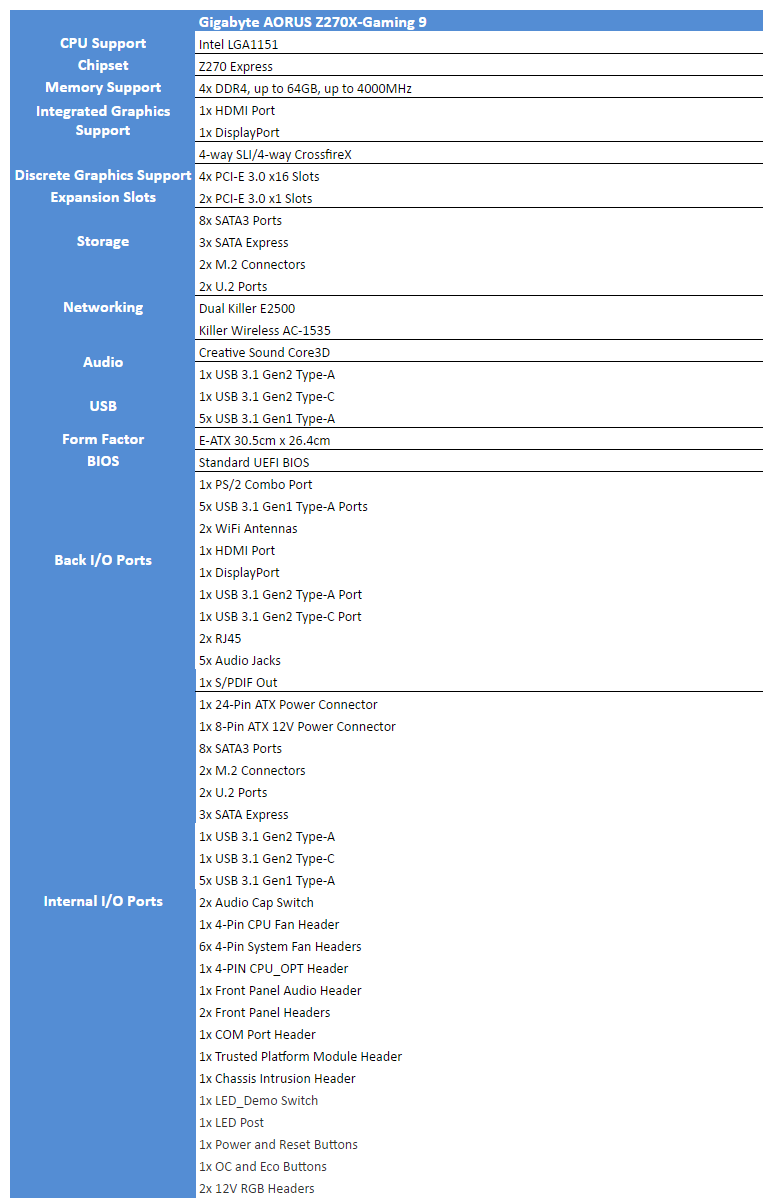 Packaging and Accessories
The motherboard box is based on an attractive orange and black colour scheme alongside the imposing AORUS emblem. In particular, the carbon-fibre styling and silver logo combine in a gorgeous manner and exude a professional quality. The packaging also contains details about the embedded EKWB water cooling support, RGB Fusion technology, VR credentials and storage options.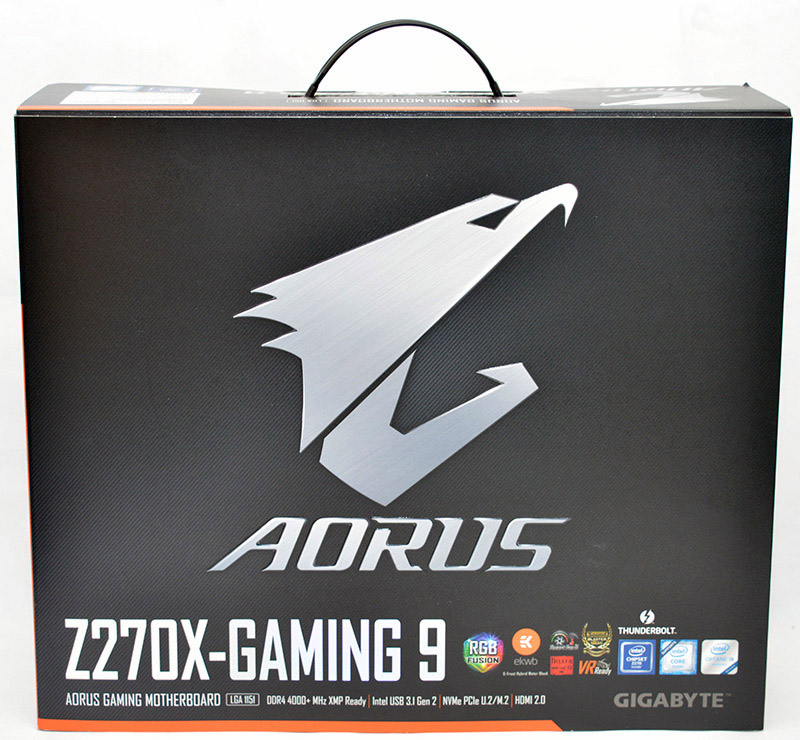 On the rear section, the buyer is presented with a brief overview of the motherboard's lighting effects, audio chipset, cooling hardware and much more. The excellent macro images and clear text make it easy to understand each unique selling point even if you're not technically minded.
The packaging has a flap which reveals a stunning snapshot the motherboard in all its glory. This creates a more enjoyable unboxing experience and raises your excitement as you gently unclip the packaging's lid.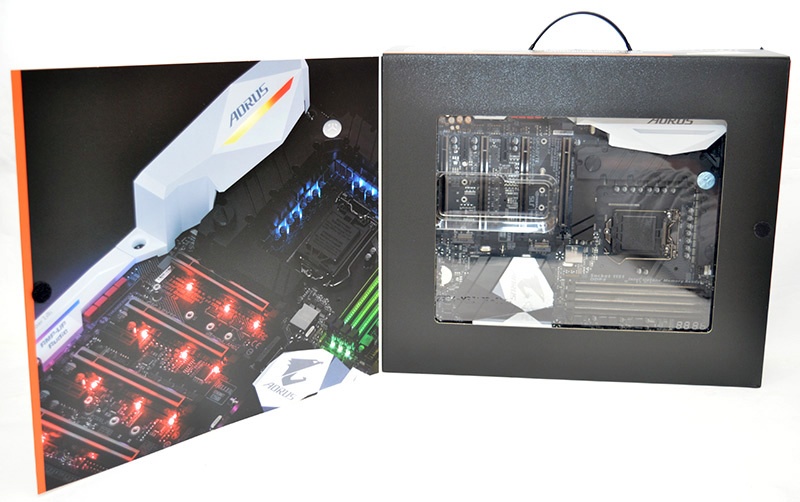 In terms of accessories, the motherboard is bundled with two velcro straps, cable labels, dust covers, G-Connector, six SATA cables, quick installation guide, door hanger, I/O Shield, Crossfire cable and user's guide. The I/O has a LED cable which connects to the motherboard and illuminates the rear panel. This is really handy when plugging in USB devices or headphones late at night.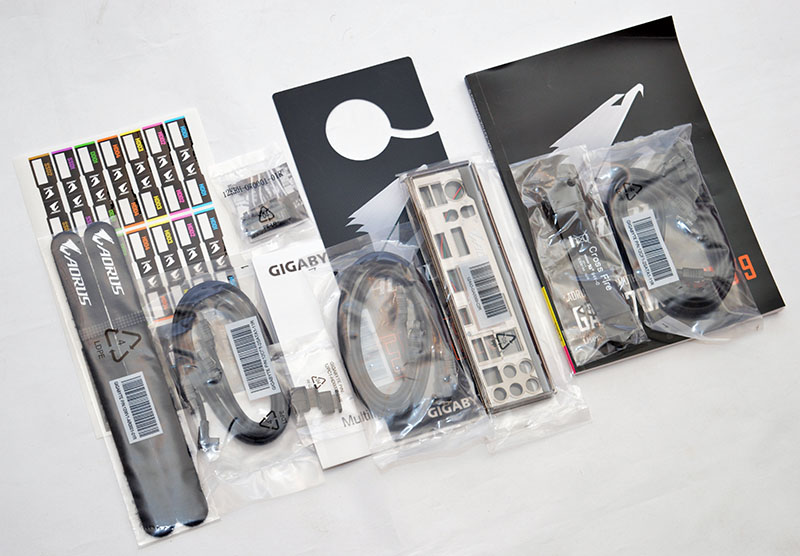 Not only that, the package includes M.2 screws, SLI bridges with different spacing, an LED accent strip, WiFi antenna, WiFi antenna retention cover, two thermistor cables, two RGB extension cables and a drivers/utilities disk.