Gigabyte G1.Sniper 5 (Z87) Motherboard Review
---
---
---
Andy Ruffell / 10 years ago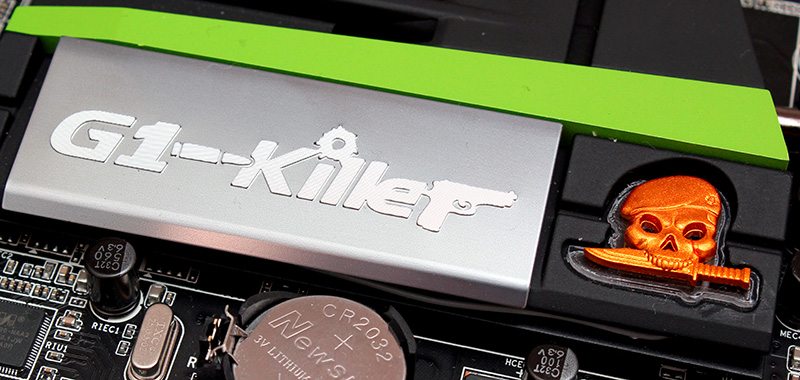 Over the years we've seen more and more products aimed at gamers and Gigabyte have harnessed this very well, as they cater for gamers in more ways than one. This stems from their VGA range, to their peripherals, gaming notebooks and of course gaming related motherboards.
Their motherboards aimed at gamers have for the past few years been branded under the G1-Killer series and have to say the least been very successful. I have to be honest as well, due to me having a bit of a soft spot for the complete range due to its amazing colour scheme and key gaming features, which generally includes improved audio, multi-GPU support and improved networking capabilities.
With the launch of the Z87 chipset and Haswell 4th generation processors, we find some new models being added to this range, which leads us to the G1.Sniper 5 board that we have with us today, but does it offer up anything new with thanks to the new Z87 chipset? That's what we are here to find out today, and with a huge box presenting the board, we can only assume that it comes with a mammoth amount of accessories.
Opening up the box, we are greeted with a bucket load of accessories ranging from the relevant manuals and guides for the motherboard as well as a guide to the Wi-Fi/Bluetooth module, which of course comes supplied with its detachable antenna. Also included is a removable OP-AMP chip and removal tool, SLI and CrossFire bridges of which we have single, tri SLI and quad SLI. Front panel USB 3.0 bracket, case badge sticker, rear I/O panel shield plate and driver CD's are also included to finish the bundle off.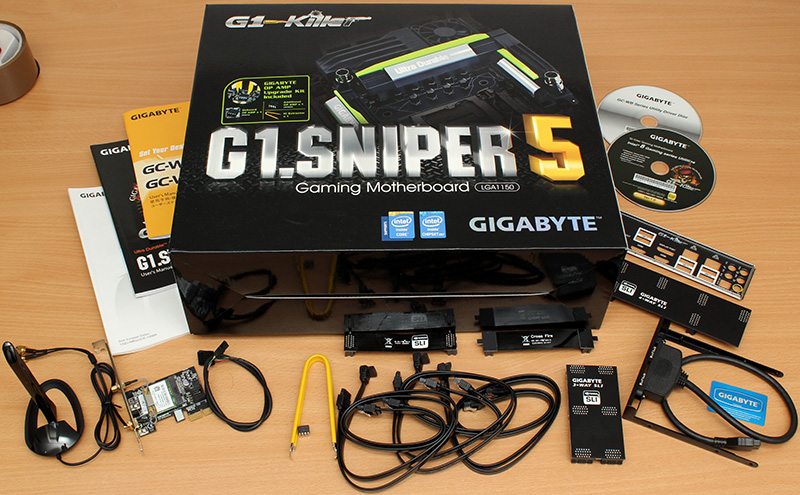 The rear of the box gives us a first view of the board and its key features which includes improved audio, networking and components when it comes to components. They have also upgraded the cooling on the board but we will look into this into some more detail as the review goes on.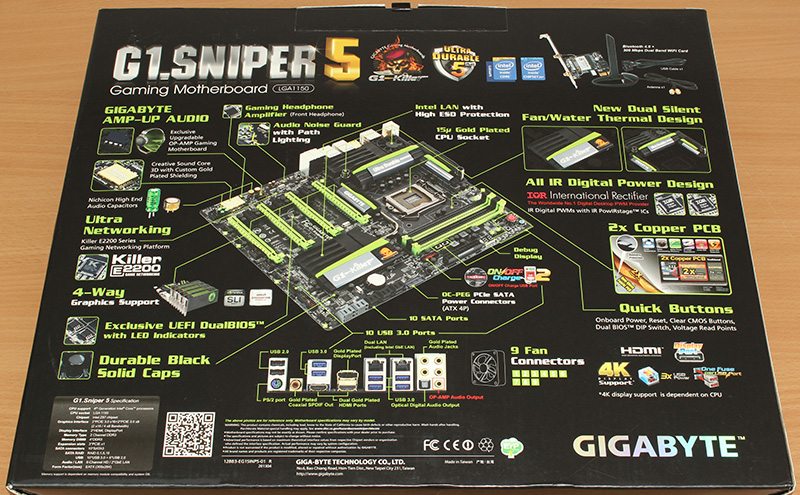 Taking our first look at the board, we have to comment that Gigabyte have definitely brought sexy back, as we find a black PCB with green colour scheme, which simply oozes quality and will certainly appeal to a lot of consumers, whether they are gamers or not. The full ATX form factor houses a ton of features which we will discuss step by step as we take a closer look at the vital components of the board.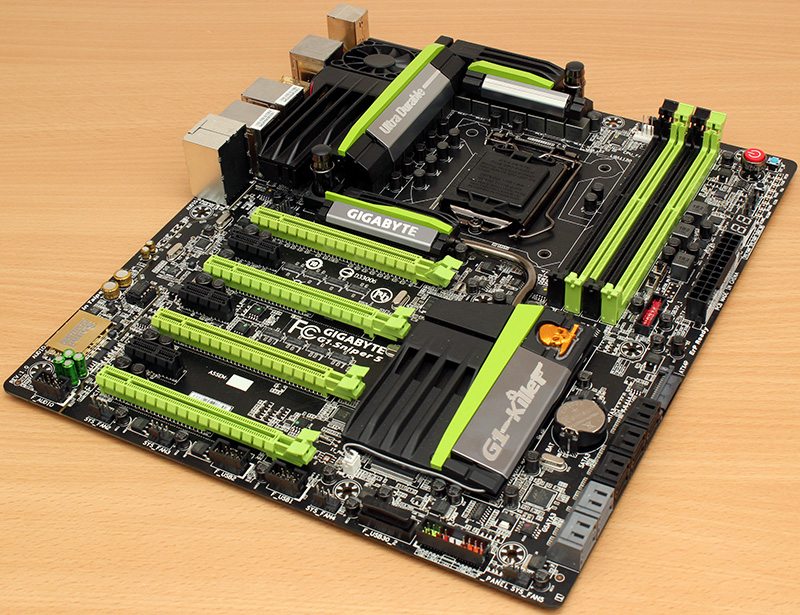 Around the CPU socket there is a large set of heatsinks surrounding it with 1/4″ barbs for those wishing to watercool to assist temperatures around the Phases and Mosfets. For those not wishing to dabble in this area, you can simply use it straight out of the box as it comes supplied with a small active fan solutions which provides sufficient cooling where needed, especially when overclocking.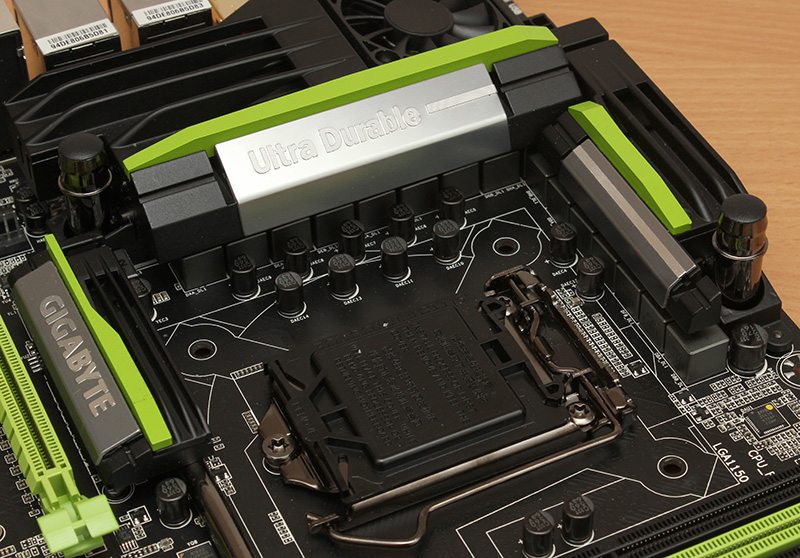 The fan is situated next to the single 8-pin ATX power connector and sits flush with the rest of the cooling setup, allowing it to be out of the way and non-obtrusive.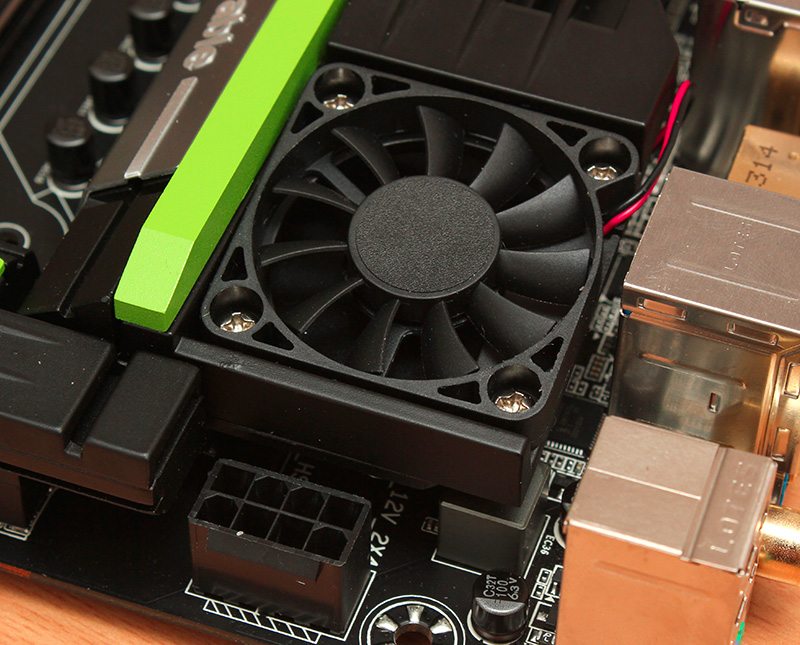 From other boards that we've looked at, it's nice to see another heatsink just below the CPU socket which helps to keep the PLX chip nice and cool when utilising quad SLI through the four PCI-Express lanes.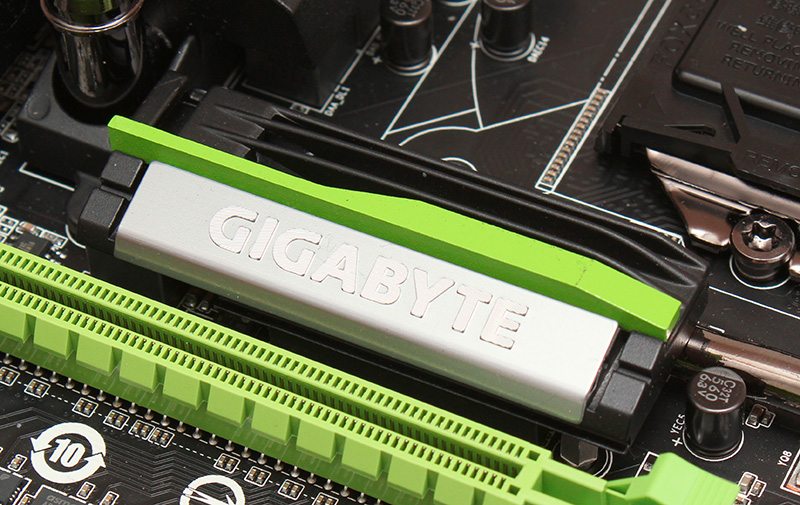 The larger heatsink on the board houses the Intel Z87 Express chipset and features the G1-Killer branding with skull that the range has been made famous for. This has a small lighting effect beneath it which you can see the connector plugged in which provides power to it. Of course, naturally this lights up green.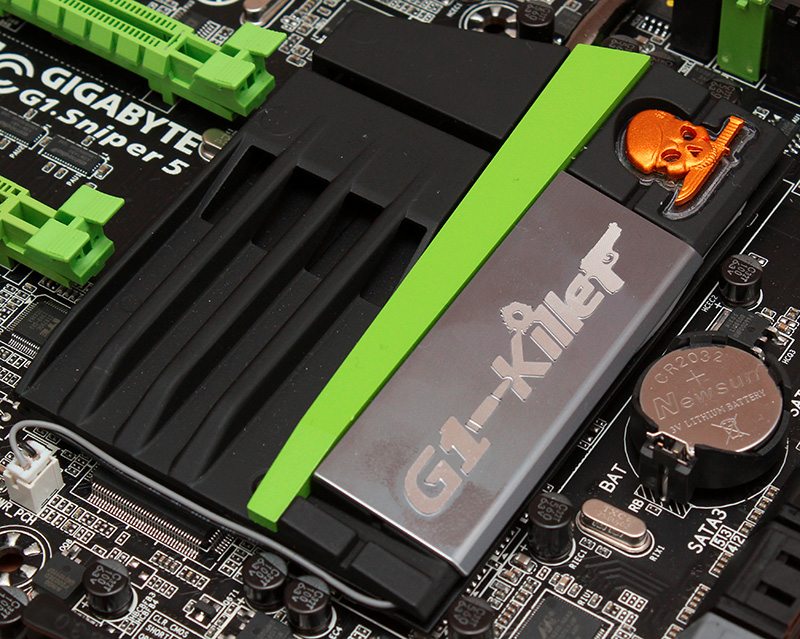 We have four DIMM slots supporting dual channel memory, up to 32GB of DDR3  with overclocked speeds supporting 2400MHZ + Nearby we find the ATX 24-pin power connector, USB 3.0 header and plenty of features for hardcore overclockers including reset and power switches, clear CMOS button, fan headers, debug LED, voltage check points and switches for the different BIOS editions.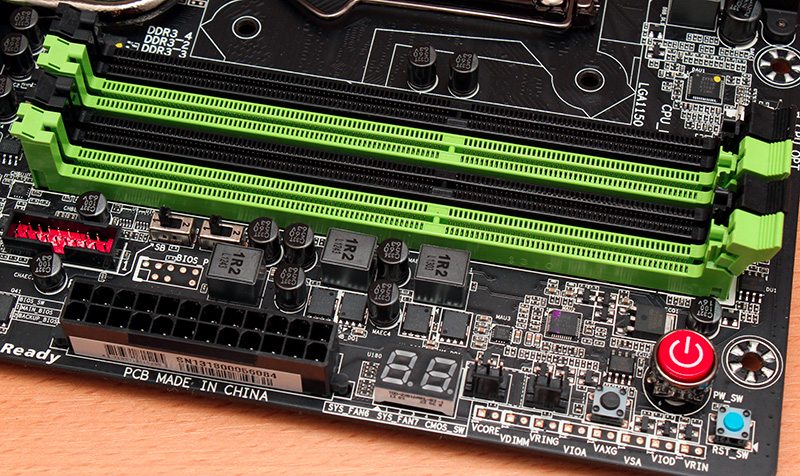 For a gamer, the expansion slots is going to be a big highlight and Gigabyte have thought about this quite a lot and have come up with a simple, effective solution which comprises of three PCI-Express x1 slots and four PCI-Express x16 slots. Nothing more, nothing less and this is thanks to the PLX chip that we spoke about earlier, allowing the board to run x16/x16/x8/x8 by giving it some extra juice when using quad SLI. Within gaming, extra bandwidth is key and this board certainly isn't lacking any.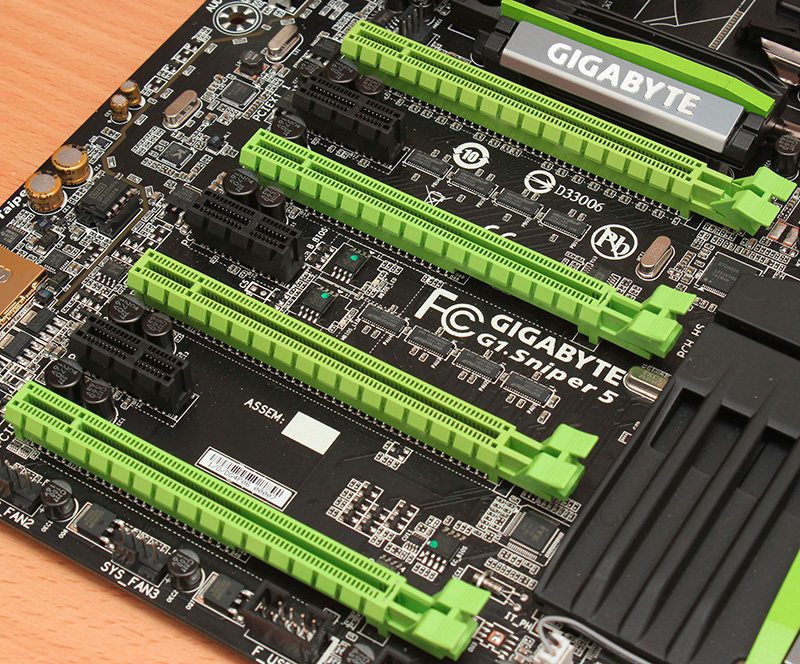 SATA is another key area for this board as it includes a whopping 10 SATA 6Gb/s ports, of which six are black and four are grey. The six black ports are running off of the Intel Z87 chipset, while the remaining four grey ports use the Marvell controller of which the chip sits just behind. You will also notice the SATA power connector just to the right which provides extra power, not to the SATA ports but to the PCI-Express expansion lanes and allows for the cable to be neat and tidy when connecting to this port. It is worth noting that you will only need to plug this in when utilising quad SLI or possibly tri-SLI if you're having stability issues.

Gigabyte have put a massive onus onto the sound capabilities of this board by implementing Sound Core3D. You will also notice a distinct line around the audio components which acts as an audio noise guard or EMI shield to stop interference with the sound from other areas of the board. The Sound Core3D includes gold plated shielding to also stop any disruption to the audio and next to this is the upgradable OP-AMP chip allowing the user to cater for their own personal listening style and improving sound quality through the audio amplifier.
The two audio chips that come supplies (one in board and one with accessories) you can chop and change them as often as you like depending on the task at hand, whether you are listening to music or gaming, there is a solution for you. For those with different listening styles, Gigabyte have three different upgrade kits, so you won't find better from any other onboard audio.

Moving to the front panel headers and various connectors, we find a bunch of system fan headers, two USB 2.0 connectors, our second USB 3.0 connector and the usual LED and front panel switches that your chassis would connect to.

Finally we finish up our look of the board with the rear I/O and from left to right we find two USB 2.0 ports, a PS2 mouse/keyboard combo port, a coaxial audio out connector, six USB 3.0 ports (blue), two HDMI ports and a DisplayPort output connector. Ethernet wise, we find an Intel GbE LAN port and a Qualcomm Atheros Killer E2201 controller LAN port and in regards to audio, there are five auxiliary audio jacks an an optical SPDIF port, all of which are run through the Creative Sound Core 3D controller chip and it is worth noted that all of the audio jacks have gold contacts for the best possible connectivity.