Gigabyte G1.Sniper M5 (Z87) Motherboard Review
---
---
---
Andy Ruffell / 11 years ago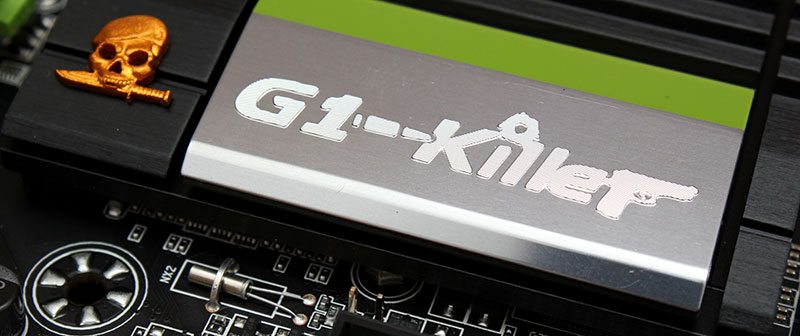 Micro-ATX motherboards and all things on the smaller form factor have been a big highlight in the past year or so, with Mini-ITX taking the market by storm and manufacturers somehow managing to cram all of the much needed, and wanted components into this much smaller sized boards. Fast forward to the present day and we see the same thing happening all over again with Z87 and Gigabyte, as they have managed to produce a board based around the new chipset, branded under the G1-Killer branding, much like we saw with the Z77 M3 board which we loved by the way.
For those out there wanting 4-way SLI and a full ATX form factor, Gigabyte have a board just for you; the G1.Sniper 5, but for those wanting a much smaller footprint, they have graced us with the G1.Sniper M5. This particular board is set to pack all of the grunt that its big brother incorporates, without any of the drawbacks, and that can be said for improved audio, overclockability, design and overall key features. Of course it doesn't have the ability for quad SLI, but that's why they have its big brother sharing the limelight to cater for that market.
As we work out way through the large stack of Z87 motherboards that we have here, we wanted to make sure that this board was one of the first, because if it's anything like the Z77 G1.Sniper M3 was, then it's going to be a complete animal and may give you a few shocks on the way, as small doesn't necessarily mean underpowered of lacking features, in fact, quite the opposite.
Before we check out the performance though, we need to make our way through the packaging and accessories before we take a look at the board itself and all of its features including its shiny new BIOS that has been implemented. Once this is out of the way, we can get down to the nitty gritty and see how it performs at stock speeds as well as pushing it as far as we can under our testbed conditions, and then of course to see how it performs once it's been pushed to its limits, so lets not delay and get straight into it.
The packaging is part of a new design that Gigabyte have implemented across the range with a sneak peek view of the cooling around the CPU socket. Inside we find the usual user guides, driver CD and casebage sticker, as well as a SLI bridge, 4 SATA data cables and rear I/O panel shield plate. An added extra as defined on the box is the Gigabyte OP-AMP upgrade kit which consists of an OP-AMP chip and removal tool as shown in the picture below.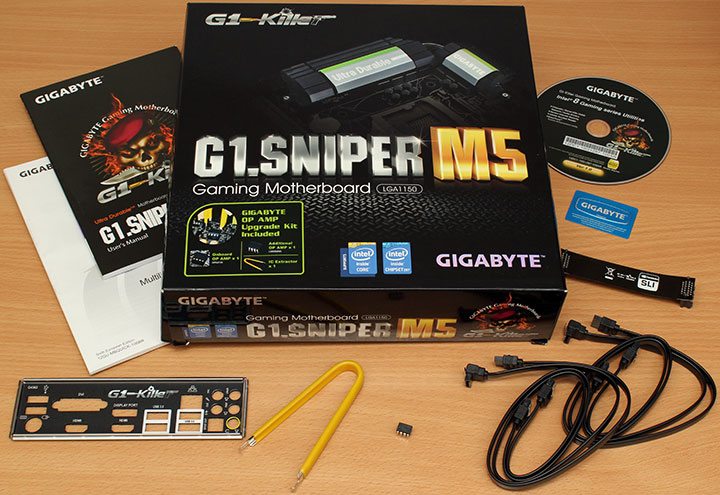 Moving onto the board we have a Micro-ATX form factor board consisting of a black PCB and green components spanning across the slots and coolers. The design is similar to what we've seen on G1.Sniper boards in the past and G1-Killer branding is featured across the board. From a first glance, you can see that a lot of key features are included on the board, even though it uses a small form factor.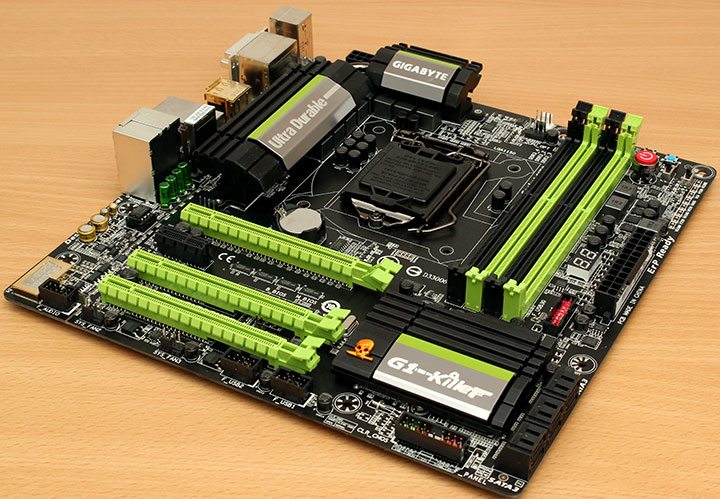 The CPU socket includes two passive heatsinks which are joined via a heatpipe. Black caps are used to provide stability and durability to the processor and its power comes from a single 8-pin ATX power connector, just tucked away at the top of the board. The green on the Gigabyte/Ultra Durable branded cooling isn't too over the top and works really well with the black PCB that Gigabyte have used.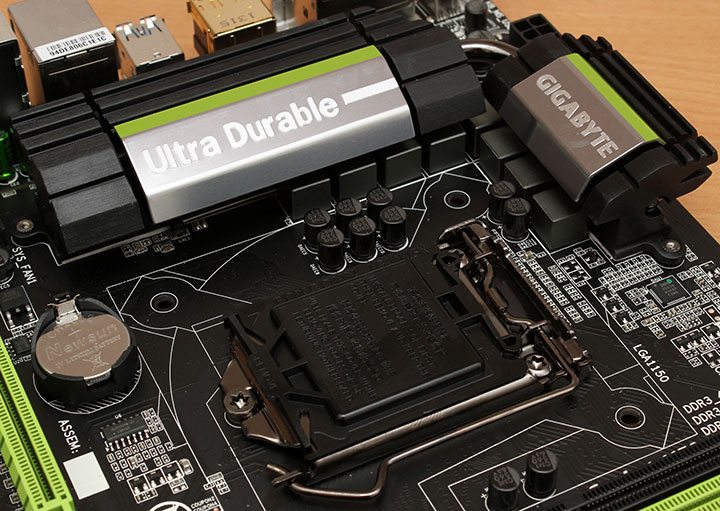 More G1-Killer branding is on the low-profile cooling solution that covers the Intel Z87 chipset and once again features a subtle green banding to coincide with the theme of the board.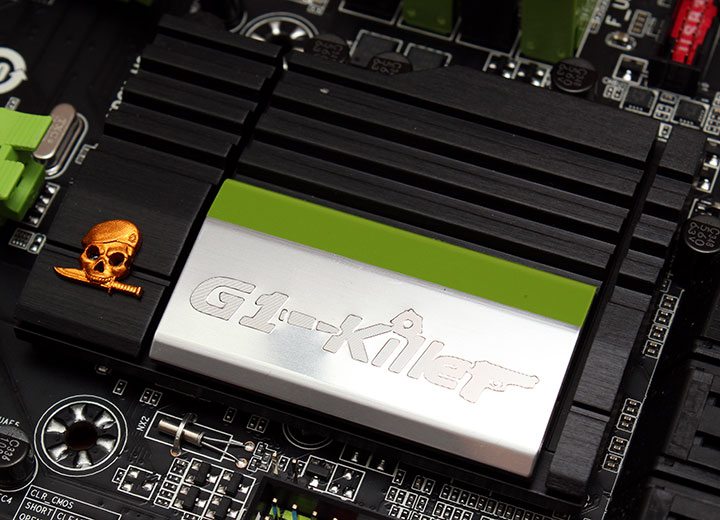 Heading up the board we find four DIMM slots that support 32GB of DDR3 ranging from speeds all the way up to 2400MHZ + for those wishing to overclock. Also nearby is the ATX 24-pin power connector, USB 3.0 header and some overclocking functions. These include a debug LED, voltage measuring points, BIOS switches, reset and power buttons and a reset CMOS button for overclockers and troubleshooting alike.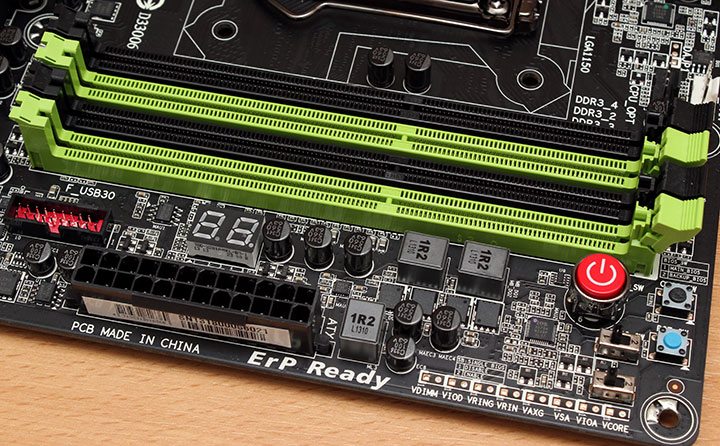 Taking a look at the expansion slots, we've got a single PCI-Express x1 slot and three PCI-Express 3.0 x16 slots which will run at x8/x8 while the third slot runs at x4 speeds independently. Nvidia SLI and AMD CrossFireX is supported but only 2-way on each of these technologies.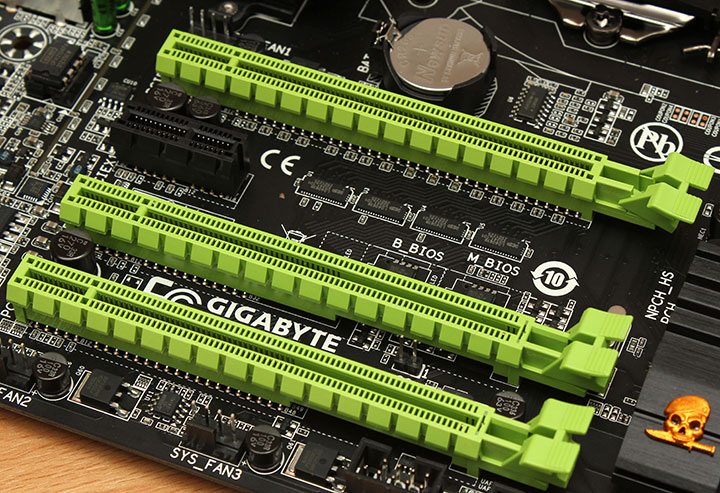 On the edge of the board we find a total of six SATA ports all running at SATA 6Gb/s speeds thanks to the Intel Z87 Express chipset as standard with no need for any addon chip from ASMedia or Marvell.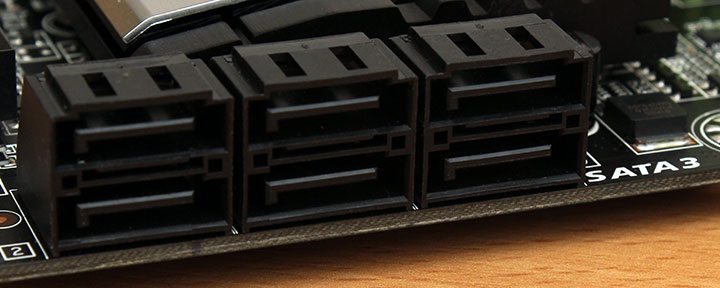 At the opposite end of the board is a feature very much related to gamers and audiophiles with a glimpse at the Sound Core 3D audio, encompassed in a gold shielding to stop interference as well as having an EMI-like shield around the audio components. The removable OP-AMP can also be seen and Gigabyte are selling upgrade kits separately depending on your listening styles and habits.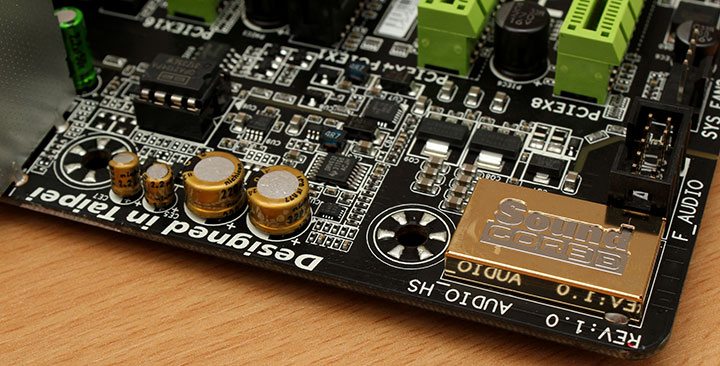 Looking across the bottom of the board we have the usual suspects with a variety of system fan headers, two USB 2.0 headers and the typical front panel connectors for LEDs and switches on your chassis. Nothing out of the ordinary and not a great deal going on, but for a Micro-ATX board, what did you expect?

In typical eTeknix fashion, we finish things off with the rear I/O and can see two USB 2.0 connectors with a PS2 mouse/keyboard combo port just below it. Next to this is a DVI, two HDMI and a DisplayPort output with four USB 3.0 ports just next to it. Above this is a Gigabit LAN port that uses the Intel controller from the chipset. Audio wise we find an optical SPDIF with five gold connector audio jacks, which of course all use the Creative Sound Core 3D audio that we just spoke about.