Gigabyte G1 Sniper Z87 (LGA 1150) Motherboard Review
---
---
---
Ryan Martin / 8 years ago
Introduction
---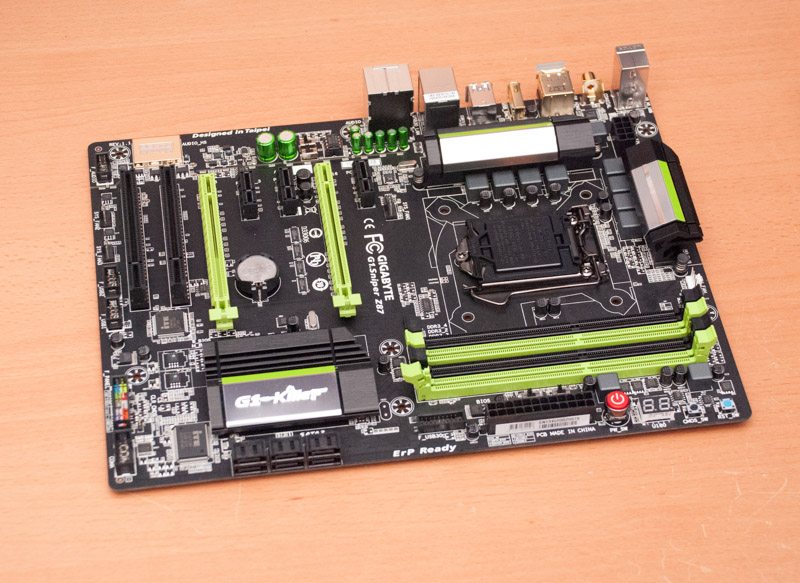 With AMD fizzling out in the high end desktop market segment, people are increasingly choosing the Intel LGA 1150 platform for high end gaming systems. Not surprisingly motherboard vendors have responded to the popularity of LGA 1150, in particular Z87, and we are seeing a highly competitive market. Gigabyte, ASUS, MSI and ASRock are all constantly trying to undercut each other buy offering better quality motherboards at lower prices. Gigabyte's latest attempt to pull away from the competition is the new G1 Sniper Z87 motherboard costing just $170/£115. Considering past G1 Sniper motherboards, like the G1 Sniper 5 Z87 and G1 Sniper M5 Z87, cost $400 and $200 respectively Gigabyte have really made some significant cost savings with the G1 Sniper Z87 motherboard. Yet looking at the G1 Sniper Z87 it is hard to see where those savings have been made because we still have a whole array of high end options including dual PCIe 3.0 X16 lanes, six SATA III ports, an 8 phase CPU VRM, high quality audio, Killer E2200 networking and a dual UEFI BIOS. The G1 Sniper Z87 looks like an option that will be hard to match at its price point. Below you can see some key specifications: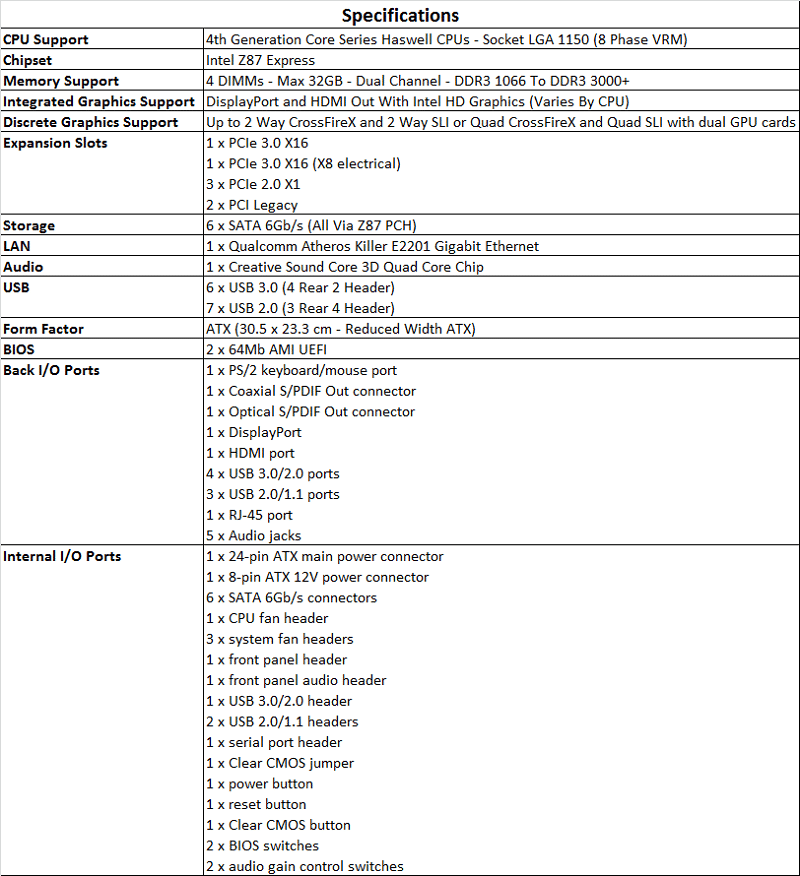 There's no doubting what Gigabyte think is the best feature of their G1 Sniper Z87 is – the audio. Gigabyte are using Creative's Sound Core3D Quad Core audio processor enhanced with a full suite of SBX Pro Studio software. There's also Studio-Class audio components across the entire PCB separated motherboard section including  Nichicon MUSE ES series Bi-Polarised audio capacitors, a frotn headphone amplifier IC, upgradeable operational amplifiers, gain switches and gold plated audio jacks. All of these things combined give you a level of audio quality and flexibility that no other motherboard vendor can offer.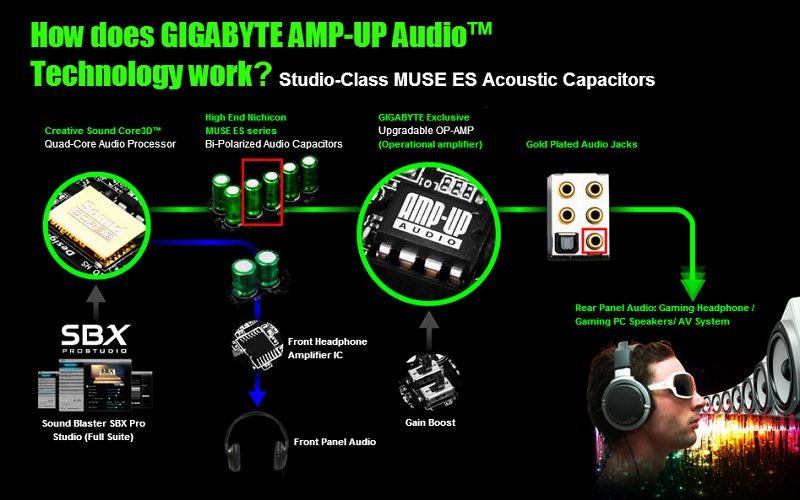 Next on Gigabyte's key feature list is the Killer E2200 networking chip provided in-tandem with Qualcomm's Atheros Gigabit Ethernet Controller. Gigabyte claim that this network controller boasts automatic detection and prioritisation of game traffic and allows for up to 50% faster gaming traffic (via UDP prioritisation/acceleration and reduced latency).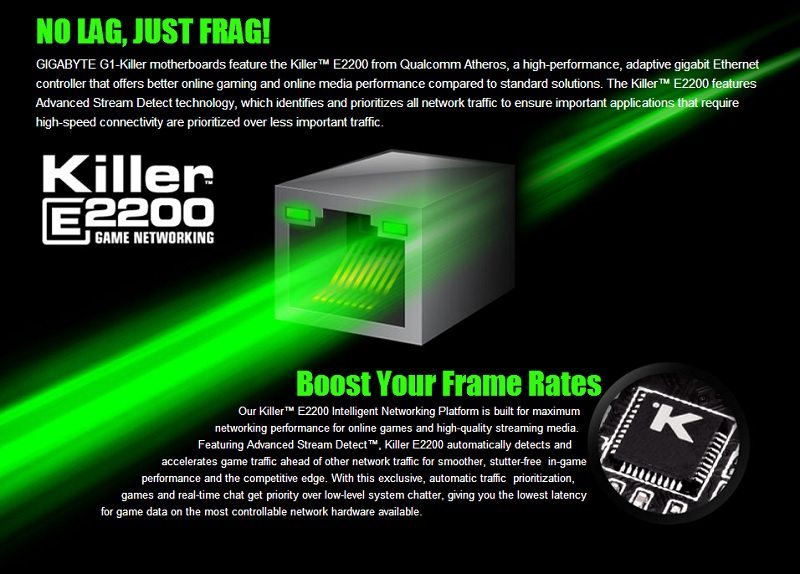 The final notable weapon in Gigabyte's arsenal is overclocking. With onboard power, reset and clear CMOS buttons, a dual BIOS, advanced overclocking software, an 8 phase CPU VRM and room for 2 way SLI/CFX the G1 Sniper Z87 has just about everything a performance enthusiast could need. Whether you want to overclock yourself, or just use automated overclocking software provided by Gigabyte, then either way you'll end up with extra performance.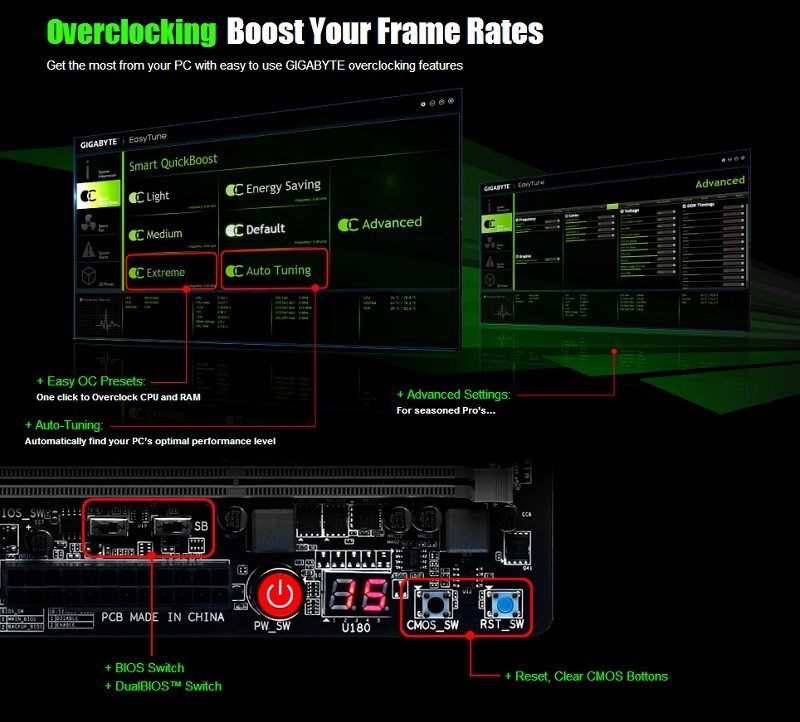 So we've covered the features and specifications but let's see how this motherboard copes in testing!