Gigabyte GeForce GTX 580 SOC Super Overclock 1536MB Graphics Card Review
---
---
---
Andy Ruffell / 12 years ago

For certain users, a good performing graphics card isn't enough and they will strive until they get the very best. Now Gigabyte have answered the prayers of those users with a range of products branded as "Super Overclock". Gigabyte are more known for their motherboards than graphics cards, but that's not to say they aren't a worthy contender in that department.

The top card in this range is the GTX 580 SOC which as you can guess is a Geforce GTX 580 using the Nvidia GF110 GPU, but with increased speeds and performance. With cards like this on the market, when we hear the words "overclock" we generally find the card to have a 5-10MHz increase, but Gigabyte haven't done things by halves and have increased the core clock speed from a 772MHz to a mighty 855MHz.

We will be taking a look to see how this card performs against the top cards on the market including the likes of the Radeon 6990 dual GPU monster, as surely a single core card can't keep up with that, can it?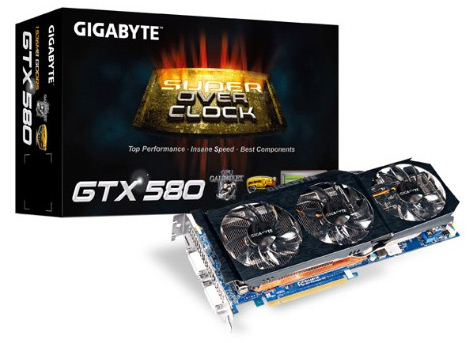 Specifications
[TABLE=class: grid, width: 100%]
[TR]
[TD=align: left]Chipset[/TD]
[TD]GeForce GTX 580[/TD]
[/TR]
[TR]
[TD=align: left]Core Clock[/TD]
[TD]855 MHz[/TD]
[/TR]
[TR]
[TD=align: left]Shader Clock[/TD]
[TD]1710 MHz[/TD]
[/TR]
[TR]
[TD=align: left]Memory Clock[/TD]
[TD]4100 MHz[/TD]
[/TR]
[TR]
[TD=align: left]Process Technology[/TD]
[TD]40 nm[/TD]
[/TR]
[TR]
[TD=align: left]Memory Size[/TD]
[TD]1536 MB[/TD]
[/TR]
[TR]
[TD=align: left]Memory Bus[/TD]
[TD]384 bit[/TD]
[/TR]
[TR]
[TD=align: left]Card Bus[/TD]
[TD]PCI-E 2.0[/TD]
[/TR]
[TR]
[TD=align: left]Memory Type[/TD]
[TD]GDDR5[/TD]
[/TR]
[TR]
[TD=align: left]DirectX[/TD]
[TD]11[/TD]
[/TR]
[TR]
[TD=align: left]OpenGL[/TD]
[TD]4.1[/TD]
[/TR]
[TR]
[TD=align: left]Digital max resolution[/TD]
[TD]2560 x 1600[/TD]
[/TR]
[TR]
[TD=align: left]Analog max resolution[/TD]
[TD]2048 x 1536[/TD]
[/TR]
[TR]
[TD=align: left]Multi-view[/TD]
[TD]2[/TD]
[/TR]
[TR]
[TD=align: left]Tools[/TD]
[TD]N/A[/TD]
[/TR]
[/TABLE]