GIGABYTE MD71-HB0 (C622, LGA3647) Motherboard Review
---
---
---
Bohs Hansen / 5 years ago
Introduction, Specifications, and Packaging
---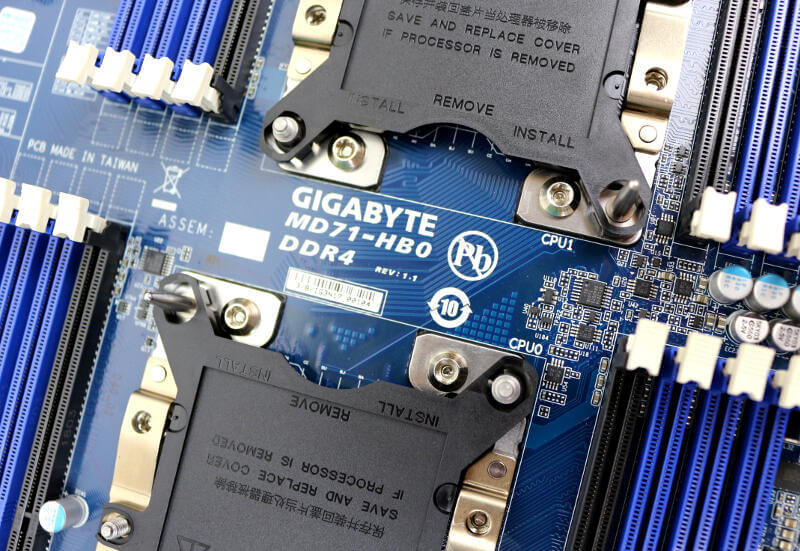 We've had a look at Intel's Scalable Platform in earlier reviews, but today it's time to look at it in a multi-CPU setup. For this, I have GIGABYTE's MD71-HB0 (product link) in the office for a thorough review.
GIGABYTE's MD71-HB0 is an epic motherboard, that's clear from the feature list. Dual 10GbE, dual 1GbE, dedicated remote management, dual M.2, quadruple U.2, and 12 SATA3 ports are just some of them. All wrapped up on a standard E-ATX size of 305 by 330 mm.
GIGABYTE MD71-HB0 Dual-Socket Server Motherboard
There are many options on what you can use a motherboard like GIGABYTE's MD71-HB0 for. Whenever you need to crunch a lot of numbers or data, and store it as well, the MD71-HB0 will be a great choice. With its dual-socket design, it allows for double the CPU power. And Intel's Scalable Xeon Platform has a lot of that, even in a single chip.
GIGABYTE packed the C622 chipset motherboard with all sort of awesome features. To start with, it's equipped with 6 RJ45 ports for 1GbE, 10GbE, remote management, and serial connections. There's also plenty of storage options with a total of 14 SATA3 ports (2 with DOM support), two U.2 ports via two SlimSAS connectors, and dual M.2 22110 connectors. And that's just what's onboard. You can expand it with more storage drives, graphics cards, or other add-in cards through the six PCIe slots.
As mentioned, MD71-HB0 has two LGA3647 sockets for a dual CPU setup. They support TDPs up to 205W and feature the narrow ILM mount. There are 16 DDR4 DIMM slots with 6-channel memory architecture. The memory sockets support up to 64GB RDIMM or LRDIMM with a speed up to 2666MHz. Combining it all is an Intel C622 Express chipset.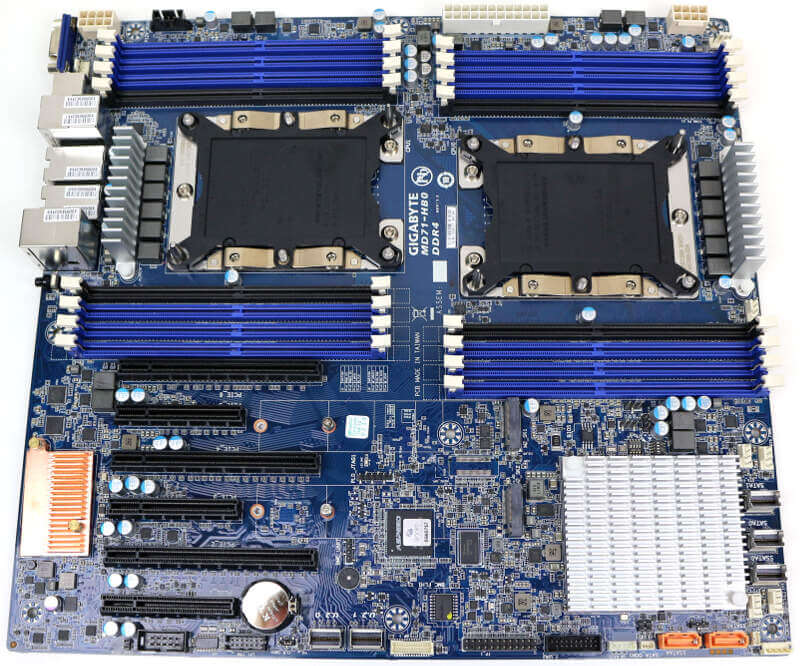 Expansion Slots
The basic idea of all motherboards is the ability to expand the functionality. GIGABYTE's MD71-HB0 has three PCIe Gen3 x16 and three PCIe Gen3 x8 full-size slots. Two x16 and one x8 are controlled by one CPU while one of each is controlled by the second CPU. The last x8 slot is controlled by the C622 chipset.
M.2 slots are also technically PCIe slots. The board comes with two M-key slots which are PCIe Gen3 x4 each. They support M.2 modules with up to 32Gbps and a size up to 22110. These two are controlled by the first CPU. The second CPU controls the two U.2 ports with SlimSAS connector. These feature the same PCIe Gen3 x4 speed per port.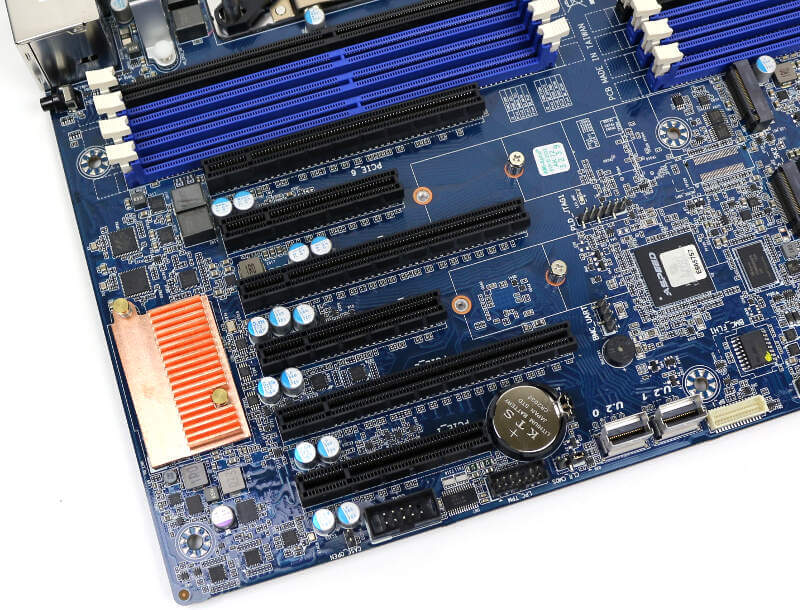 Storage Options
It is given that you can connect a lot of storage controllers or drives through the expansion slots. But what about the onboard options? Well, there's plenty to start with.
The MD71-HB0 features three SlimSAS ports which each controls 4 SATA3 drives. You get two cables for a total of 8 drives included with the motherboard which is a great bonus. Most people will have enough in 8 drives, which at the time of writing can be 14TB each. But there's the option to get a third cable and attach four more.
Besides the three SlimSAS ports, there are two standard SATA3 connectors with DOM support. A great and convenient way to attach boot and diagnostic drives.
The motherboard comes with support for Intel SATA RAID 0, 1, 5, and 10. The processors support Optane technology and VROC too. There's an alternate version of the motherboard which comes with the VROC module included, but for this one, you'll have to get it extra.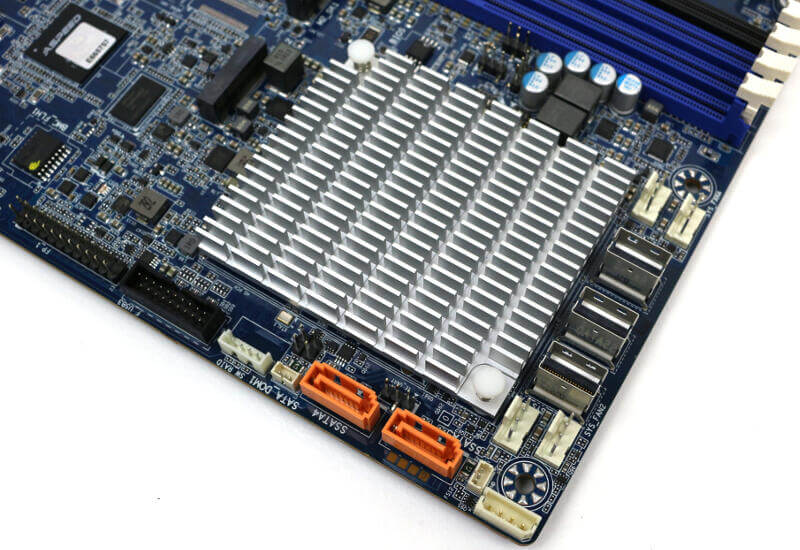 Networking and other RJ45 Connectors
Time for some networking. For some weird reason, that's always what excites me most. I'm always been fascinated by the options it represents from back in the day when we used homemade BNC cables and terminators, trying to get a LAN up and running.
GIGABYTE's MD71-HB0 has two Gigabit Ethernet ports, each controlled by one of Marvell's 88E1514 controllers. The two 10 Gigabit Ethernet ports are controlled by one of Intel's X557-AT2 controller. That's already a very solid base for any system. And as mentioned earlier, it's easy to expand it through add-in cards.
There are two more RJ45 ports on the motherboard, but not for ordinary networking. They are both controlled by the onboard ASPEED AST2500 chip. One is for remote network management while the other is an RJ45 serial COM connector.
The motherboard is fully compatible with Mellanox networking products and features an improved networking through Omni-Path interconnect fabric as a CPU-integrated or standalone device.

Internal and External USB Connections
There aren't a lot of USB ports on the rear IO panel of the MD71-HB0. In general, a server doesn't need a lot of them and especially not on the rear side. So why add them if they won't get used? So what is there then? Well, you get two USB 3.0 ports, that's it.
There is the option for more though, through front panel connectors. You can connect another two USB 3.0 ports through the single onboard header.
Remote Management and Direct Display Output
The ASPEED AST2500 controller is one we've seen on many other server motherboards in the past. It offers two distinct features which can make any server administrator's life easier. It has integrated video for a direct display connection. While it doesn't have a lot of processing power, it allows you to maintain the system without having to install a dedicated graphics card in one of the expansion slots. It delivers a 2D resolution of up to 1920p at 60Hz with 32bpp and is coupled with a little bit of DDR4 SDRAM
With the Avocent MergePoint IPMI 2.0 web interface, you get a lot of options and access to close-to-anything. Here is a set of features included:
Network settings
Network security settings
Hardware information
Users control
Services settings
IPMI settings
Sessions control
LDAP settings
Power control
Fan profiles
Voltages, fans and temperatures monitoring
System event log
Events management (platform events, trap settings, email settings)
Serial Over LAN
vKVM & vMedia (HTML5)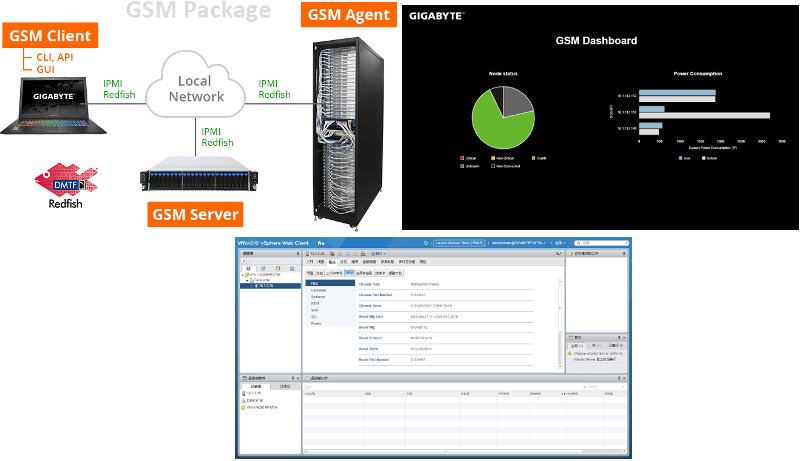 As a GIGABYTE board, you also get access to GSM. GSM stands for GIGABYTE Server Management which in itself explains its function.
The GSM Package consists of a GSM Client, a browser-based user interface and a CLI if that is preferred. It enables administrators to remotely monitor and manage GSM Server (server level) and GSM Agent (rack level) modules, and are all IPMI and Redfish compliant. The GSM Client is also API enabled to allow administrators to streamline and automate workflows or integrate with third-party applications.
A GSM plugin is also available for VMware's vCenter, eliminating the need to become familiar with a different user interface and software platform. The plugin provides the following information and functions:
Physical host hardware information
Hardware sensor status
Physical host abnormal event
Power on / power off / restart functions
Additional Features and Connections
The rest of the connection options are internal. There aren't a lot more as we've already covered a whole bunch. But, there are some worth mentioning left, such as the TPM header. The header has an LPC interface where you can install an optional TPM 2.0 kit such as the CTM000.
Each CPU socket has a single fan header, so you'll need a Y-cable in the event that your coolers have two fans each. There are another five fan headers for the rest of the system which should be plenty for all rack chassis'.
There's also a COM header for a second serial connection, a front panel header, and an HDD backplane board header. Last but not least, you get a PMBus and IPMB.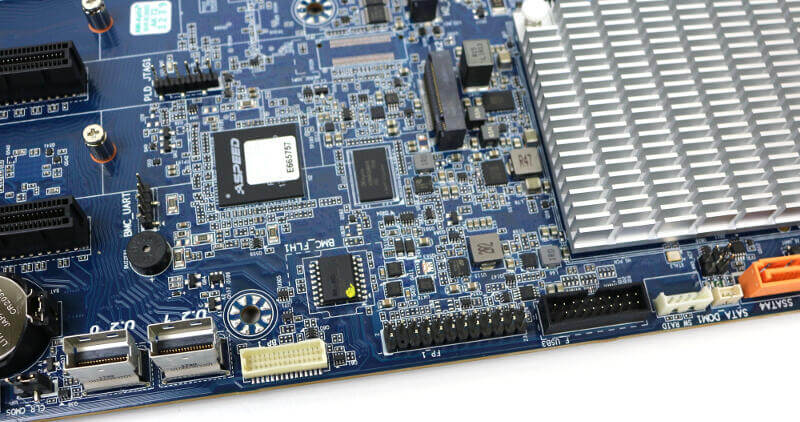 Feature Highlights
Intel Xeon Processor Scalable Family
6-Channel RDIMM/LRDIMM DDR4, 16 x DIMMs
2 x 10Gb/s BASE-T and 2 x 1Gb/s LAN ports
1 x Dedicated management port
3 x SlimSAS (for 12 x SATA 6Gb/s) ports
2 x SATA DOM supported
Ultra-Fast M.2 and U.2 with PCIe Gen3 x4 interface
Up to 6 PCIe Gen3 expansion slots
Aspeed AST2500 remote management controller
The full specifications, if you still should have doubts, can be found on the official product page. Just follow this link.
Package and Accessories
The package is the same type which we know from other GIGABYTE server and workstation motherboards.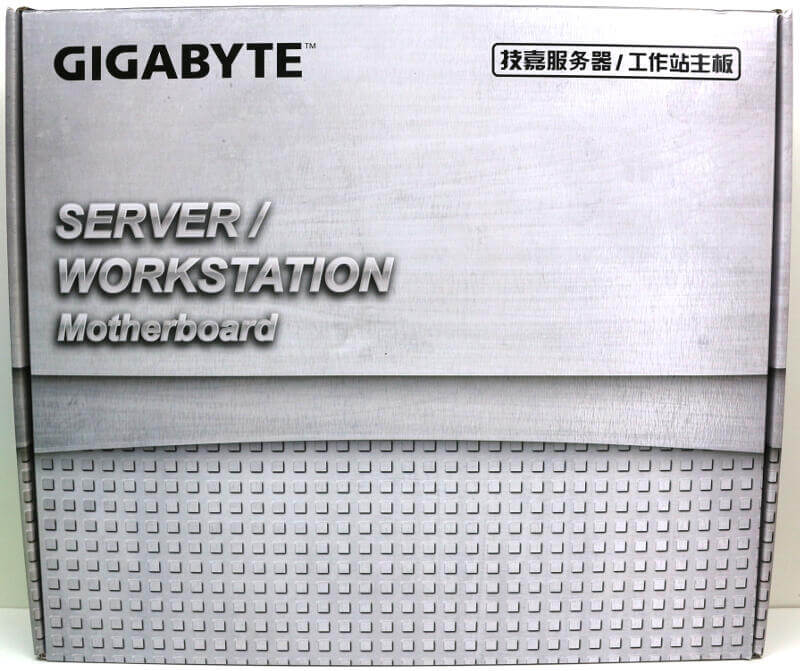 It is a generic box which applies to all the product, highlighting the reliability, availability, and servicability.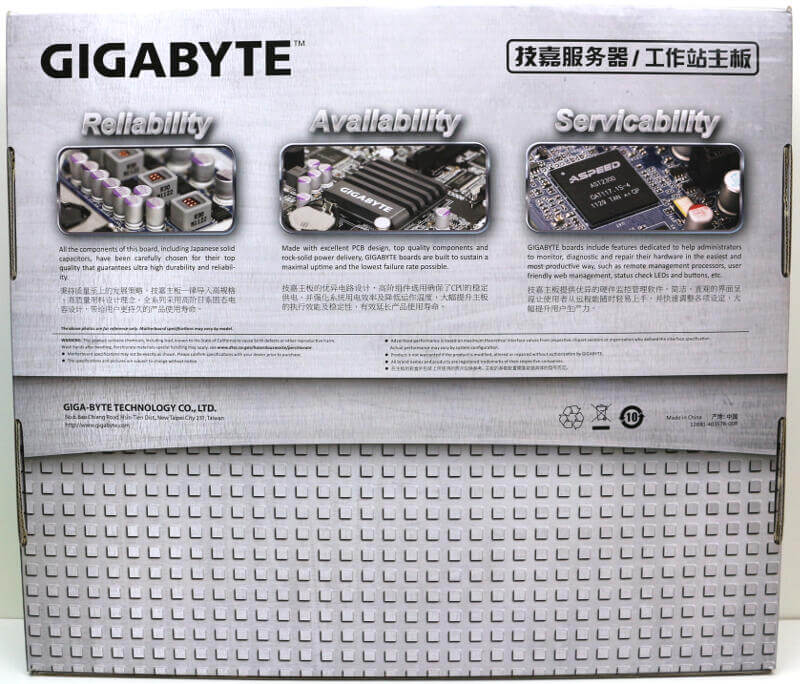 On one of the sides, you'll find a small sticker with what's inside. The model number and serial numbers are both printed upon it.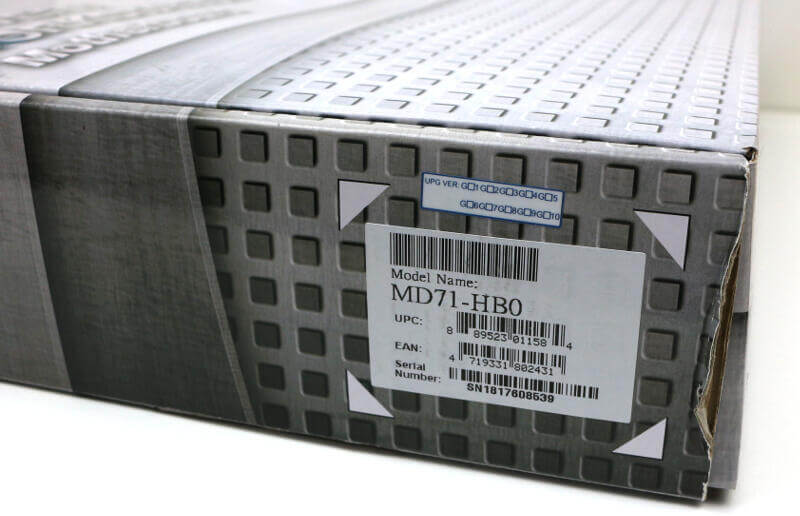 Inside is the motherboard itself along with two fitting narrow ILM processor brackets, two SlimSAS to 4x SATA3 cables, and an IO shield.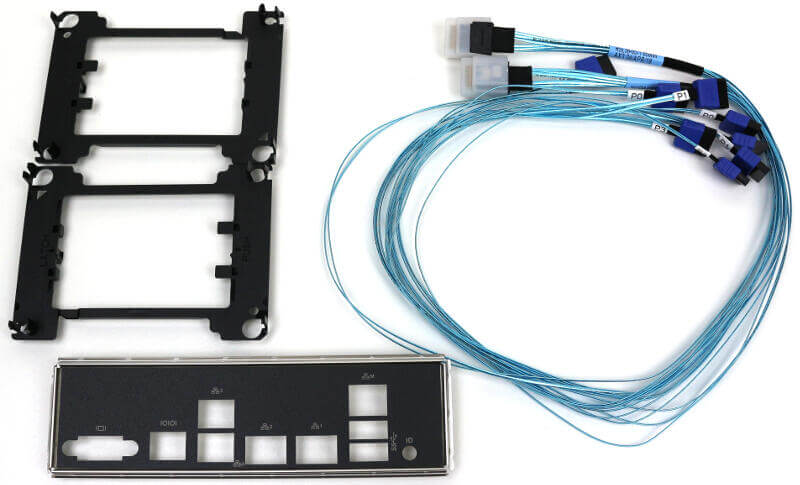 There's also a quick reference guide which will help you locate and install the various things.