Gigabyte P35W v5 Gaming Laptop Review
---
---
---
John Williamson / 8 years ago

A Closer Look

The Gigabyte P35W v5 is quite stylish and looks professional due to the matte black finish. This means you can use it for business purposes and play some games during your downtime. Furthermore, the coating resists fingerprints, grease and general grime exceptionally well. As previously mentioned, you can also swap the orange sticker for another colour option which improves the laptop's aesthetic appeal.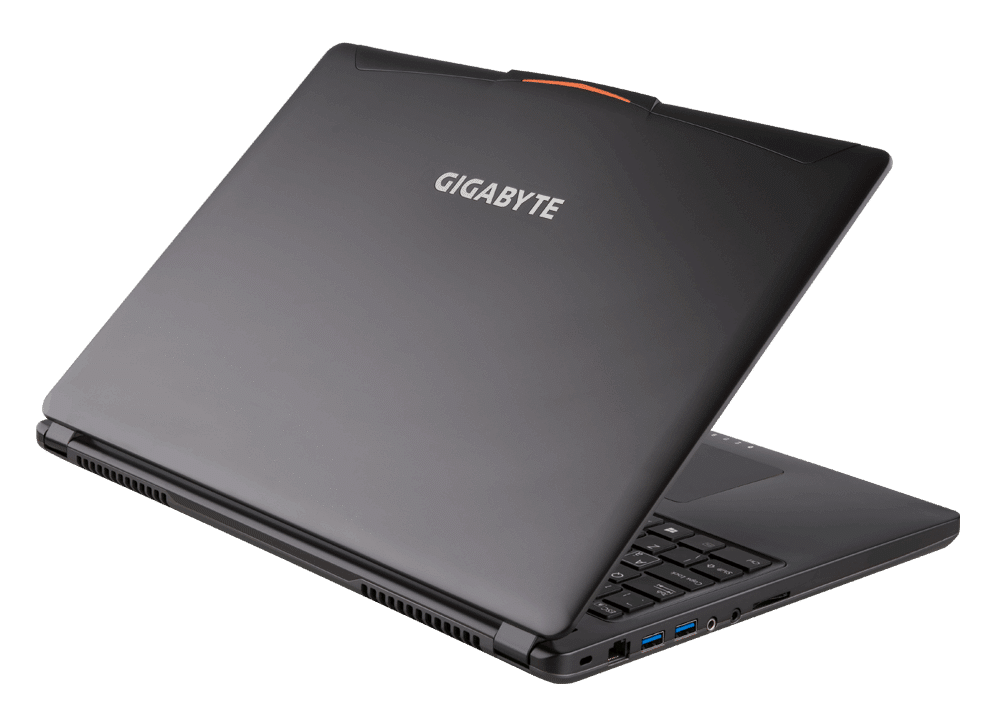 Connectivity-wise, the laptop incorporates a mini DisplayPort, USB 3.0, USB 3.1 Type-C, HDMI 2.0, VGA, and power jack. It's always welcome to see USB 3.1 support which makes it easier to plug-in devices and has a theoretical maximum of 10 Gb/s. This is twice the speed of USB 3.0. On another note, the HDMI port is capable of driving an external 4K screen with a 60Hz refresh rate. You might find this useful when viewing video content on a large screen TV, especially now YouTube supports 60 frames-per-second footage.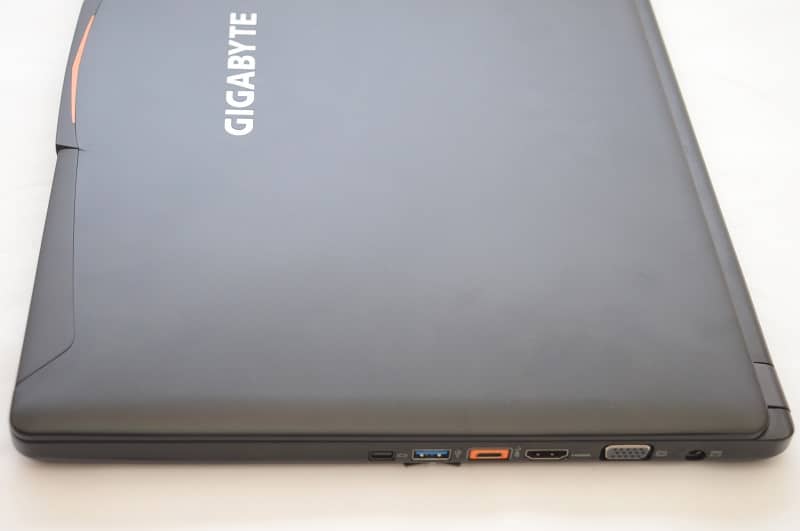 On the opposite side, there's a Kensington lock, RJ45 port, two USB 3.0, headphone jack, microphone jack, and SD card reader.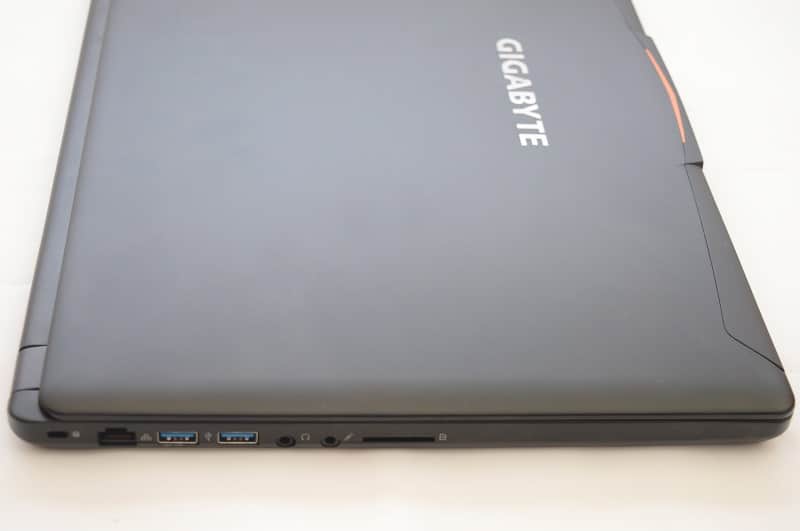 The island-style membrane keyboard is comfortable to type on and I adjusted it to fairly quickly despite being a huge proponent of mechanical keyboards. Each key registers without having to apply too much pressure, and I didn't make any mistakes when writing a large quantity of text. It's certainly not the best membrane keyboard I've used, but the user experience is good and should make typing documents really easy.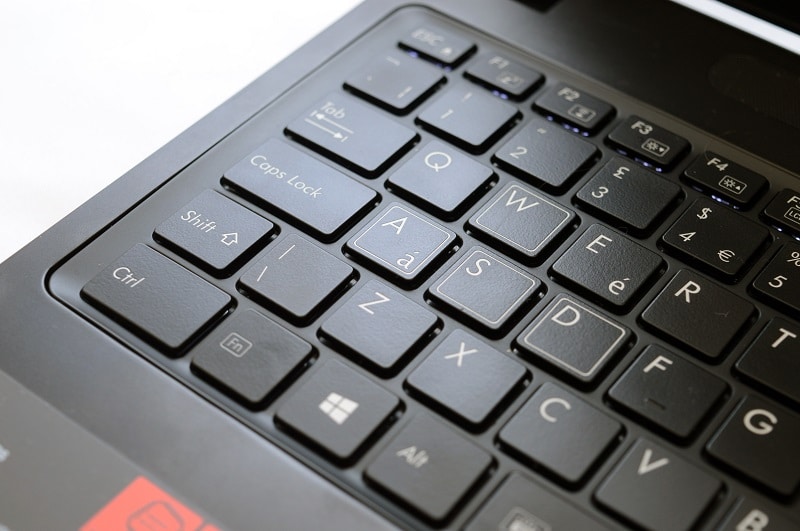 Honestly, I've always struggled to use even the best touchpads on the market and usually plug-in a mouse to improve productivity. This is a subjective preference though and greatly depends on the individual in question. Saying that, the laptop's cursor movement felt reliable, and I didn't experience any judder. The tracking performance is good the large surface area makes it relatively simple to navigate the desktop in Windows 10.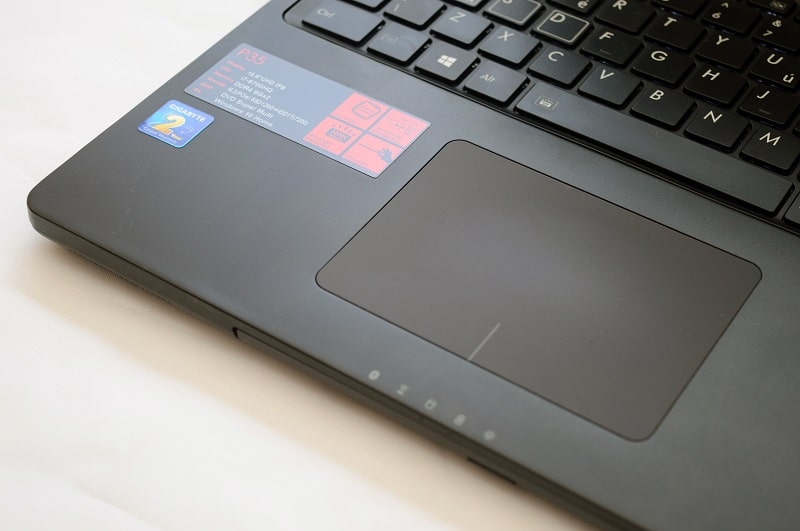 The laptop utilizes two 1.5 watt speakers and supports Dolby Digital Plus. As expected, the audio isn't great and sounds rather flat in comparison to competing models from MSI. To be fair, it's really difficult to integrate excellent audio quality in a thin frame, and it's advisable to use a set of premium headphones or speaker system instead. I'd probably describe the speakers as passable, and they're fine if you're casually watching a YouTube video. However, for gaming or music playback, you should really invest in additional audio equipment.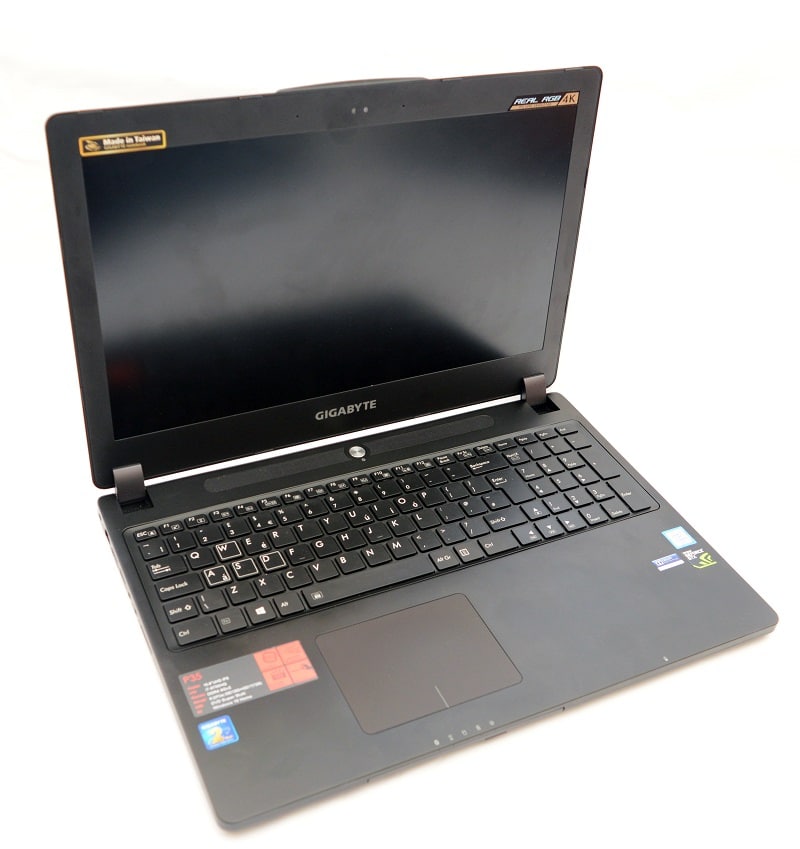 This particular unit comes with a 3840×2160 IPS panel with 170 degree viewing angles and impeccable colour definition. Furthermore, the amount of pixels for such a compact screen creates a pixels per inch rate of 282. As a result, the image is absolutely gorgeous and uses a wide colour gamut. Throughout my time with the laptop, I didn't encounter any noticeable backlight bleed, ghosting or other problems.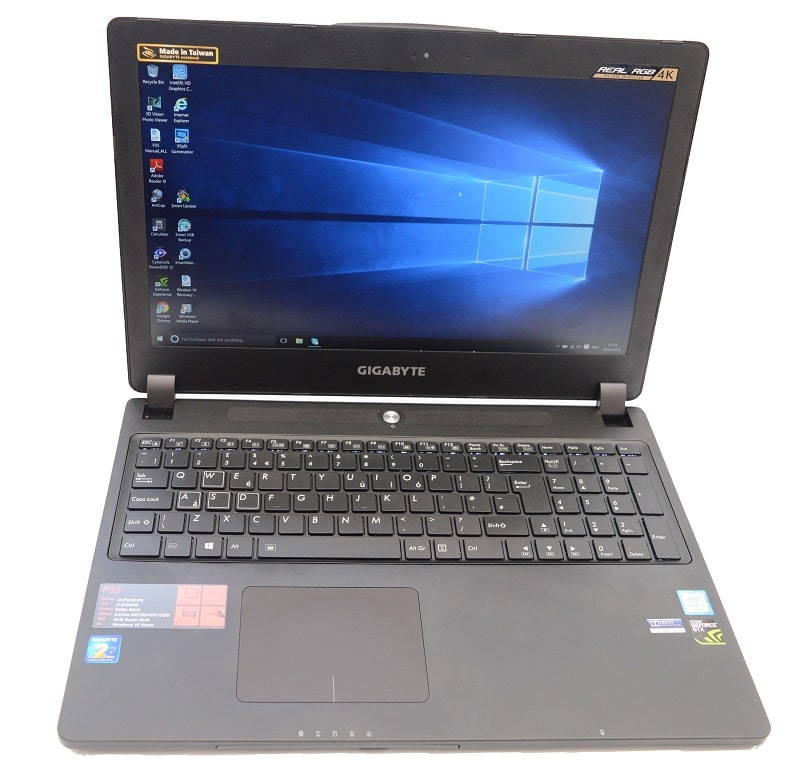 Here we can see the laptop's stylish edges and impressively slim chassis. This is worthy of praise, given the high-end specification.

The bottom section contains ventilation holes to help airflow and four rubber feet which keep the laptop in a sturdy position. Personally, I'd prefer to see slightly larger pads to prevent sliding when users adopt a more aggressive approach. Gigabyte laptops are some of the easiest to open which makes any upgrades remarkably simple. As you can see, there's a dedicated flap to increase the memory without having to dismantle the entire unit. If you want to add another M.2 storage device, then you all have to do is remove 15 screws. Unlike other products, the laptop comes undone quite easily without having to pry the plastic away which could cause cosmetic damage.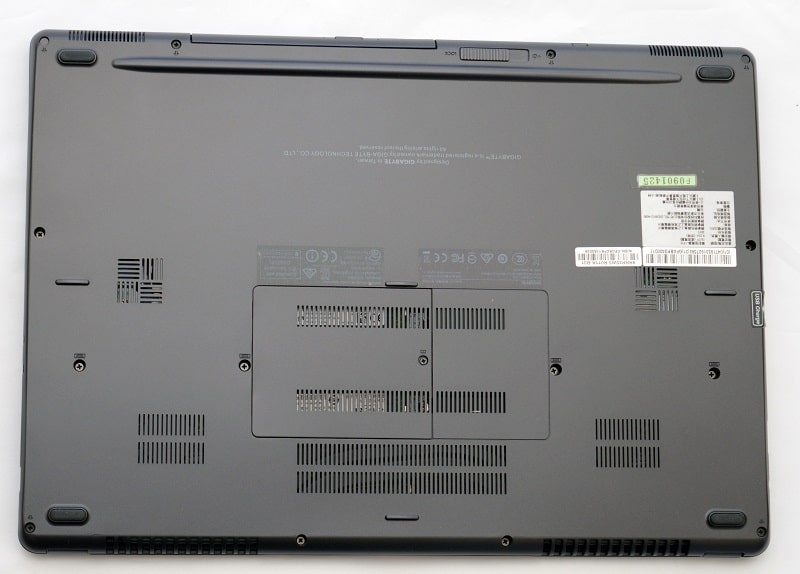 From this image, we can see the plastic cover's underside littered with shielding.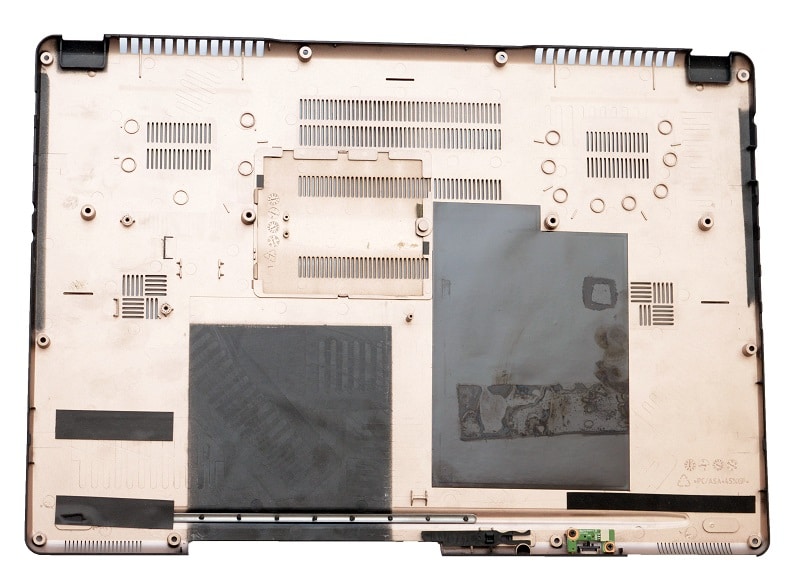 Please make sure you use a gentle approach and slowly lift the plastic cover. This is because Gigabyte has positioned a PCB on the cover which connects to the main circuitry. Thankfully, it's easy to enough to unplug this cable and gain easy access to the internal components.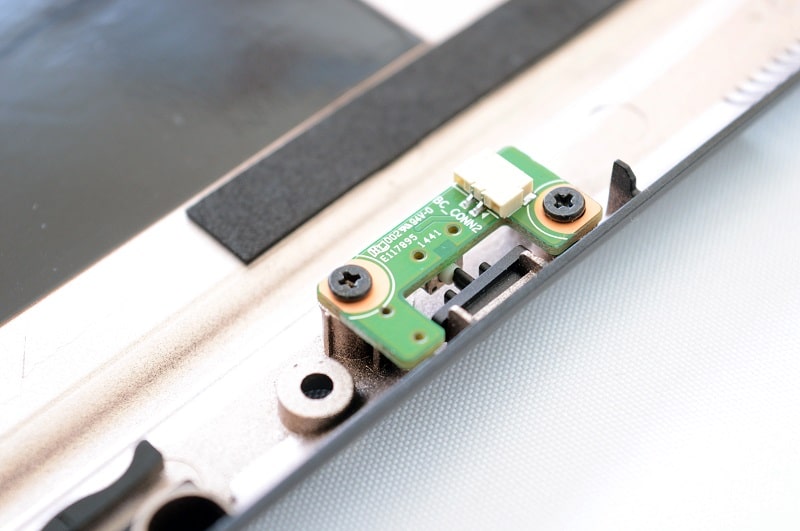 Here is the cable in question which needs to be disconnected before attempting upgrades.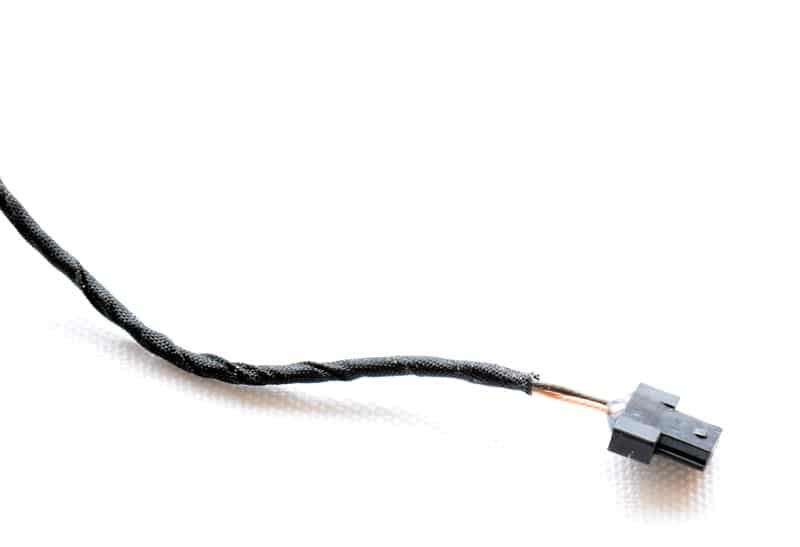 Gigabyte's Supra-cool technology utilizes dual heat pipes plus two fans to cool the CPU and GPU. This allows for proficient thermal conductivity and should tame the system's thermals while using a slim form factor.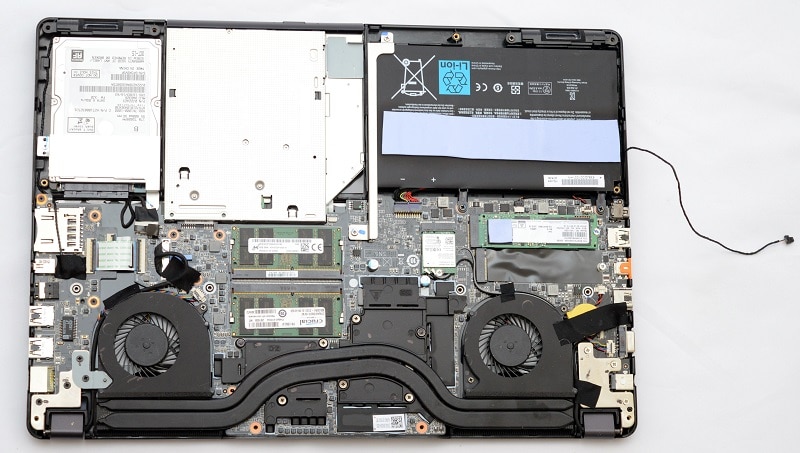 In terms of memory, this model includes two Crucial DDR4 2133MHz DIMMs positioned onto the middle of the PCB.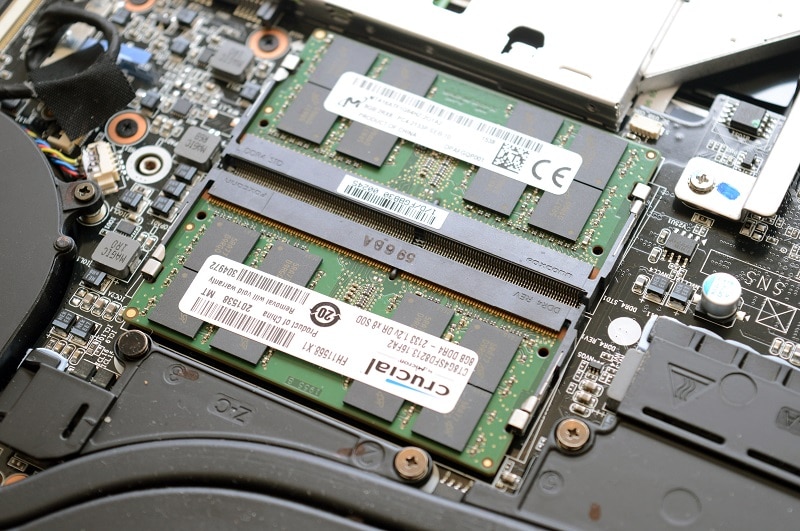 The 7200RPM mechanical hard drive showcases the neat cabling and it's clear how every inch of space has been used to maintain a slim profile.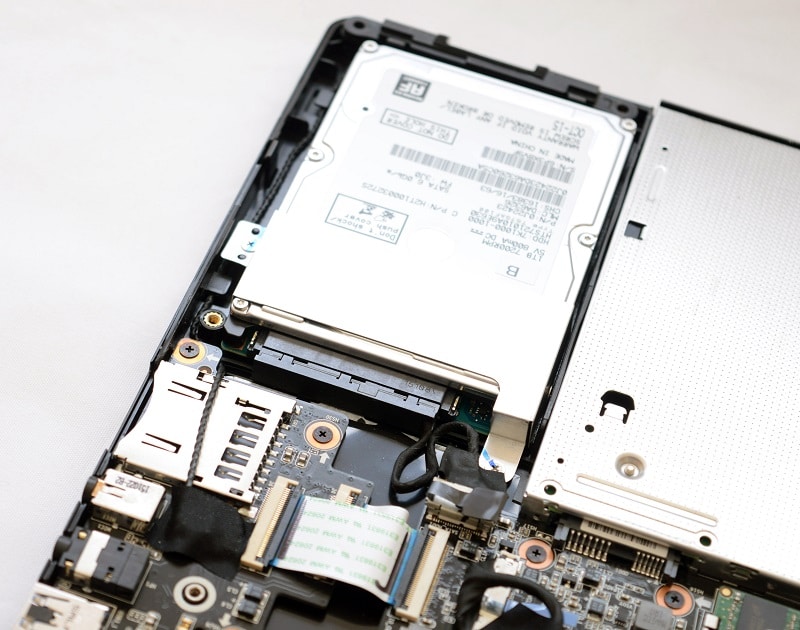 The internal battery takes up a large portion of the overall build, and is securely mounted with a supporting metal bracket. There's also an adhesive strip which makes contact with the shielding on the plastic cover. Near this end of the board, you can install another M.2 storage device to create a very powerful NVMe RAID array.