Gigabyte Radeon RX 6500 XT 4GB Review
---
---
---
Peter Donnell / 1 year ago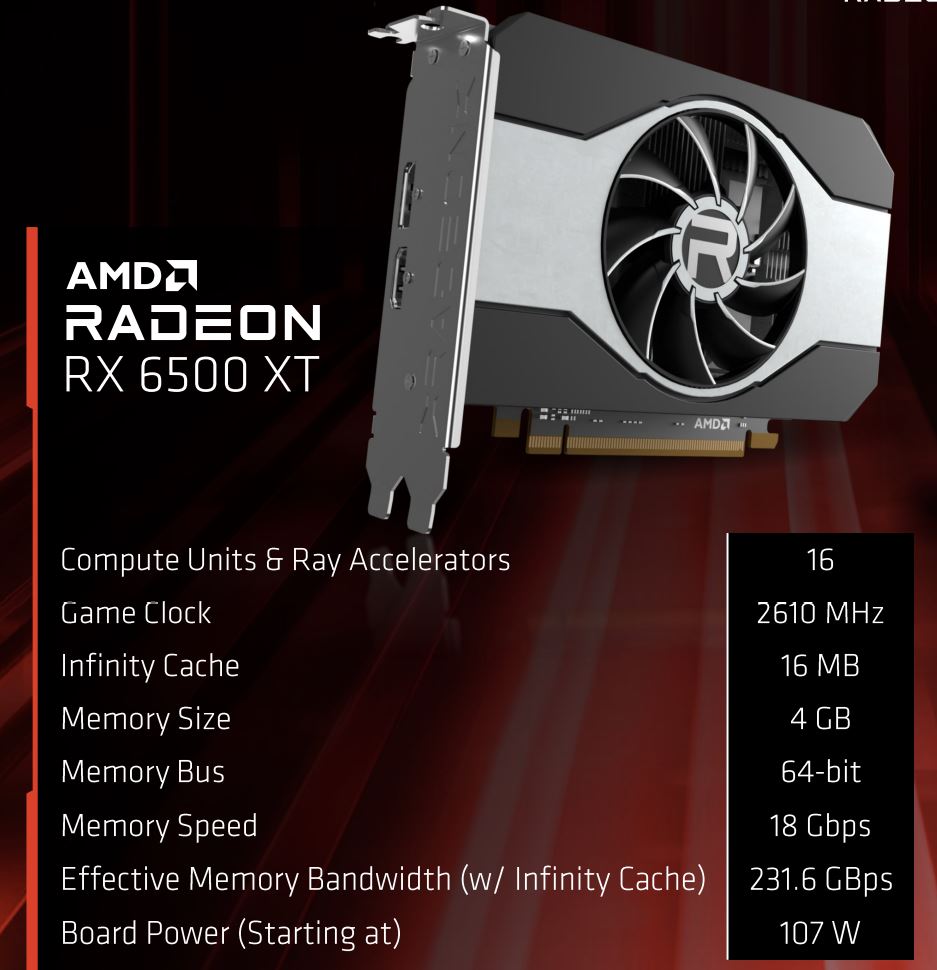 A Closer Look
The latest 6500 XT chipset isn't the most demanding out there, so it's unlikely to need a cooler or heatsink as big as this. That being said, aesthetics are a big part of PC building for many of us, and this card does look pretty awesome. We've seen the same triple fan configuration and shroud design on more high-end Gigabyte cards, so this looks every bit as good as those. However, I suspect there's not quite as much metal in the heatsink as that's been scaled relative to the needs of the card. Of course, having three PWM fans is going to ensure this card can stay cool in the summer while being pushed to its limits, so you should never need to drop from the bigger boost clocks.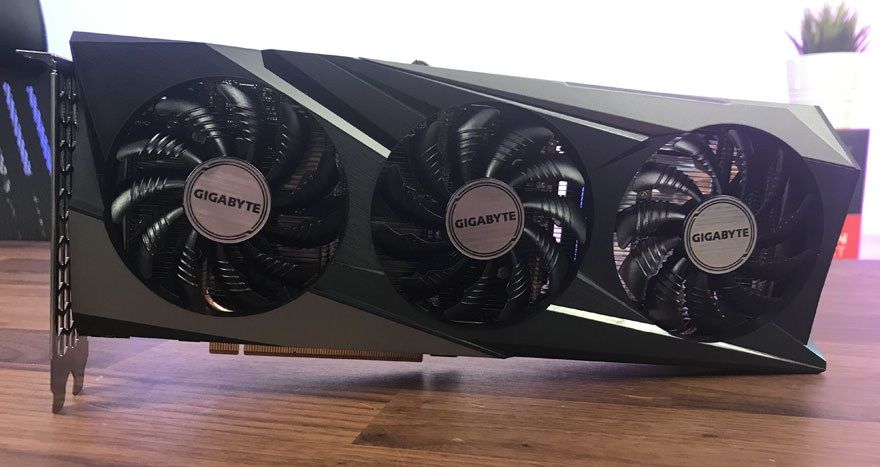 The chipset its self has a good size block on it, with some large heatpipes making full use of the extended length of the cooler. If you look closer, the PCB only extends about 2/3rd the length of the cooler.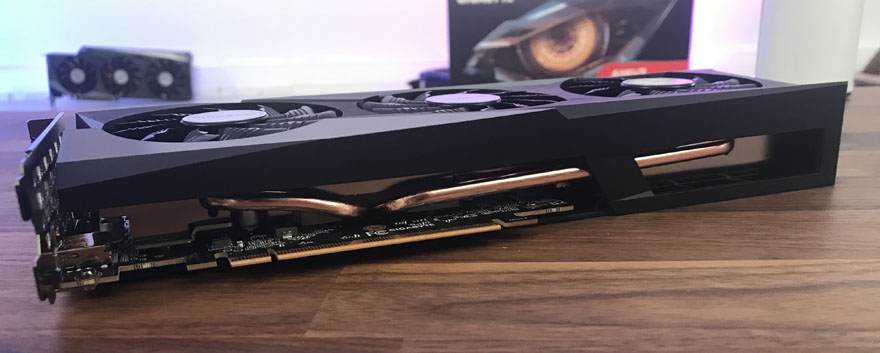 There's no silly RGB or anything on the top, just that gorgeous two-tone design and those three huge fans. The fans have grooves cut into them which will help improve the airflow and reduce noise. Like virtually all Gigabyte cards, the middle fan spins the opposite direction to the other two, helping create a vortex of air throughout the card for better heat dissipation.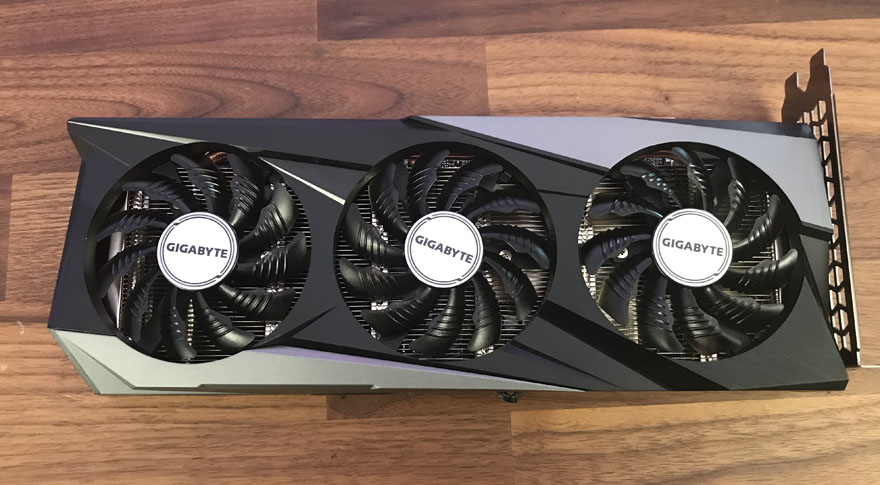 Power comes from a single 6-pin header, which is a good indication that this is a more entry-level card. It should mean just about any standard PC and more modest power supplies can support this card though.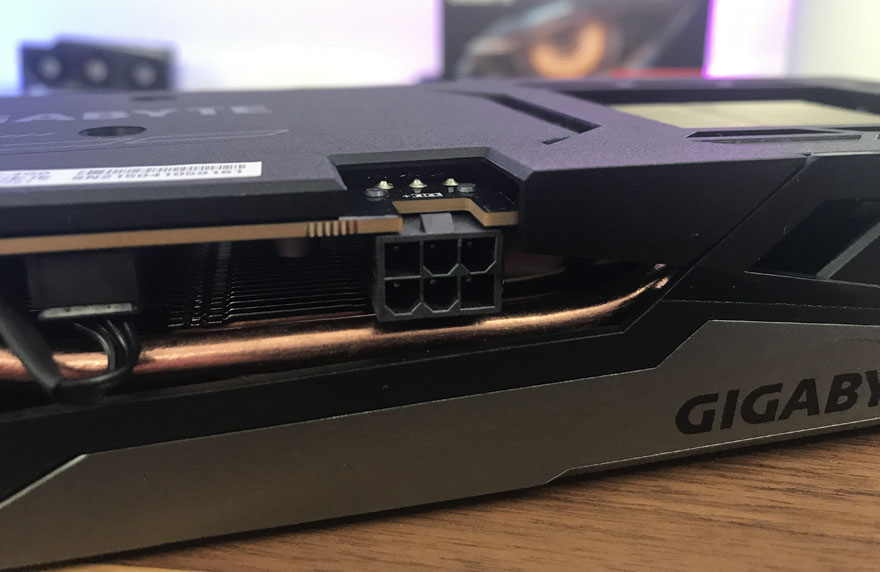 There's a full-length backplate on the card, which looks awesome. I really like the graphics they've put on it too, it's not overdone but gives it a cool look that's sure to compliment your system.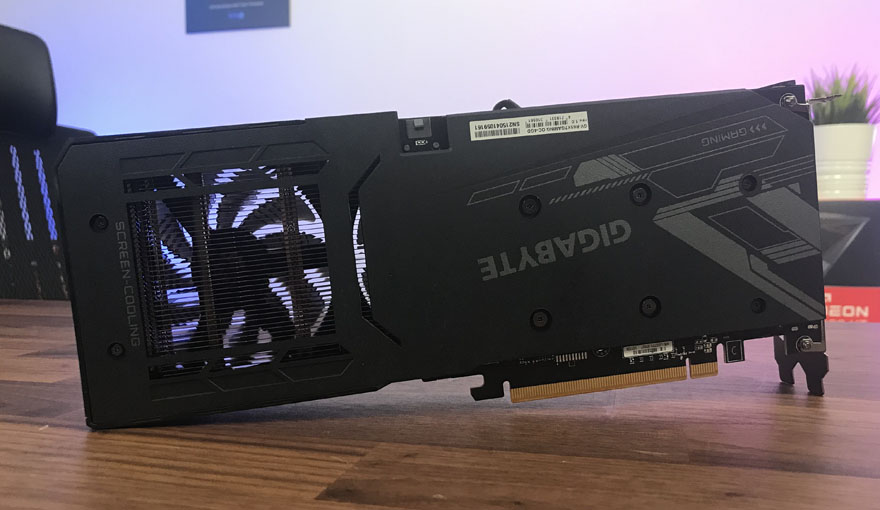 It's also clear just how much longer that heatsink is than the PCB, with the entire rear fan basically living on an extension. This isn't complete madness though, as the added ventilation is a big benefit. Now, heat can be pushed up and away from the card, which could greatly improve cooling performance.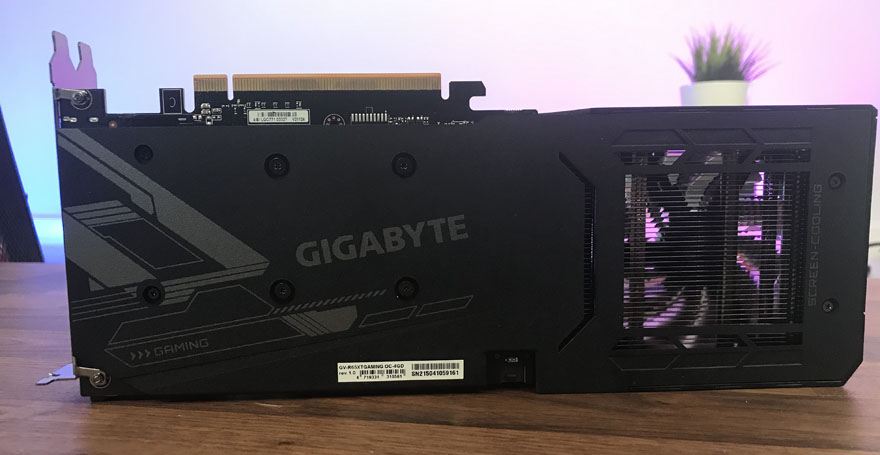 There's a good amount of ventilation at the rear of the card too. You can see the card doesn't extend out too far from the width of an expansion slot, and it's only 2 slots thick too, which should improve compatibility with slimmer cases. The other interesting feature would be that there are just two display outputs, one DisplayPort and one HDMI. This doesn't surprise me though, given the limitations of the card in general, but those of you with three displays may need to look to alternative solutions.