Gigabyte RTX 3070 Ti AORUS MASTER 8G Review
---
---
---
Ben Enos / 1 year ago
A Closer Look
From the second you get this card out of the box, you can tell it is an absolute beast! It's massive and heavy, and it is absolutely amazing how big GPUs have gotten in the last year! Gigabyte has gone with a bit of a unique fan design for the RTX 3070 Ti AORUS MASTER 8G. The middle fan is going to rotate in the opposite direction of the two out fans which is supposed to create more pressure and allow for better cooling. This is a feature we would love to test out ourselves and see how good it works, but it would be rather hard. This means we have to take Gigabytes R&D teams word for the cooling performance gains that is offers.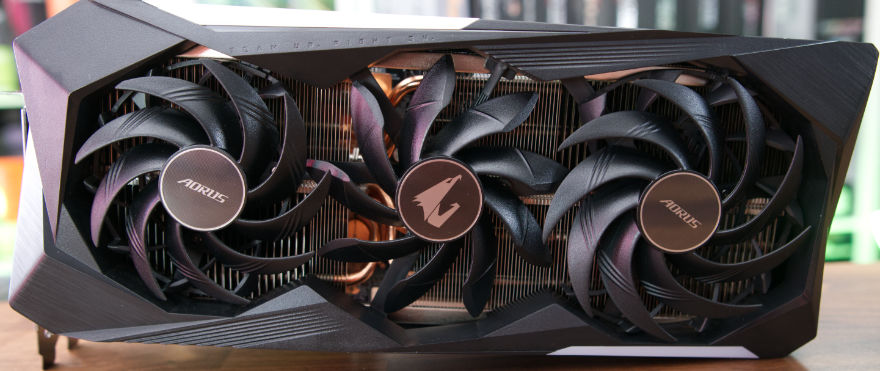 So, what do you do with a massive graphics card? Well, you add an LCD monitor to the side of it so you can add custom pics and GIFs to it because why not? The screen can also be used to monitor GPU temps, clocks and more should that be more your thing. Moving along, we can now also see two 8-pin and a single 6-pin power connector. The shroud takes up most of the side and there is only a small bit of the heatsink on show here. However, with the size and power of this card, I am sure Gigabyte have made sure that the cooling is on point so no need to worry there.

As we see a lot of times on the higher end cards there is an OC/Silent BIOS switch on the Gigabyte RTX 3070 Ti AORUS MASTER 8G. When your system is powered off, you can switch between the two by flipping the switch to meet your desired needs. This is great for when you need that extra power and really want to get as much out of the GPU and do it as easily as possible!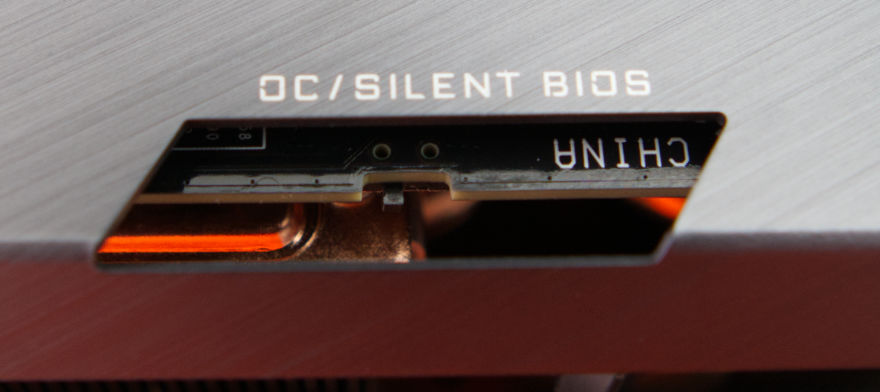 With a card this big and beefy comes a need for a lot of power! Gigabyte has things covered with two 8-pin and a single 6-pin power connector. Not only has this helped to allow for a better factory overclock, but it will also allow you to get that extra bit of power out of it on your own, should that be your type of thing.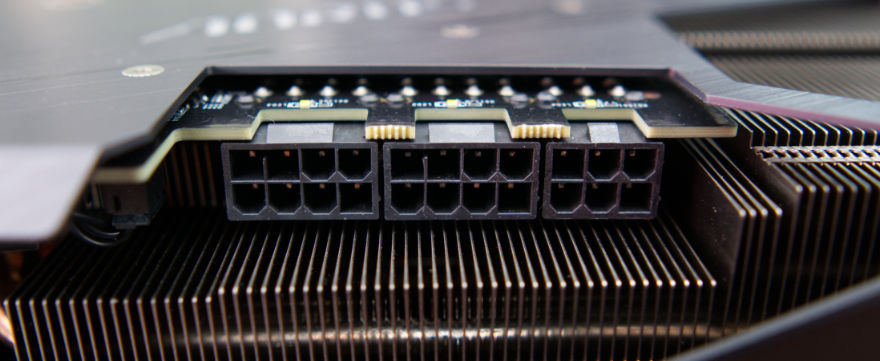 On the side of the card that generally won't be seen as it's facing the motherboard, Gigabyte has kept the shroud design similar to the other side. I think it would have been nice to maybe see a bit more of the heatsink, at least on this side if nothing else. While there is no doubt in my mind that the RTX 3070 Ti AORUS MASTER 8G will keep cool as it needs to, it could always be a little bit cooler. Revealing that little bit more of the heatsink may allow for just that tiny extra bit of heat to escape the card.

Looking at the backplate and you can not get an even better picture of just how big this card is! I mean, look at the power connectors, they look like they are inset into the backplate quite a bit but in reality, that is the size of the card and the heatsink and backplate are just that much bigger than the actual GPU itself. This really speaks volumes on the lengths Gigabyte has gone to keep this card cool. They have even added a nice cutout to the end of the backplate so some of the heat from the heatsink can dissipate more freely and not get stuck under the backplate. As we saw, there is an OC/Silent BIOS switch and that is what the small cutout towards the bottom middle of the backplate is for, to allow you to access the switch. Aside from this, we can see the AORUS logo which lights up in RGB.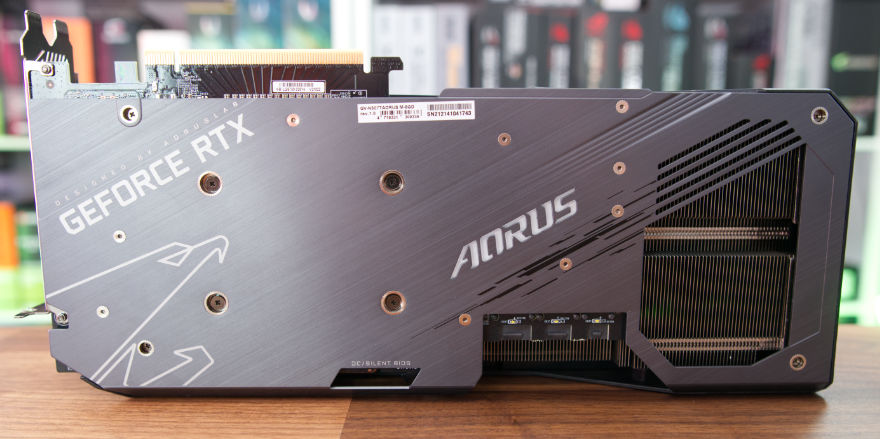 FINALLY! Someone has got the outputs right! We have three Display Ports and three HDMI ports on the Gigabyte RTX 3070 Ti AORUS MASTER 8G. With most other newer GPUs we are seeing only two Display Ports and a single HDMI port which is a bit of a shame. Must say, well done to Gigabyte on this as a lot of people will likely still have HDMI monitors and now will be able to use them with ease.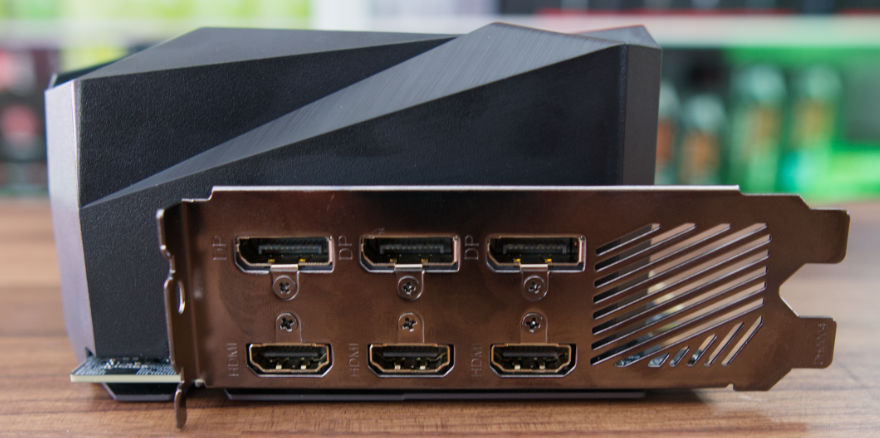 Onto the rear of the card and Gigabyte have it completely covered by the shroud! While this isn't a major issue and is likely due to their aesthetic features, it could have been nice to see a bit of the heatsink here as no doubt this card is big and powerful so will generate a good bit of heat. There could be multiple reasons why Gigabyte has chosen against this so I won't hold it against them!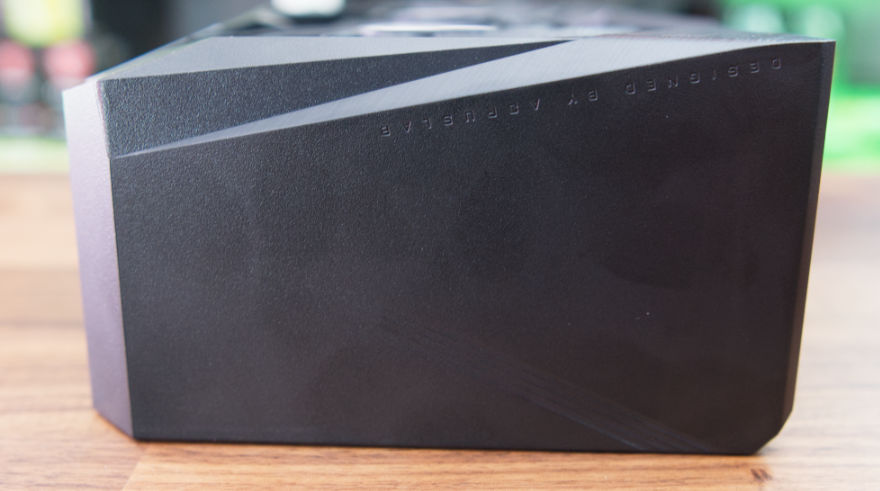 RGB and LCD Screen
The LCD screen is a cool little feature. Granted it doesn't help with performance at all but it is surely fun to play with and will allow you to add something cool to your build. Gigabyte has a little egg that cracks on it but as mentioned, this can be changed quite easily with Gigabyte's software.

There are three RGB zones on the Gigabyte RTX 3070 Ti AORUS MASTER 8G, all of which can be controlled VIA their RGB FUSION 2.0 software. For the size of the card and heatsink/shroud, the RGB areas aren't overly big which is nice as they won't be overpowering.