Gigabyte RX 7600 Gaming OC Review
---
---
---
Peter Donnell / 1 week ago
A Closer Look
The card looks pretty familiar, and so it should, as it uses the standard Gigabyte shroud design. Gigabyte tends to create one decent design and stick with it for a very long time. This helps them keep costs down and reliability up, and as they say, if it ain't broken, don't fix it. It features their usual triple fan Windforce style layout too.
The three large fans span the length of the card, and true to the usual Gigabyte style, the middle fan spins the opposite way to the other two, helping create a powerful vortex through the card to help pull even more heat away from the heatsink.
The card is really tidy looking, with large heatsinks that pretty much cover the side of the card, with some heatpipes visible, but they're largely located deeper in the card.
The classic 8-pin is here too, AMD is still not fussing with that new stuff, which should help keep their production costs down too. Plus, you don't need to upgrade your PSU or deal with those silly connectors either.
The backplate looks great in that lighter colour, and a nice change from it just being black. There's a funky digital design in the corner, matching up with the aggressive shapes of the various cut-outs on the card. Of course, that big cut-out allows the rearmost fan to pull air right through the card, further improving the overall cooling performance.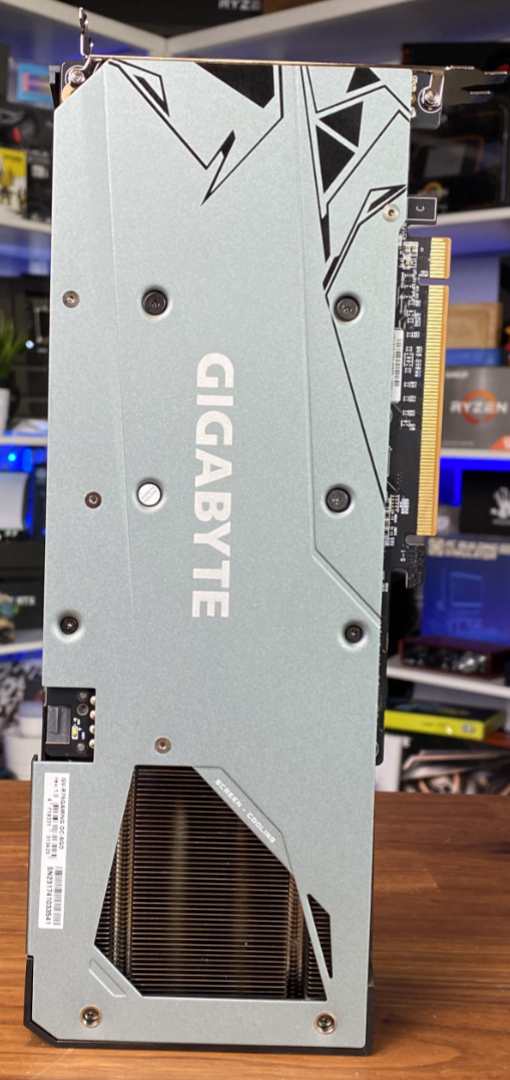 There are two HDMI and two DisplayPort on this card, which is interesting as the Sapphire had one HDMI and three DisplayPort, so that could be a big factor for some multi-monitor customers.
With the shroud removed, the PCB look really busy with quite a lot of print on it, but it looks well made too, with neat and tidy hardware and soldering throughout. There are four VRAM chips though, giving this card its 8GB.
The backplate isn't just for show either, it has thermal pads making contact with the rear of the GPU die, which should really help with the cooling performance.
The heatsink is made from three separate sections, with a large one on the left, one above the GPU die and a thicker one to the right, all are connected via direct contact heat pipes, with four large ones running through the left and right blocks, and a single one feeding the smaller middle section.