Gigabyte Showcases AQC-107 Networking Controller and OC Touch Panel at CES 2017
---
---
---
John Williamson / 7 years ago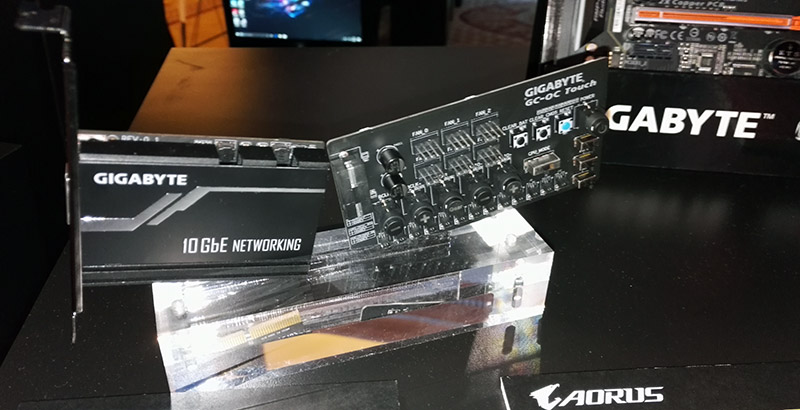 Gigabyte has just announced their latest 10GbE networking controller which is based on the AQTION AQC107. This particular device is a PCI-E to multi-Gigabit (10GBASE-T/ 5GBASE-T/2.5GBASE-T/1000BASE-T/100BASE-TX) controller which employs the x4/x2/x1 PCI-E interface. The AQC107 takes advantage of Aquantia's AQrate® PHY technology to uphold a 10GbE networking speed through 100 metres of Cat 6a cabling. The networking card is compatible with EEE® 802.3 an/bz standard and the NBASE-TTM Alliance PHY specification. Here we can see the card's capabilities in full:
FEATURES
Integrated PCIe, MAC, and PHY solution enables power- and space-efficient connectivity for client systems
PCIe Gen3 and Gen2 interface with x1/x2/x4 lane-widths delivering maximum flexibility
IEEE® 802.3bz and NBASE-T compliant AQrate PHY supporting 10GBASE-T/5GBASE-T/2.5GBASE-T/1000BASE-T/ 100BASE-TX
MSI, MSI-X, LSO, RSS, and IPv4/IPv6 Checksum offloads for high performance and low CPU utilisation
Energy Efficient Ethernet, Wake On LAN, and power management features
Jumbo frame support (up to 16Kbytes)
Extensive software support – Windows, MAC OS X, and Linux drivers; UEFI and PXE remote boot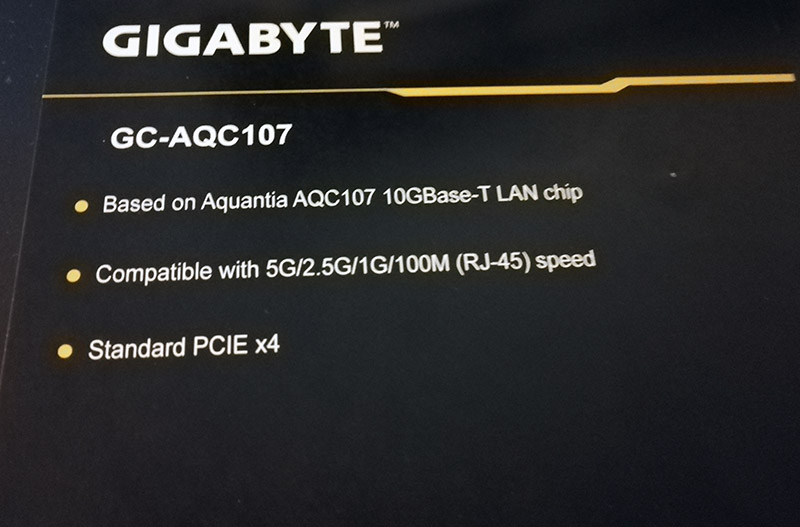 On another note, Gigabyte displayed the OC Touch panel which is really useful for connecting lots of fans, modifying overclocking variables on the fly and investigating key voltages. The ability to use this device outside of the case should make it a popular choice among overclockers who want to overclock their CPU to the limit and have the ultimate control.