Gigabyte Unveils Iris Pro 5200 Graphics Enabled BRIX
---
---
---
Ryan Martin / 10 years ago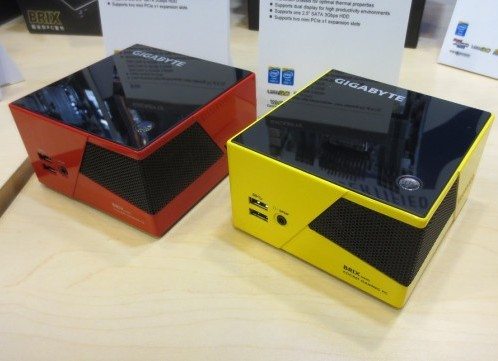 Gigabyte have taken Intel's IDF as an opportunity to unveil their latest BRIX PCs which features Intel's enlarged graphics processing chip Iris Pro 5200 according to LegitReviews. Intel's Iris Pro 5200 integrated GPU features 40 execution units, level 4 eDRAM cache and roughly speaking it is about twice as fast as Intel HD 4600 graphics and isn't that far behind a desktop class GT 640 graphics card.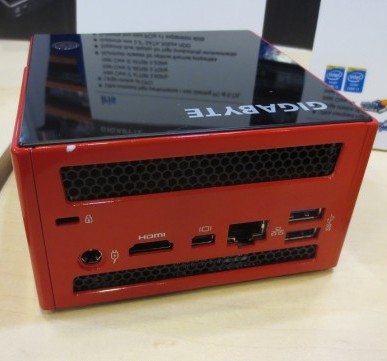 As you can see this extra GPU power doesn't come without some design penalties. In fact the design is almost twice as thick as the normal BRIX because of all that extra heat that needs to be dissipated from the additional graphics power. These Iris Pro graphics are paired up with the following Haswell embedded CPU choices:
Core i7 4770R 3.2GHz stock 3.9GHz turbo

Core i5 4670R 3.0GHz stock 3.7GHz turbo
Core i5 4570R 2.7GHz stock 3.2GHz turbo
In effect this system runs a desktop class 65W CPU that would be comparable to fully fledged desktop equivalents of the same clock speed. If you then factor in the Iris Pro 5200 graphics then you're actually looking at a PC with pretty potent potential and arguably this kind of solution blows one of AMD's A10-6800K APUs out of the water. There is of course one catch – this is going to cost a small fortune. Gigabyte have said pricing will start above $500 and remember that doesn't even include a storage drive.
The extra size does bring one advantage which is that there is room for a 2.5 inch SATA drive which smaller BRIXs and NUCs don't have – that is in addition to the two mSATA slots, though this SATA drive will support SATA II 3Gbps only. Dual displays are also supported via the HDMI and mini DisplayPort.
Images courtesy of LegitReviews