Gigabyte X170-Extreme ECC (Intel C236) Motherboard Review
---
---
---
Bohs Hansen / 8 years ago
Introduction, Specifications, and Packaging
---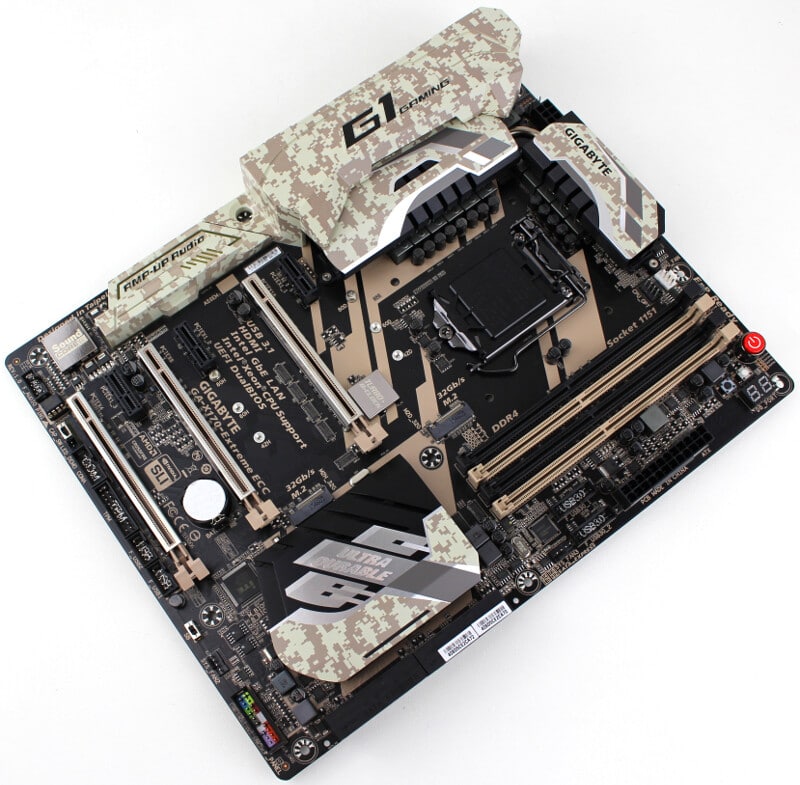 Gigabyte released some great motherboards over the years, in fact, I own several myself, and this new X170-Extreme ECC motherboard is no different in that regards. The motherboard is part of the Ultra Durable series, is the world's first C236-based motherboard with Thunderbolt 3, supports E3-1200 V5 Xeon CPUs, and has a whole lot of other great features.
I think the design, or rather the colour-scheme, is either an 'I like it' or an 'I don't like it' scenario. The military camouflage setup looks great for what it is. It is well designed and doesn't look forced. I can already picture this in a similarly camouflaged chassis complete with Noctua coolers and terabytes of storage.
The X170-Extreme ECC motherboard doesn't use a new chipset named X170 as one could think, instead it uses the top Intel C230-series chipset, C236, that comes with support for the Skylake-S Xeon CPUs, E3-1200 V5, as well as the sixth generation Intel Core, Pentium, and Celeron processors. The four DDR4 DIMM slots support a total of up to 64GB system memory in dual-channel setup. The board supports normal DDR4 2133 MHZ memory modules as well as ECC UDIMM modules, but you need a Xeon CPU to support the ECC memory.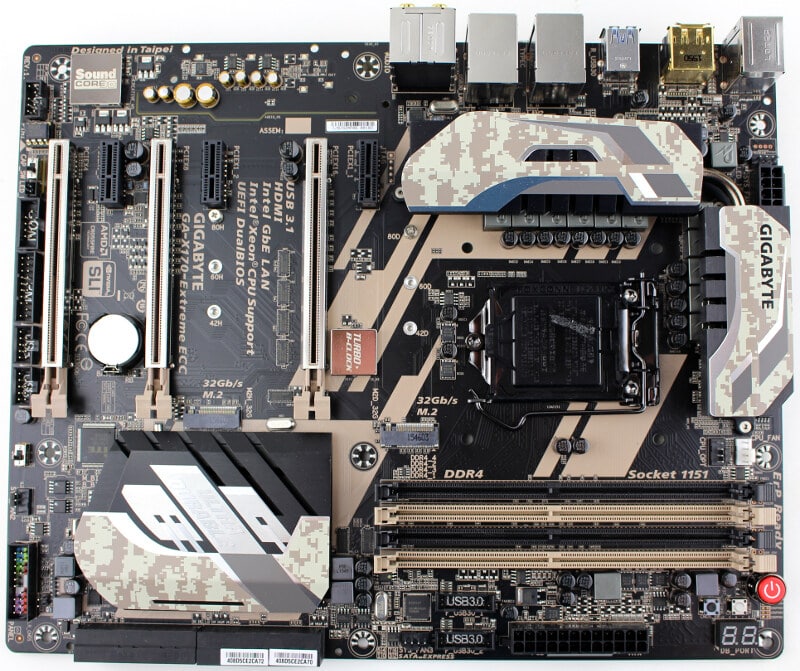 Gigabyte added both an HDMI 2.0 port for resolutions up to 4096 x 2160 pixel at 60Hz as well as a DisplayPort 1.2 that can handle 60Hz resolutions up to 4096 x 2304, but that naturally requires your CPU to have an iGPU. When in use, the iGPU can take up to 512MB memory from the system memory pool.
We find three PCI Express x16 expansion slots on the motherboard that support variating speeds depending on setup. The first will run at x16 mode when used alone and in x8 mode when the second slot is in use as well. The third slot is an x4 mode that shares its bandwidth with the M.2 connector and becomes unavailable when an SSD in installed in the slot. Further, the board has three PCI Express x1 slots. Multi-GPU users have support for 3-way and 2-way AMD CrossFire this way and 2-way Nvidia SLI setups.
I already hinted the M.2 slot in the paragraph above and the X170-Extreme ECC actually features two M.2 32Gbps slots that support both SATA and PCIe, AHCI and NVMe, solid state drives. But the storage abilities don't stop here. We further get three SATA Express 16Gbps connectors that alternatively can be used as six SATA3 connectors. With Intel RST, the board supports RAID 0, 1, 5, and 10. There are two more SATA ports provided by an ASMedia ASM1061 controller. On top of that, you can also use PCIe storage drives and controllers to expand even more. There's truly no shortage of options on this motherboard.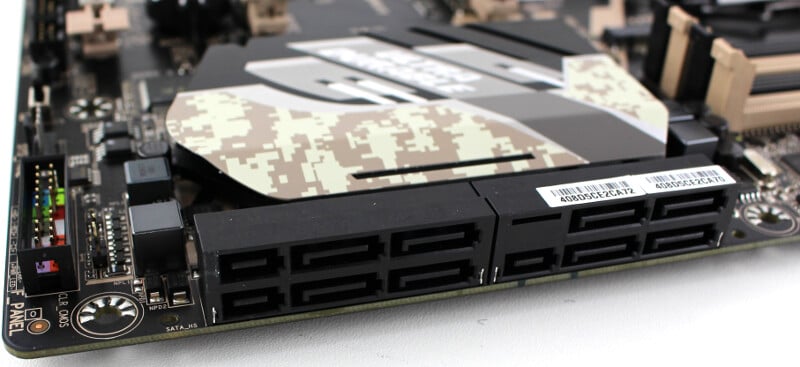 Externally the X170-Extreme ECC has just as great connection options as it does internally. We get dual network options with both an Intel i219LM and a Rivet Networks Killer E2400 controller for the second LAN port. Sadly the two can't be teamed and I'd rather seen two Intel ports here. But it does make the motherboard appeal to both gamers that rather want the Killer chip as well as enterprise users and professionals that prefer the i219 over the Killer chip.
We also find a great USB and Thunderbolt connectivity that goes beyond what's normal. The rear features five USB 3.0 ports that are powered by the chipset itself. There's also a USB 3.1 Type-A port as well as a USB 3.1 Type-C port that is a little bit special here. Onboard there are two headers for four USB 2.0 ports and two USB 3.0 headers for four ports, making it a total of a lot of USB ports. The onboard USB 2.0 ports are powered by the chipset and so is one of the USB 3.0 headers. The second USB 3.0 header is powered by a Renesas hub. It is also worth nothing that the Intel USB 3.1 controller supports up to 32Gbps, meaning it can fully utilize two 10Gbps USB 3.1 ports at the same time.
Now, I mentioned that the USB 3.1 Type-C port was a little bit special and that it doubles as a Thunderbolt connector. In fact, this is the world's first C236-based motherboard that has been certified for Thunderbolt 3 with its more than impressive 40Gbps single-wire connection. It also comes with features such as Power Delivery 2.0, and the ability to daisy-chain up to 6 devices thanks to the X170-EXTREME ECC's USB Type-C port.

We've already seen that the X170-Extreme ECC comes with a lot of premium features, but we aren't done yet. The onboard sound solution is also a proper one and we find a Creative Sound Core3D Quad-Core audio processor that also comes bundled with the Creative SBX Pro Studio audio suite. The audio capacitors are high-end Japanese branded Nichicon capacitors that deliver the highest quality sound resolution and sound expansion to create the most realistic sound effects for professional users.
Gigabyte's Ultra Durable series, which this motherboard is part of, uses quality components all the way through and not just for the audio caps. It also uses long-lifespan durable black solid capacitors that are rated to perform at maximum efficiency for extended periods, even in extreme performance configurations. With ultra-low ESR no matter how high the CPU load, this provides peace of mind for end users who want to push their system hard, yet demand absolute reliability and stability.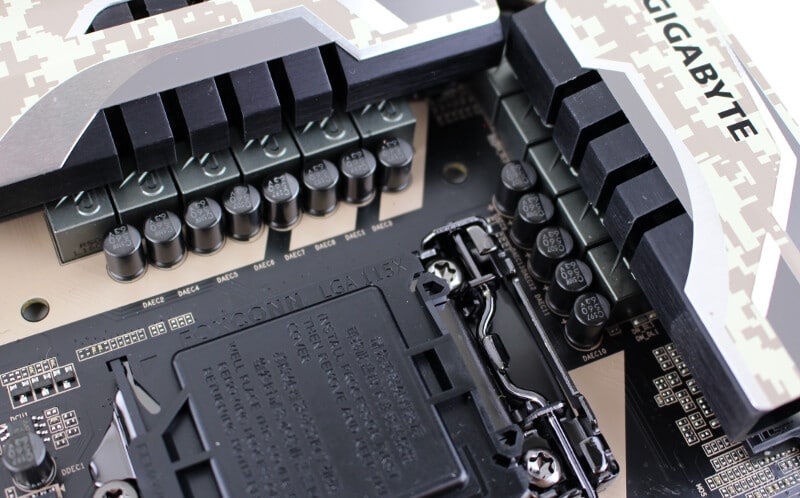 The USB ports are protected by Gigabyte's USB DAC-UP which provides clean, noise-free power. DACs (Digital-to-Analog Converter) can be sensitive to fluctuations in power from the other USB ports. Gigabyte's DAC-UP takes advantage of an isolated power source that minimizes potential fluctuations and ensures the best audio experience possible.
The PCI Express slots also got the one-piece stainless steel shielding from Gigabyte that provides extra strength through the shield itself and the increased amount of connection points to the actual PCB. Even heavy graphics cards won't damage these slots.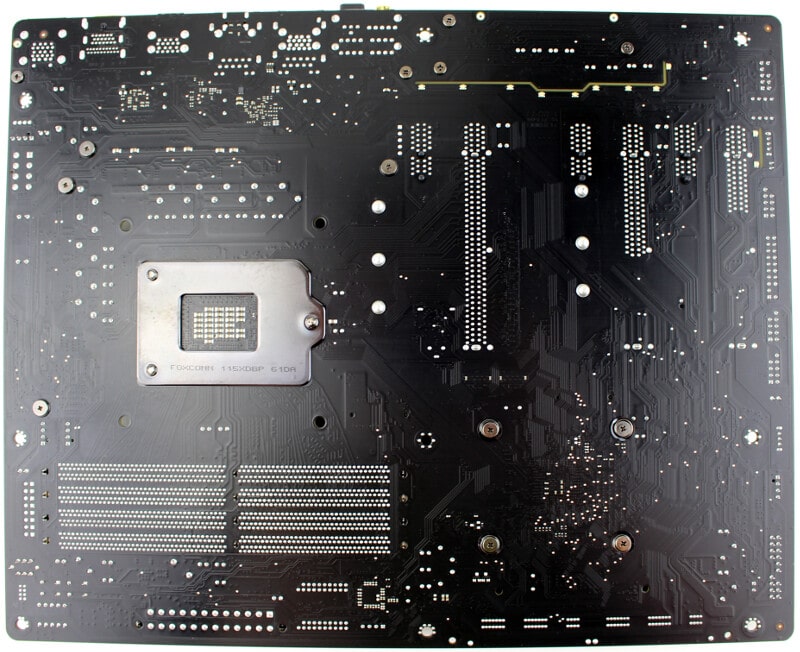 Thanks to the onboard TURBO B-Clock Tuning IC, overclockers have the ability to change their BCLK Frequency to the desired value of their choice. The new linear range adjustment option of the Tuning IC allows ranges from 90MHz to 500MHz, removing the 5% range limitation that usually holds overclockers back.
The CPU socket itself also got a gold treatment for an even better contact between the CPU and socket and Gigabyte added their dual-BIOS technology to the board too. Last but not least, the motherboard features the LED Trace Path that can be customized in several modes and colors for an ambient lighting of your system.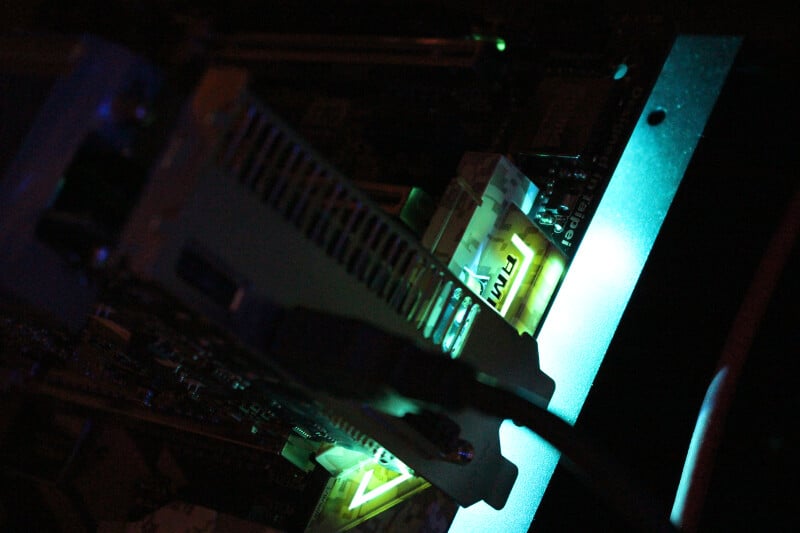 Specifications
The specifications are taken directly from the manufacturers listing and could as such be subject to future revisions or updates.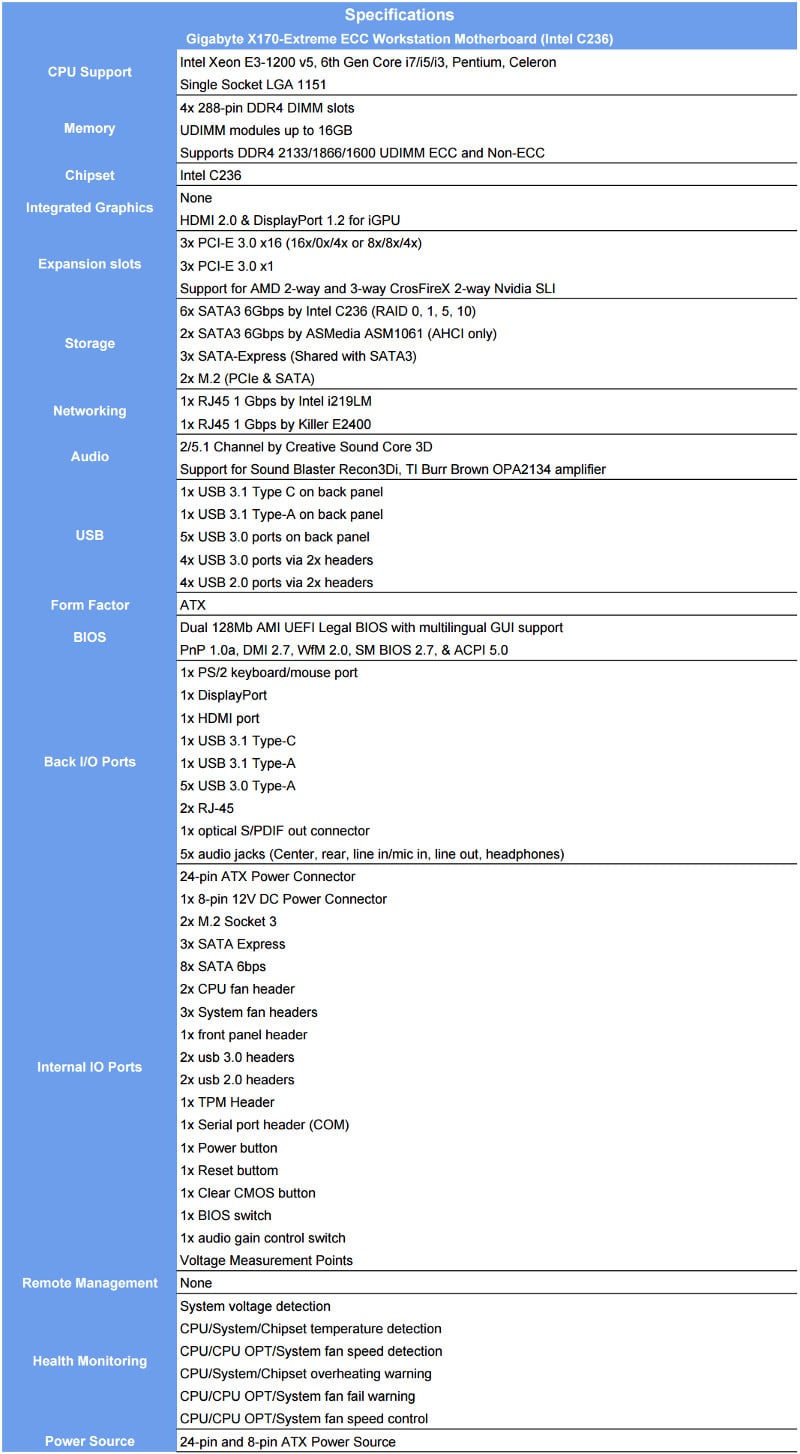 Key Features:
World's First Intel Thunderbolt 3 Certified C236 Chipset Motherboard
Supports the Intel Xeon E3-1200 v5 processor and 6th Gen. Intel Core/Pentium/Celeron Processor
Dual Channel DDR4, 4 DIMMs
Intel USB 3.1 with USB Type-C – The World's Next Universal Connector
3-Way Graphics Support with Exclusive Ultra Durable Metal Shielding over the PCIe Slots
Dual PCIe Gen3 x4 M.2 Connectors with up to 32Gb/s Data Transfer (PCIe NVMe & SATA SSD support)
3 SATA Express Connectors for up to 16Gb/s Data Transfer
HDMI 2.0 for 4K@60Hz and 21:9 aspect ratio provide the finest viewing experience
Creative SoundCore 3D Gaming Audio
Integrated HDMI 2.0 support
Killer E2400 and Intel Gaming Networks
LED Trace Path with Multi-Color Choice
APP Center Including EasyTune and Cloud Station Utilities
GIGABYTE UEFI DualBIOS Technology
Packaging and Accessories
The box looks like most Gigabyte motherboard boxes with a product shot on the top along with the name and the highlights.
The rear of the box displays all the details, features, and specifications – leaving little to the imagination.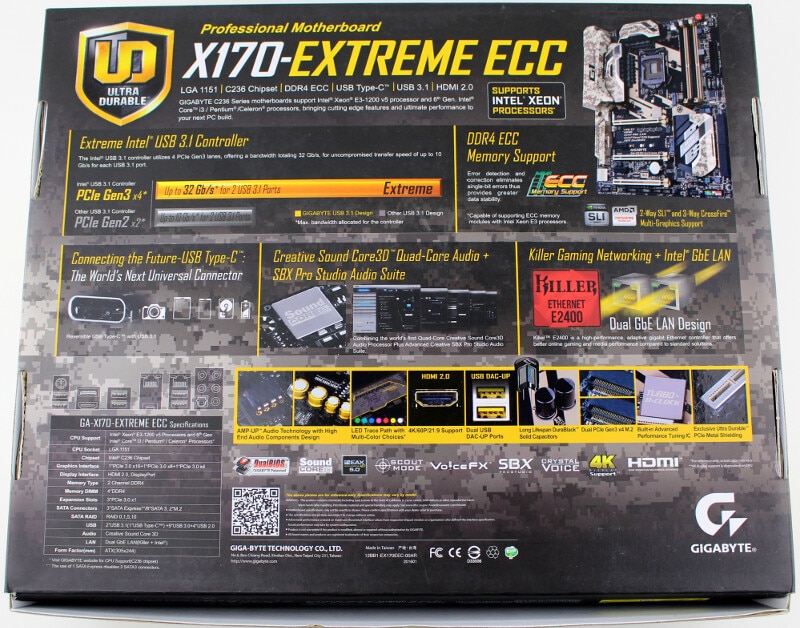 There is quite a lot packed into the box, besides the motherboard itself. First, there is a multilingual installation guide and a support disk as well as the full user's manual.
There is also an IO shield for your case, a dual SLI bridge, four SATA cables and a G-connector that help with easy header connections.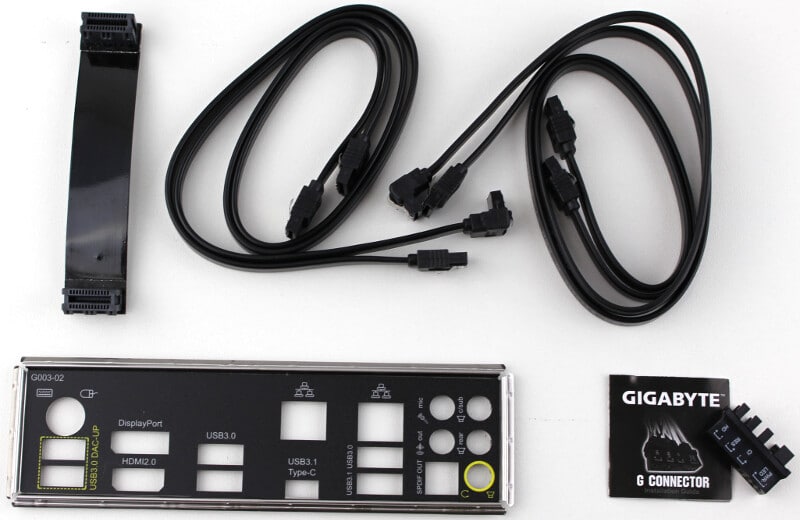 Further, Gigabyte packed two velcro cable ties, SATA cable label-stickers, iGPU slots covers, and a handy "Do Not Disturb" sign for your door.