Gigabyte X99 Gaming G1 WiFi (LGA 2011-3) Review
---
---
---
Ryan Martin / 9 years ago
Introduction and Closer Look

---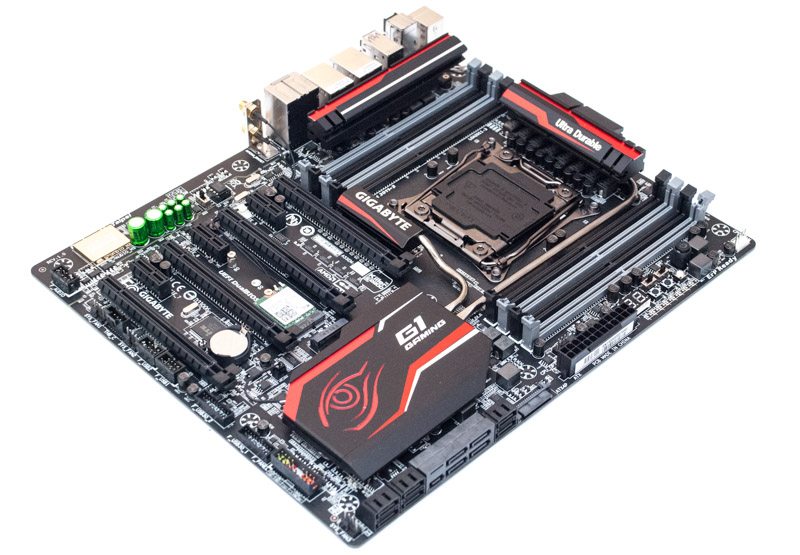 A trend that is observable with higher end "gaming" motherboards is that they tend to be geared primarily towards performance junkies, overclockers and all-round enthusiasts, rather than just pure gamers. Gaming motherboards based on Intel's X99 chipset are a perfect example of this because the reality is that most gamers would get a better deal by opting for a Z97 motherboard and a Core i7 4790K. As a result a gaming X99 motherboard appeals to a specific type of gamer who has the need for a large amount of CPU horsepower and memory to assist with things like video editing, rendering and streaming. Today we have Gigabyte's G1 Gaming WiFi motherboard which takes Gigabyte's "gaming" feature-set of upgraded quality audio and Killer networking and pairs that up with the performance of the X99 platform and various tools for overclockers such as voltage read-off points and onboard buttons. There's also a shed-load of connectivity such as dual-LAN, AC WiFi, SATA Express, M.2 and more USB ports than you can shake a stick at. In basic terms, the Gaming G1 WiFi is Gigabyte's flagship motherboard for the X99 Gaming series, but the reality is that any Gigabyte X99 motherboard is going to be "high-end enough" for you to be contented.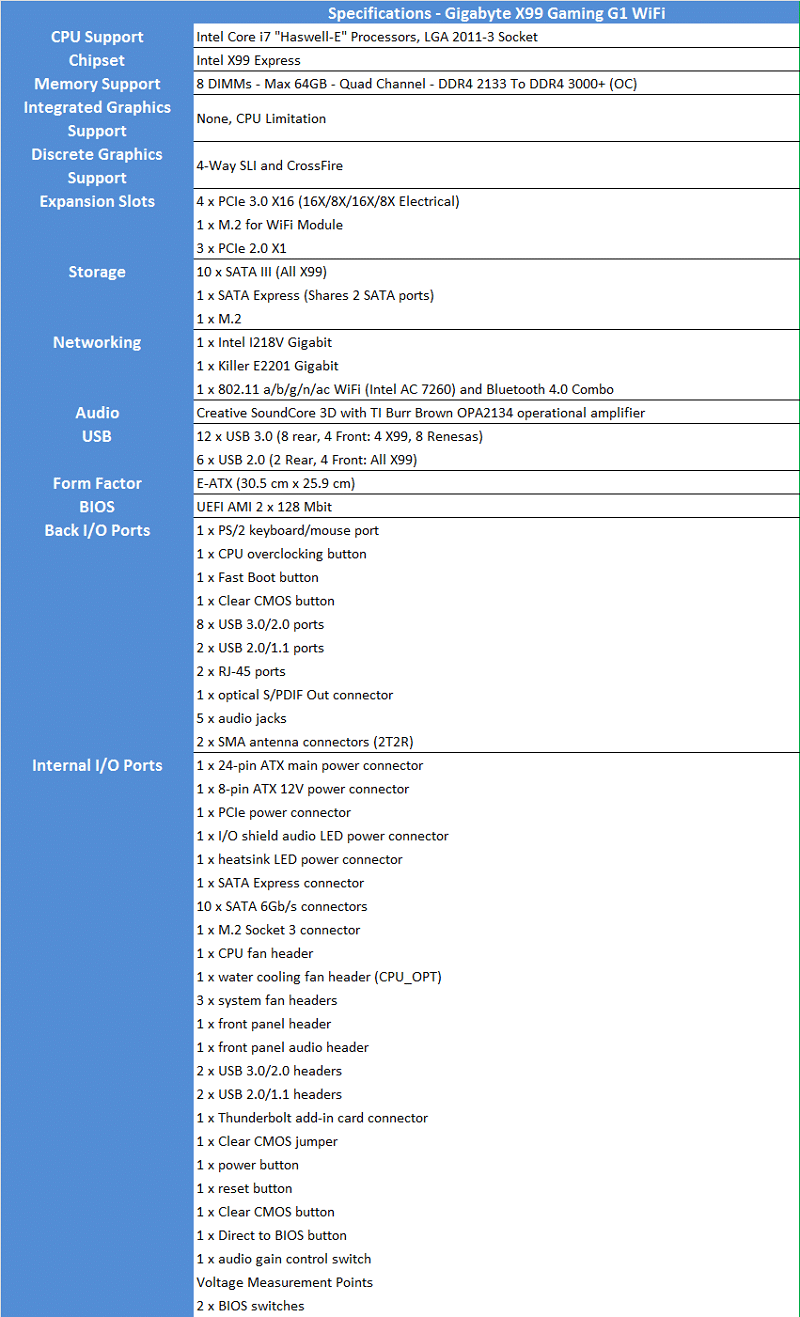 Packaging and Accessories
The Gigabyte X99 Gaming G1 WiFi comes in a very large box so we should probably expect to find a ton of things inside.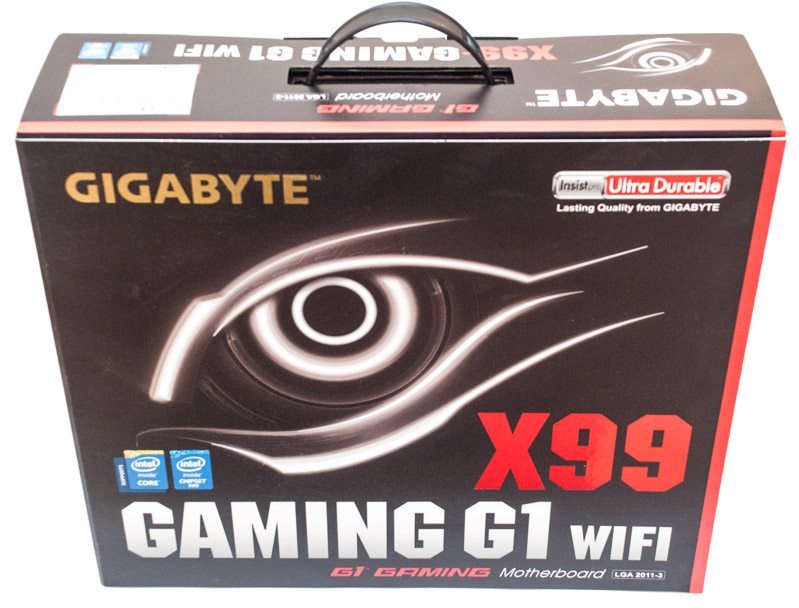 Accessories galore! In the accessory package Gigabyte provide enough SLI bridges for 2, 3 and 4-way as well as a 2-way CrossFire bridge. There's six braided SATA cables, a PCIe ribbon power adapter, a WiFi antenna, labelled rear I/O shield and all of the usual documentation and drivers.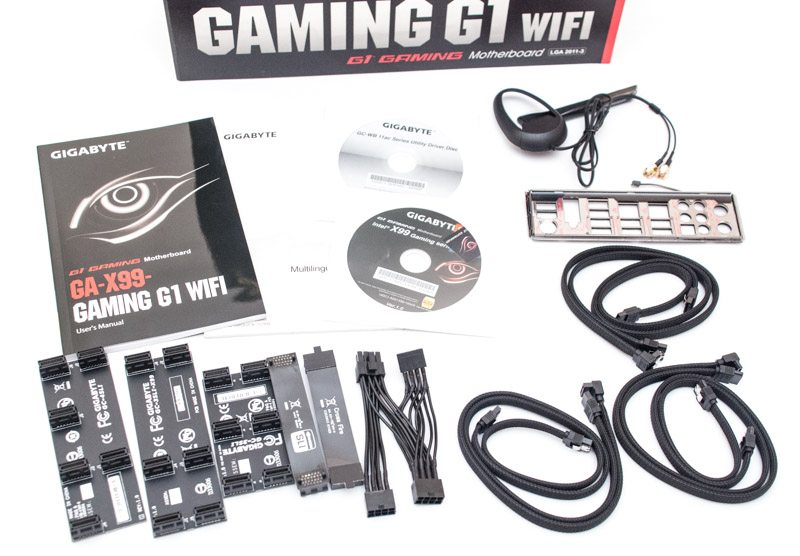 A Closer Look
The X99 G1 Gaming WiFi has strikingly similar aesthetics to the X99 Gaming 5 we reviewed a few months ago. A rather over-sized chipset heatsink draws your attention to the red and black colour scheme of the board, which puts the green audio capacitors rather out of place. The main difference between this board and the so called "lower end" X99 models is that the heatsink array is more extensive and offers more heat pipes.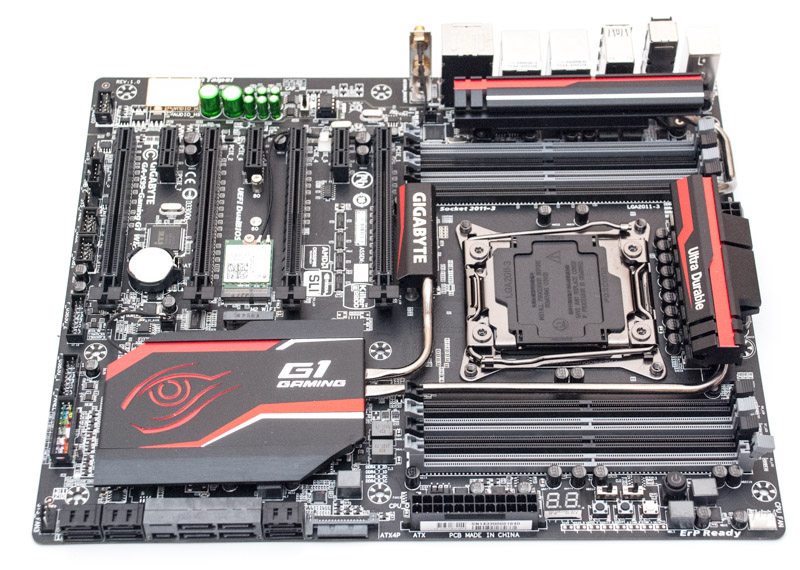 Along the right hand edge of the motherboard we find various buttons (Power, Reset, Clear CMOS, Direct to BIOS) and a couple of BIOS switches for selecting which BIOS you want to use. Voltage read-off points also exist if that's your thing but we think these are only here because the X99 G1 Gaming WiFi uses a similar PCB to the Gigabyte X99 SOC Force. The included debug LED should come in handy, especially if you're running multi-GPU configurations.
Near the chipset heatsink we find ten SATA ports, a SATA Express and a SATA power for providing additional power to the motherboard, useful, again, when running multi-GPU configurations.

At the top of the motherboard we can see the various interconnected heatpipes and heatsinks as well as the 8 pin EPS for CPU power. Note there's no extra 4 pin here which might actually come in useful when overclocking the power-hungry 8 core i7 5960X.

Along the bottom of the board is an abundance of USB 2 and 3 headers, the front panel I/O, the audio I/O, and a system fan header.

The audio area has ground-layer isolation with red LED lighting that clearly shows the PCB separation. A Creative SoundCore 3D chip provides the primary audio codec and is teamed up with a Texas Instruments Operational Amplifier and audio-grade capacitors.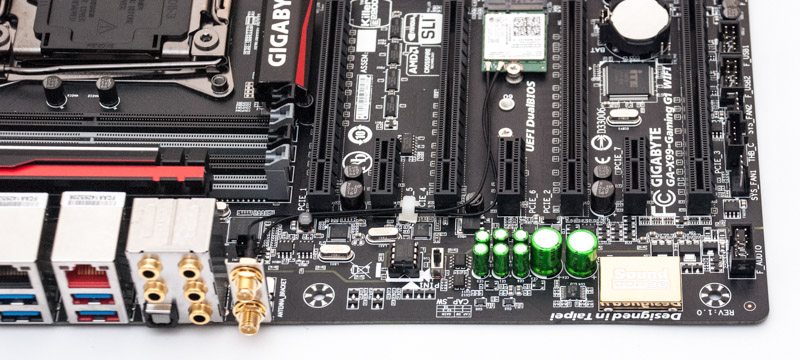 The rear I/O provides eight USB 3.0 ports (one of which is white as that's the dedicated USB flashback port), two USB 2.0 ports (yellow) and a PS/2 combo. Dual Gigabit LAN is provided, one Intel and one Killer, depending on your preference, and the outputs for the WiFi antenna. The five analogue audio ports are jazzed up with some gold plating to improve contact with your headphones or speakers. The strip of buttons, from top to bottom, includes a CPU OC button, Fast Boot button and Clear CMOS button.

PCIe connectivity is the strength of the X99 platform and with dual spacing between each 16X lane you can easily run a quad-GPU configuration if you have use for it. Two M.2 ports provide support for integrated WiFi and an additional high-speed storage option.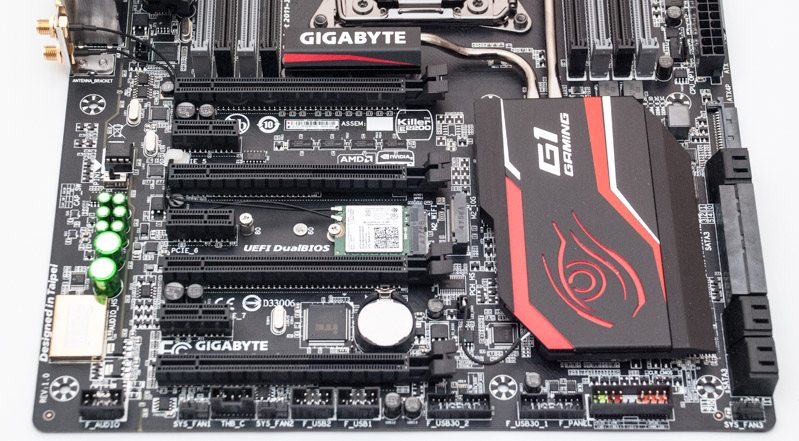 The CPU socket is powered by an 8 phase VRM: perhaps proof that all motherboard vendors have now acknowledged that the quality of the VRM matters more than quantity of phases used?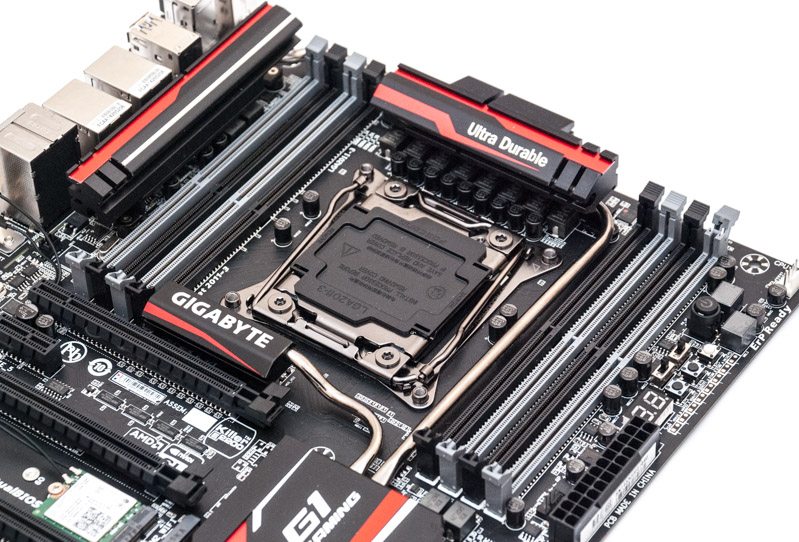 From the bottom we can see some additional cooling/stabilisation is provided underneath the primary CPU VRM heatsink. All heatsinks are easily removable with phillips head screwdrivers for those who want to remove them to fit waterblocks.