Gigabyte X99 UD4 (LGA 2011-3) Motherboard Review
---
---
---
Ryan Martin / 9 years ago
Introduction, Specifications and Packaging
---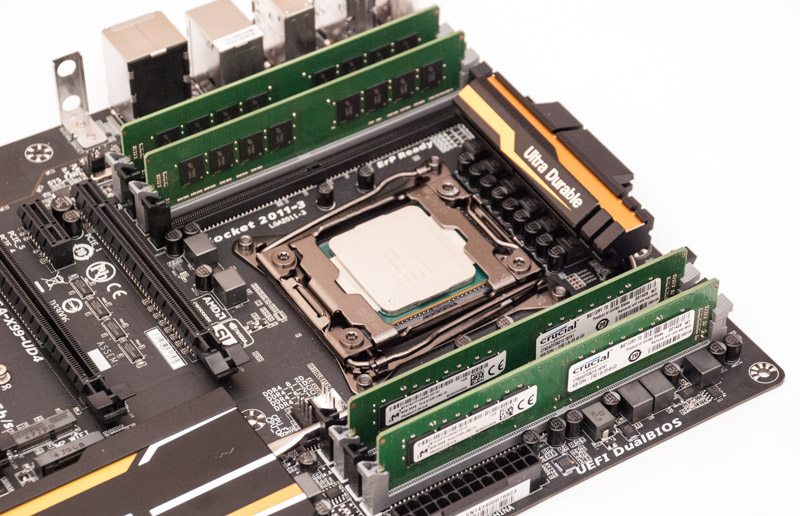 A short while ago we took Gigabyte's X99 Gaming 5 motherboard to our test bench for a review. As the name suggests that particular motherboard was targeted at Gamers with its feature set and styling. Today we have with us a motherboard targeted at a broader X99 user-base than Gamers. The Gigabyte X99 UD4 is Gigabyte's most affordable X99 offering but still retains all of the high performance features of the X99 platform.
At a fundamental level this board is very similar to the X99 Gaming 5 except the styling uses a different colour scheme, the audio has fewer features and uses a different codec and the Gigabit LAN is now Intel instead of Killer. Overclocking capabilities and features are similar – both boards feature high quality 6 phase designs with International Rectifier PWM controls and there are no onboard buttons or any read-off points. Overclocking buttons and features are reserved for higher end SKUs like the X99 SOC-FORCE.
This board still boasts support for up to 8 DDR4 modules, 4-Way GPU configurations, up to 10 SATA III devices or 8 SATA III devices and a SATA Express device and there's even dual M.2 ports for more storage and optional WiFi/Bluetooth combo cards. The Gigabyte X99 UD4 will undoubtedly be a popular motherboard for Gigabyte just like how their X79-UD5 model was in the last generation. Let's now take a detailed look at this motherboard's specifications: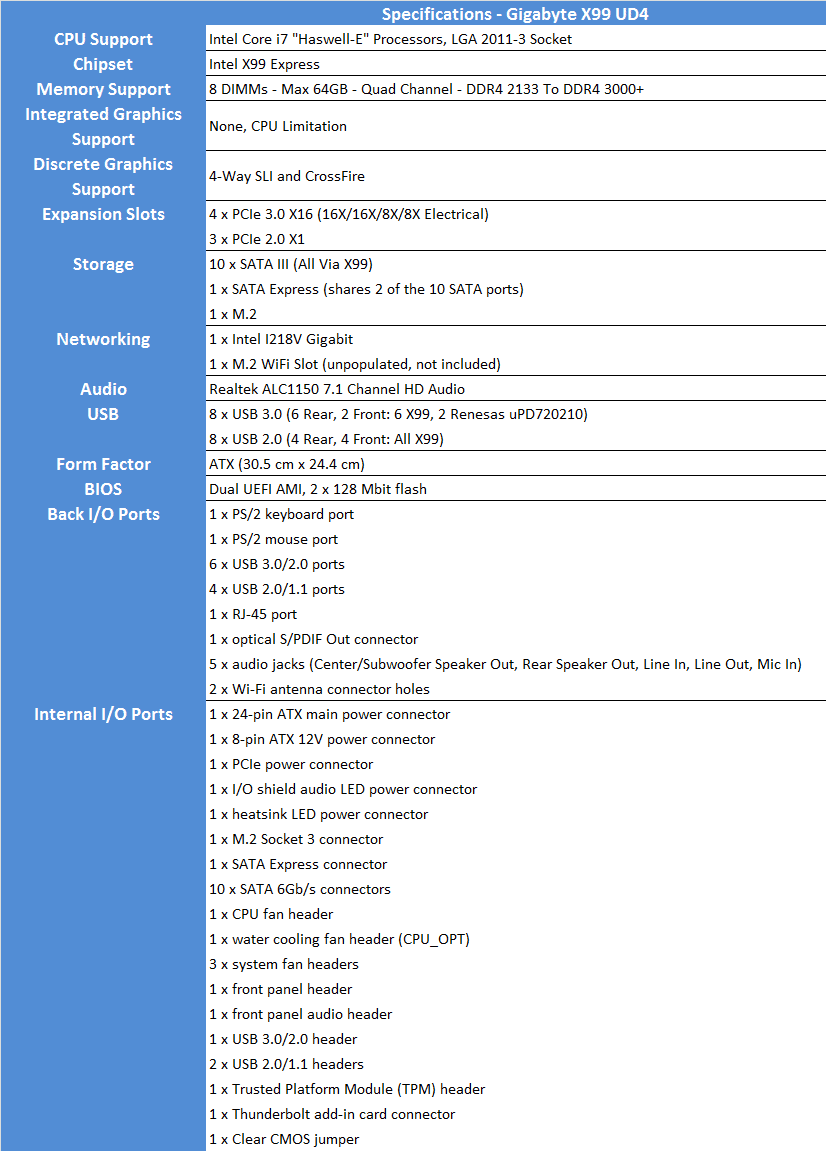 Packaging and Accessories
The X99 UD4 comes in one of the smallest boxes I've seen for an X99 motherboard. The branding is Gigabyte's mainstream "Ultra Durable" series, remember Gigabyte's other two SKUs are the Gaming line and the Overclocking line.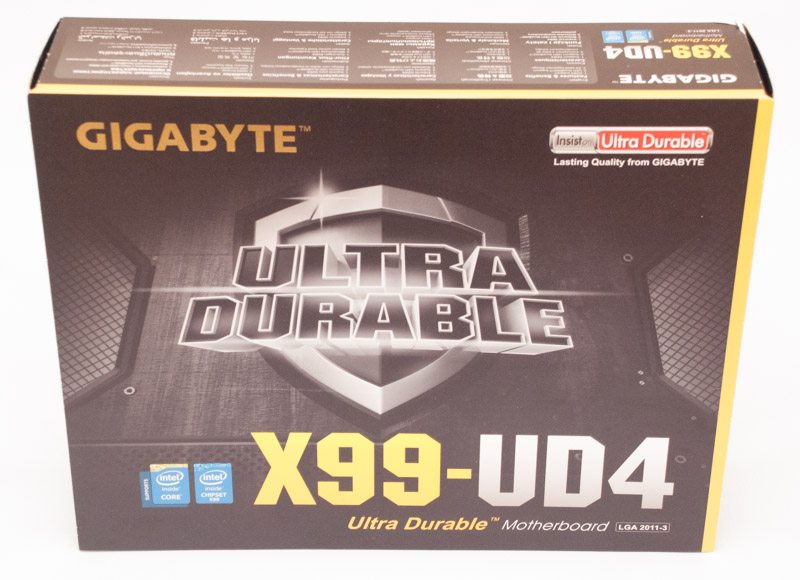 Around the back we find a really in-depth motherboard analysis focusing on features, performance and the quality of the components used in this board's construction.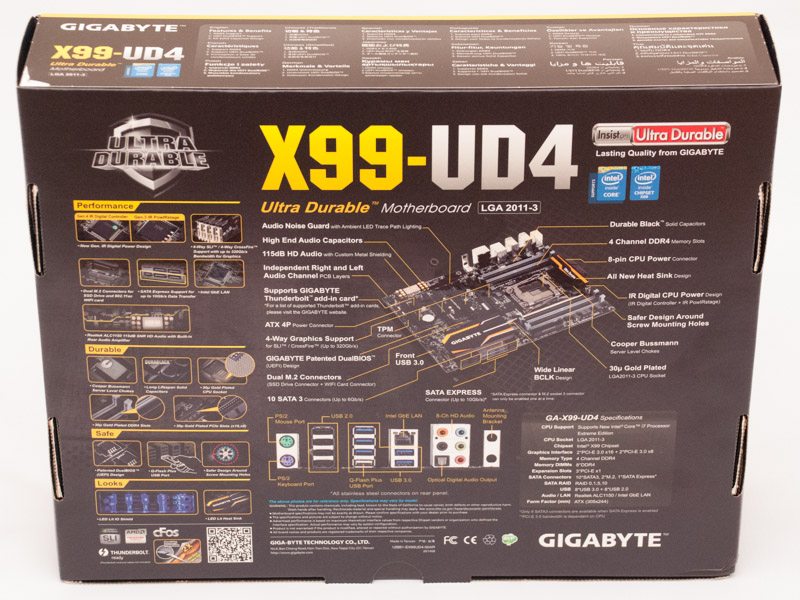 Accessories are modest for an X99 platform board. As Nvidia SLI certification requires there's a range of 2, 3 and 4 Way SLI bridges and also a 2-Way AMD CrossFire bridge. Remember AMD's newest GPU SKUs do not require bridges anymore as the XDMA "bridge-less" feature was implemented. Four braided SATA cables, a rear I/O and a power adapter cable make up the rest of the accessories.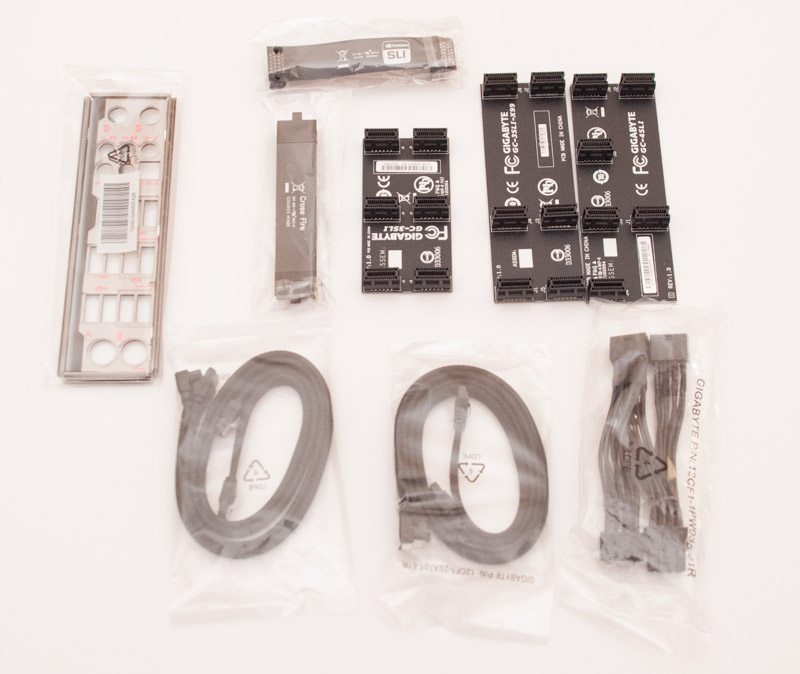 Moving onto the mundane inclusions and we find some basic documentation and a driver/utility disc.