Gigabyte Z270X-Ultra Gaming LGA1151 Motherboard Review
---
---
---
John Williamson / 4 years ago
A Closer Look
---
The motherboard employs an understated jet black design and adds a more ostentatious touch through RGB lighting. This is a sensible decision because it allows the end-user to enjoy a simple, neutral aesthetic or customise the motherboard's appearance to focus on their favourite colour. Honestly, I'm quite fond of the motherboard's industrial, uniform look and extremely large I/O cover. Gigabyte's branding is fairly muted and doesn't distract from the product's balanced styling.
As previously mentioned, Gigabyte included five PWM fan headers which detect if the connected cooling device is using PWM or Voltage modes. On assessed, the motherboard can determine the best possible method and configure a suitable fan curve. Furthermore, the headers support up to 2 amps and have integrated overcurrent protection. This provides peace-of-mind when using a Y-Splitter to attach high-speed fans like the Noctua IndustrialPPC series. The motherboard's six temperature sensors are another brilliant addition which allows you to monitor thermal readings at different points. This is useful when performing diagnostics and inspecting the motherboard's health.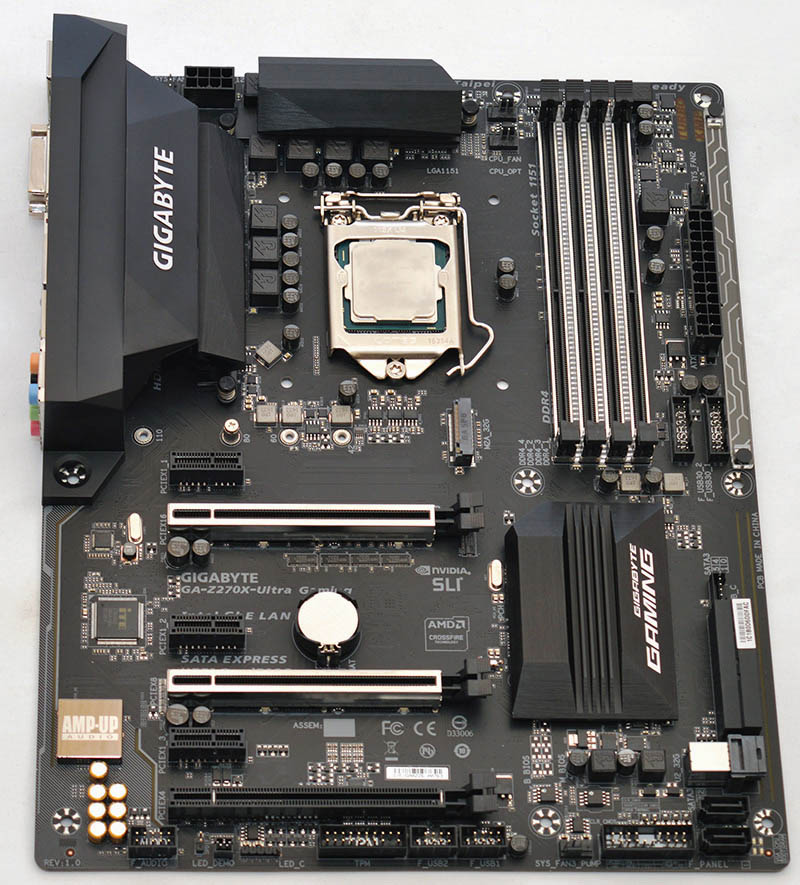 Gigabyte decided to utilise an 8-phase power delivery which should be ample for most people's overclocking needs. The 10K-rated black capacitors are designed to retain an ultra-low ESR at varying CPU loads. As a result, the motherboard shouldn't encounter stability problems or degradation over time. Interestingly, the motherboard's resistors are protected by an anti-sulfur alloy layer which prevents sulphur compounds creating chemical change and causing unwanted shorts. The CPU socket has a 15 microinch thick gold plating which allows for a better contact point and helps against corrosion.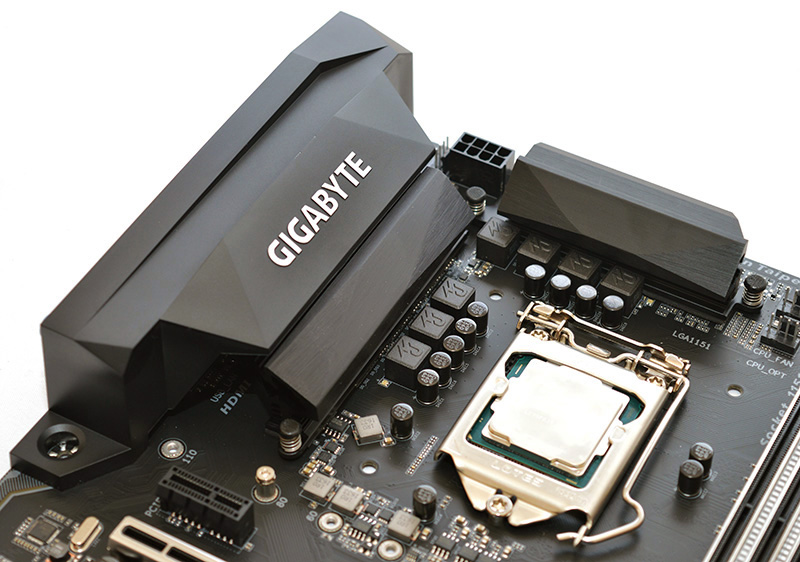 The motherboard supports up to 64GB DDR4 memory in a dual-channel configuration. Evidently, you can use high-frequency DIMMs providing the CPU's memory controller is able to contend with a manual overclock or XMP profile. The DIMM slots are reinforced by stainless steel metal shielding which protects against PCB bending. In theory, this should stop any damage from occurring to the DIMM slots.
Despite being the most affordable Gigabyte Z270 motherboard I've been sent for review, the memory slots still have RGB illumination which creates the impression that light is surrounding the modules. This is a fantastic visual effect which looks amazing. On a similar note, the motherboard has a swappable overlay for the LED accent strip and you can install something with a different pattern. This allows you to forge a unique finish and I can see this being popular among the modding community. Next to the LED strip is the usual 24-pin ATX and two USB 3.0 headers.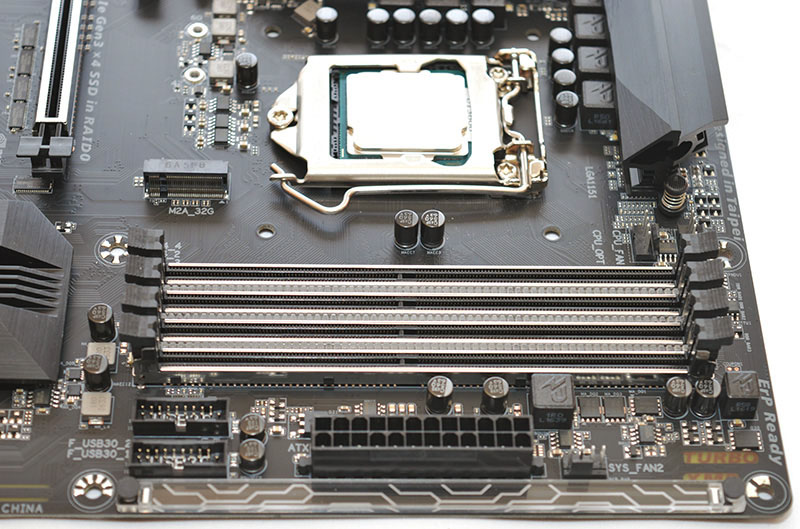 Here we can see the motherboard's PCH contains some attractive ridges and the Gigabyte Gaming branding. The brushed matte finished is gorgeous and should complement a wide range of components.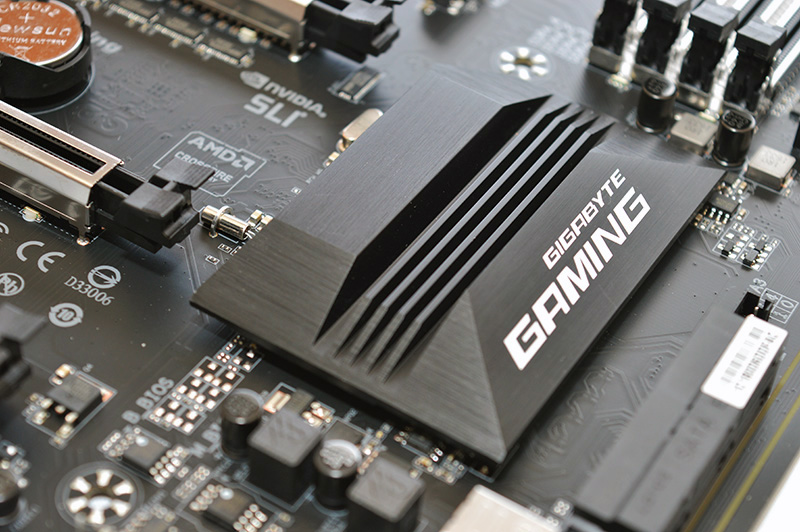 In terms of storage, the motherboard has six SATA 3 ports, two SATA Express, a U.2 port and M.2 connector supporting types 2242/2260/2280/22110. The positioning of the SATA ports allows you to install a long graphics card and easily unplug any connected cables. This illustrates Gigabyte's attentive nature and the thought which went into the PCB layout.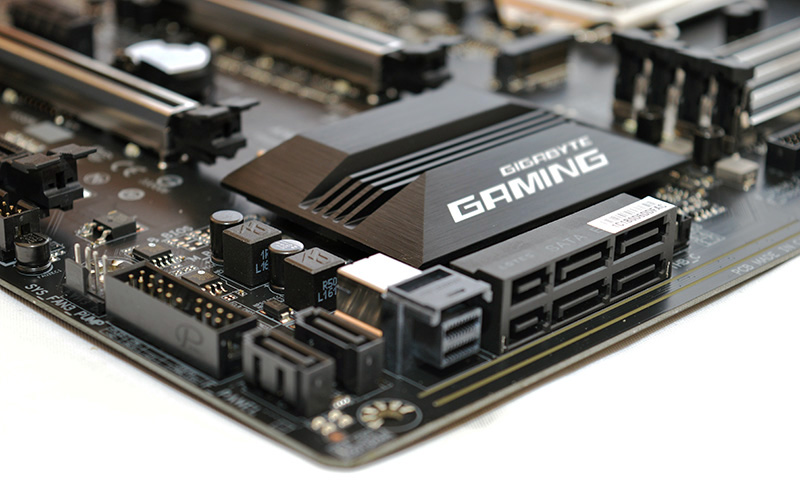 The motherboard's audio solution is based on the latest Realtek ALC1220 codec which has been covered by an EMI shield. As expected, the audio chipset is on a separate PCB to reduce interference and enhance the sound quality. The audio hardware has a really impressive 120dB signal-to-noise ratio with a smart headphone amplifier which automatically adjusts the volume based on a headphone's impedance. The audio segment supports DSD128 hardware decoding and opts for premium Nichicon capacitors.
Gigabyte's PCI-E arrangement is optimal for the average user and revolves around three PCI-E x16 slots alongside three PCI-E x1 slots. Please note, the motherboard supports 2-way SLI via an x8/x8 configuration and 3-way CrossfireX running at x8/x4/x4. The wide spacing is helpful for those using two card setups and allows for good airflow to pass over both GPUs. On another note, the first two PCI-E x16 slots are covered in stainless steel metal shielding with extra anchor points and a double locking bracket. This adds an extra layer of protection and stabilises graphics cards with a hefty weight.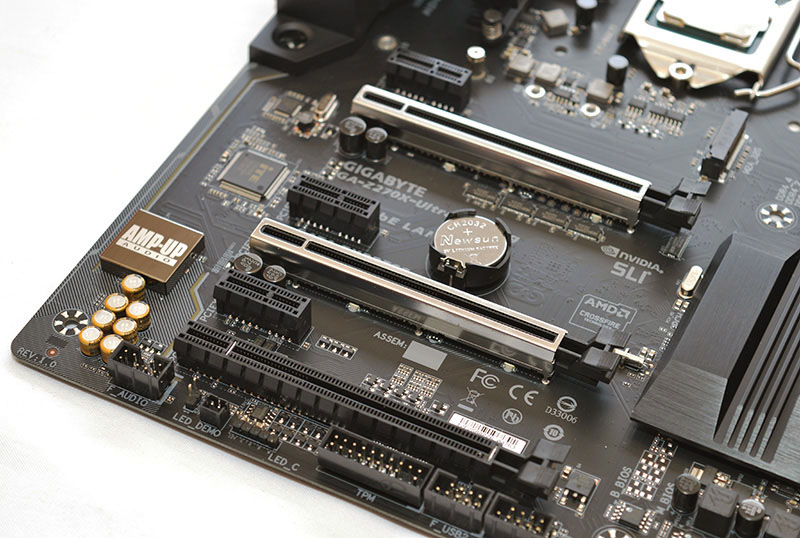 On the rear I/O, there's a PS/2 combo port, four USB 3.1 Gen 1 ports,  DVI-D, USB 3.1 Gen 2 port Type-A, USB 3.1 Gen 2 port Type-C, HDMI 2.0b, RJ45, two USB 2.0, 5 audio jacks and S/PDIF. Please note, the yellow USB ports have a dedicated power design and voltage compensator resulting in a cleaner noise when connecting a DAC.

Gigabyte's RGB Fusion technology completely transforms the motherboard's design and the vibrant lighting emanates from key areas including the PCI-E slots, power delivery, DIMM slots and accent LED cover.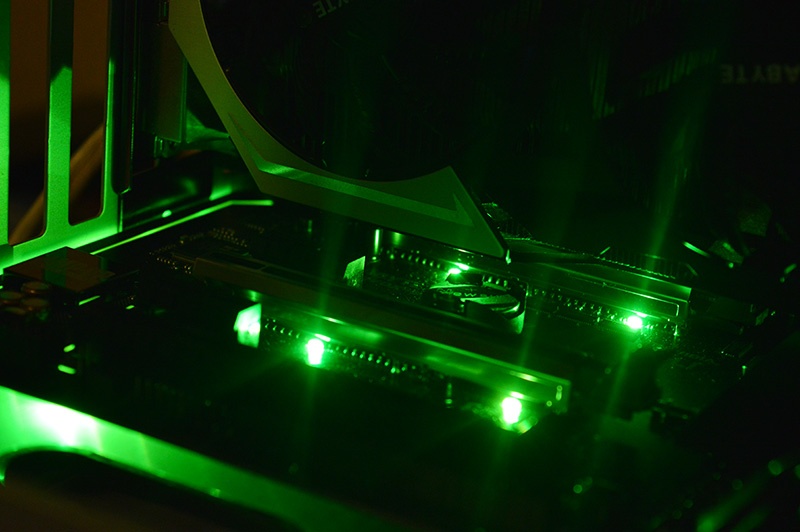 Evidently, you can select from a whopping 16.8 million colours and customise each section of the motherboard in various shades. The lighting helps to flesh out the accent LED's pattern which gives the motherboard a unique sense of style.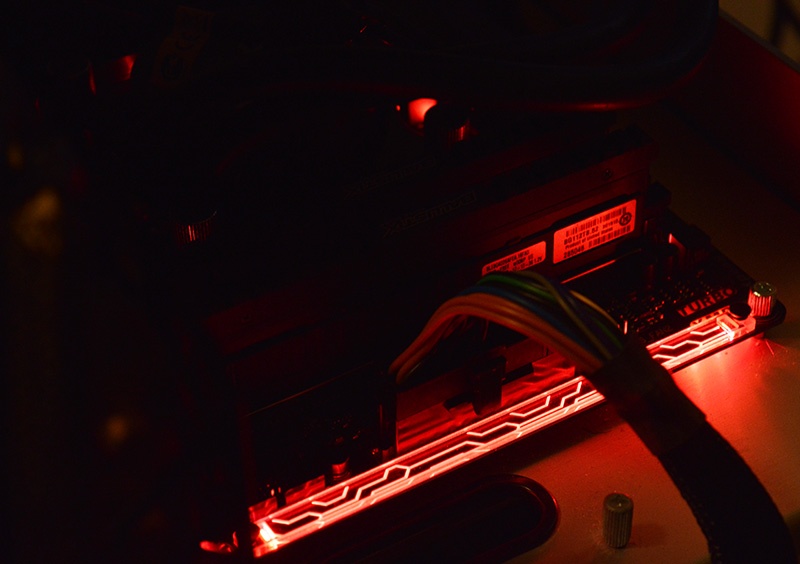 Here we can see the motherboard's lighting can be viewed from a distance quite easily and creates the impression of light leaking from underneath the PCB.