Gigabyte Z370 AORUS Gaming 7 Motherboard Overview
---
---
---
Ron Perillo / 5 years ago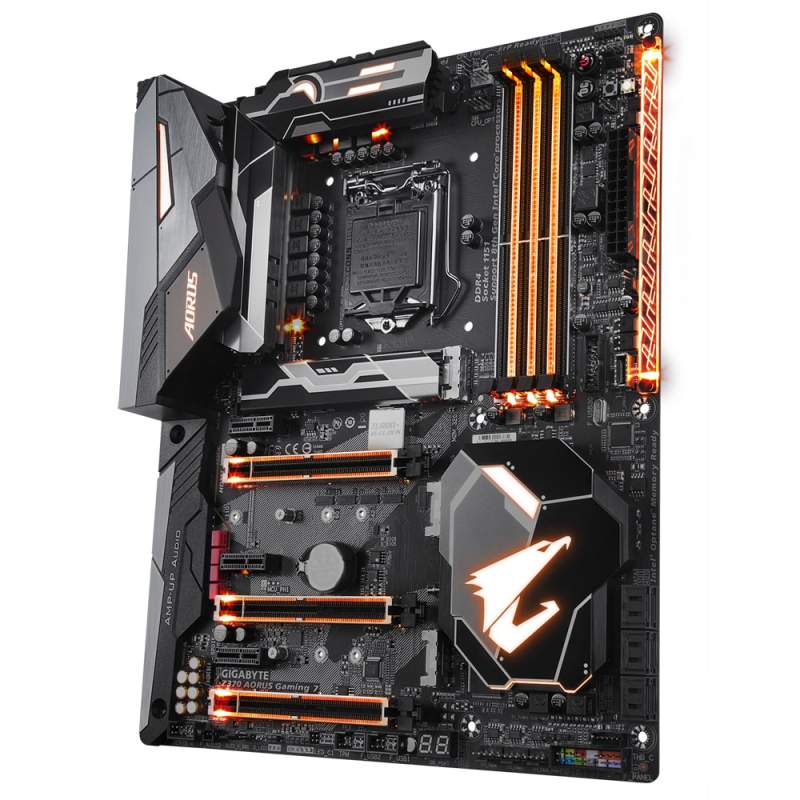 With the NDA lifted for Intel's 8th generation CPUs, Gigabyte has announced their line of Z370 motherboards supporting the Coffee Lake family. Along with the new processor support, Gigabyte is also announcing several exclusive feature additions and improvements over their Z270 models. These encompass not just aesthetic differences, but functional features as well. As the flagship motherboard, the Z370 AORUS Gaming 7 has all these features which are also shared by other units in the Gigabyte Z370 family.
RGB LED Features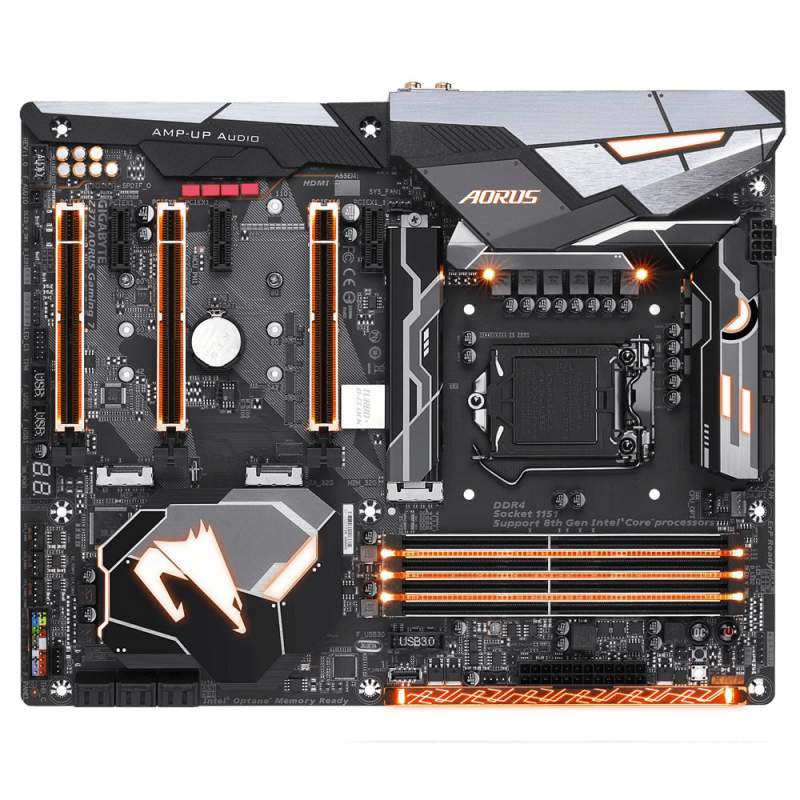 New to the mainstream Gigabyte desktop segment mainboards is the ability to connect addressable RGB LEDs. This feature first appeared on their HEDT segment mainboards back in Computex. Now mainstream users can freely hook up digital LEDs via any of the two digital LED headers. This allows control of the strip or even a matrix of LEDs at the same time via the RGB Fusion software.
Aside from the digital RGB LED headers, two 5-pin RGBW/RGBUV headers are also available so users can hook up those LED strips as well. Even if you do not have LED strips, additional LEDs are embedded directly on the IO cover, PCH heatsink, VRM heatsink, PCIe x16 slots, DIMM slots and right side edge. Each of those are customizable via the RGB Fusion software
Storage Features
There are six SATA 3 6G ports at an angle at the edge, and three M.2 slots available. Two of these M.2 slots supports form factors up to 22110, while one supports up to 2280. All three support PCIe x4/PCIe x2 NVMe drives and are Optane ready. The topmost M.2 22110 slot comes with an M.2 heatshield.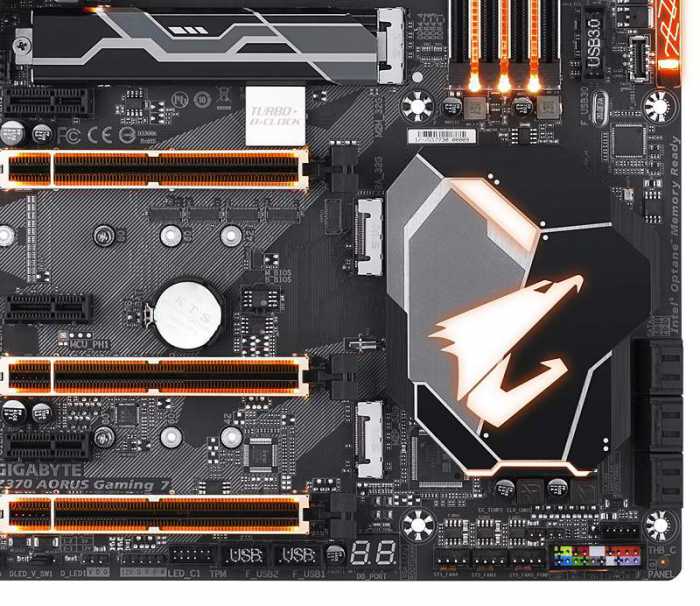 The PCIe 3.0 lanes from the Z370 PCH remains at 24, like the Z270. So there is some creative allocation with storage.If a SATA or PCIe x4 NVMe drive is installed at the top-most M.2 with a heatshield for example, SATA3_4 and SATA3_5 ports are disabled. If a SATA M.2 is installed on the second M.2 slot, then the SATA3_0 port is disabled. The two M.2 slots at the top and middle support SATA M.2 drives as well, however the third M.2 slot does not support it.
The AORUS Z370 has a 19-pin USB 3.0 header and a USB 3.1 Type-C header on-board. Two additional 9-pin USB 2.0 headers are also available on the bottom edge. At the rear IO, there are five USB 3.0 (USB 3.1 Gen1) ports available. The two yellow ports below the PS/2 port support the USB DAC-UP port feature. That essentially means that they have an independent power supply that delivers cleaner power. The red USB Type-A port is a USB 3.1 Gen 2 port, as well as the USB Type-C port beside it.
Audio Subsystem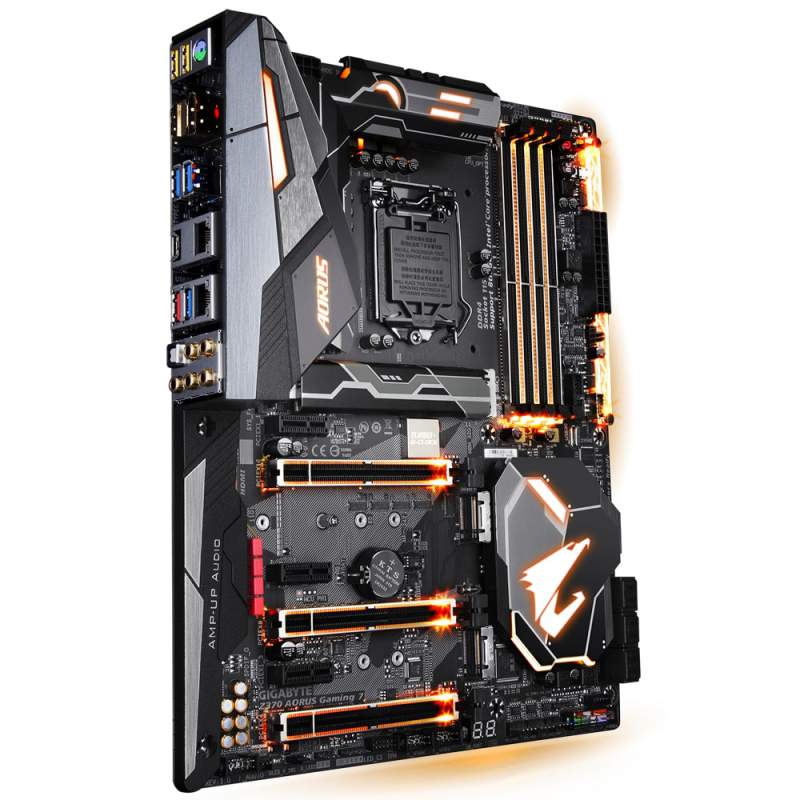 Although most of the Gigabyte Z370 motherboards make use of the latest Realtek ALC1220 HD audio codec, the Z370 AORUS Gaming 7 is the only board that has an ESS9018Q2C Sabre reference DAC chip. Just like it is important for the USB DAC-UP port to have independent power supply for connecting external DACs, the AORUS Z370 Gaming 7 audio subsystem uses a Texas Instruments LME49620 op-amp and WIMA with Nichicon Fine Gold audio capacitors. Even the timing triggers use TXC oscillators instead of standard crystal oscillators for precise timing triggers. The analog audio connectors in the rear IO use gold plating as well. Gigabyte is making sure they have their bases covered with this audio subsystem.
Smart Fan Control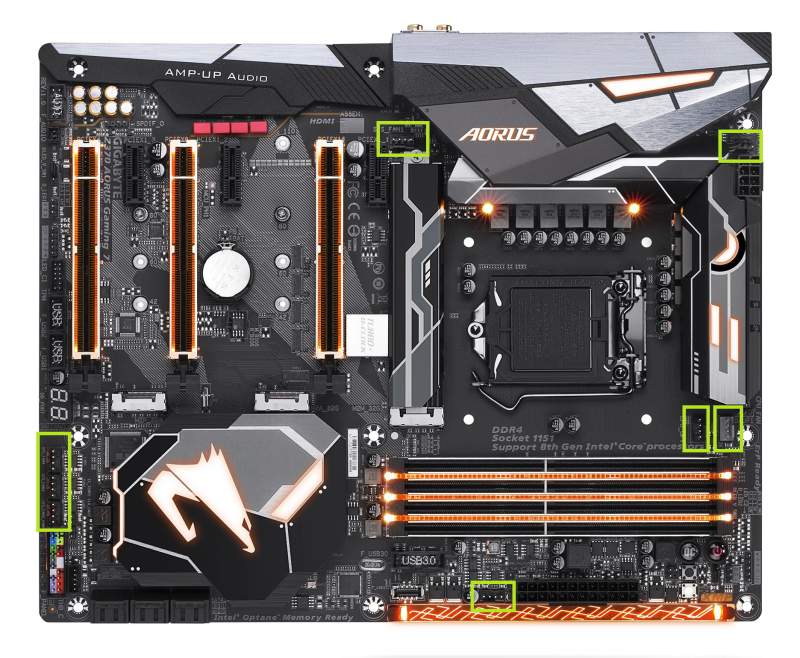 There are eight fan headers available on the Z370 AORUS Gaming 7. Two of which are ideal for pump use in water-cooling setups. What you don't see immediately however, are nine temperature sensors located on the CPU, CPU VRM, PCH, PCI-e x16 slots, and more. Gigabyte even includes a pair of temperature sensor cables to add two more sensors for the chassis.
With the Smart Fan 5 software, users can configure individual 'cooling zones' as appropriate to their case setup. This software can even calibrate the fan and suggest profiles automatically.
Pricing and Availability
Pricing information is not available yet, but expect it to be available within the next few days. Stay tuned for reviews coming out within the next few days as well.