Gigabyte Z790 Aorus Elite AX Motherboard Review
---
---
---
Peter Donnell / 2 weeks ago
A Closer Look
While this may be a literal fraction of the price of the AORUS flagship motherboards, it's not exactly bargain-basement either, £330 goes a long way in terms of materials, so there are still some very large VRM heatsinks flanking the CPU. The lower half of the motherboard has smaller heatsinks and less armour on it than more expensive models too, but honestly, it still looks to be more than enough for the purpose of cooling a few M.2 drives. Plus, the primary M.2 slot just below the CPU has a separate and surprisingly thick looking heatsink all of its own too.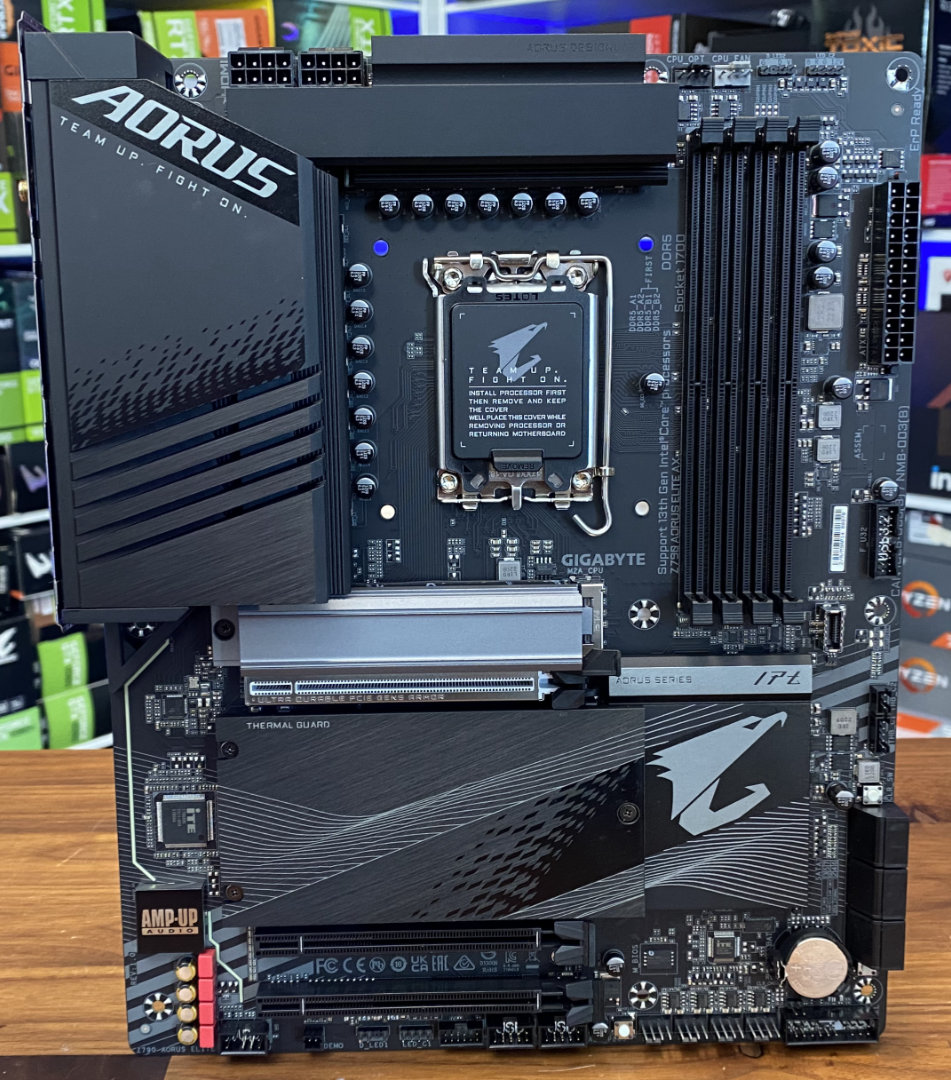 Under those massive heatsinks, you'll find a thick layer of 7.5 W/mK Thermal Conductivity Pad on both banks of MOSFET. There are 70A Smart Power Stages, a 6-layer 2x Copper PCB, and both the top and left heatsinks are joined with a chunky 6mm heatpipe, so overall, a very competent power and cooling configuration here.
There are two reinforced 8-pin CPU headers too, driving power to that 16+1+2 VRM, which is broken up into 8+8 parallel 70A VCORE phases for the CPU, 1 VCCGT 60A Dr MOS for the iGPU (if you have one), and 2 VCCAUX Phases for the CPU PCIe and Memory Controller.
Moving down, you'll find a very durable-looking SMD PCIe 5.0 x16 slot, featuring their Ultra Durable Armour design, as well as their PCIe EZ Latch technology (a big lever to reach the clip).
There are two more PCI slots, the first is a PCIe 4.0 running at x4, and the bottom one is x16 PCIe 3.0 running at x4, making them idea for storage cards, networking devices, sound, capture cards, etc.
Under that large heatsink, you'll find the chipset on the right, one M.2 above the primary PCIe and three more below it. The top one is PCIe 4.0 M.2 with Thermal Guard III heatsink, and while the bottom ones are also PCIe 4.0 M.2, they come with the "Enlarged Thermal Guard", which is to say they're all huddled together under one big shared heatsink.
The rear I/O looks great, with four USB 2 ports at the top, which are perfect for all your controllers and peripherals. Moving down, the USB 3.2 ports (red) are nice and fast for external storage, and there are more 3.2 Gen 1 ports (blue) below that. There's also a Type-C USB 3.2 Gen 2×2 which is good for up to 20Gbps.