Gigabyte Z87X-OC (Z87) Motherboard Review
---
---
---
Andy Ruffell / 10 years ago

Taking a first look at the board, you can see the lairy orange colour scheme that we've seen on overclocking boards before. The general layout is what we expect, with a lot of features being packed into the board, though without making it look cluttered, which Gigabyte have done a fantastic job of. The orange and black works really well on the expansion lanes, DIMM slots and passive heatsinks.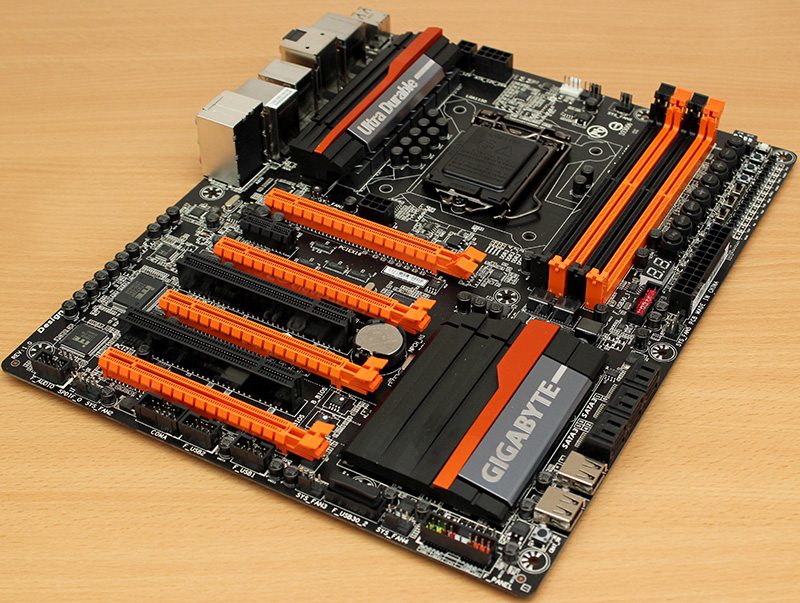 For an overclocking board, the CPU socket looks completely bare which is quite shocking, as it only includes a single Ultra Durable branded heatsink, with 8-pin and 4-pin ATX power connectors close by. Also close by are relevant CPU cooler fan headers. Having a lot of room around the CPU socket will allow those wishing to use LN2 the relevant space to insulate the board while still protecting the main core components of the PWMs.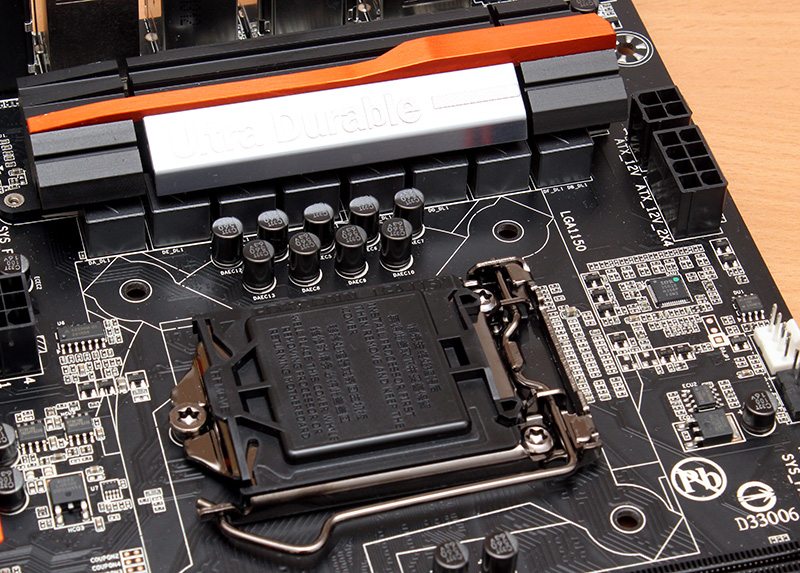 A new heatsink design is covering over the Intel Z87 chipset with simple Gigabyte branding and the orange colour scheme which is used throughout the board.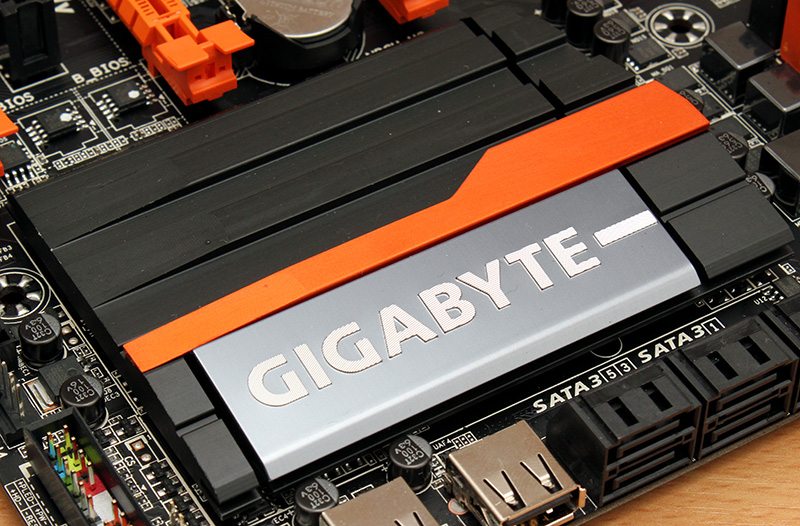 Four dual-channel DIMM slots are present, following the orange and black contrast. Support for up to 32GB of DDR3 with speeds up to 2400MHz + and of course fully supports Intel XMP based memory. Nearby we find a lot of features including an ATX 24-pin power connector and USB 3.0 header, but also a lot of features that are specifically aimed at overclockers branded as the OC Touch panel. These include a debug LED, clear CMOS button, settings lock, reset, memory safe button and direct to BIOS button saving you the need to repeatedly press the Delete key.
We also have a total of 8 buttons branded as OC Hardware buttons which include an OC Turbo button, buttons for changing the CPU BCLK Frequency and CPU ratio. Also a power button is next to it to blend in.
One more button that is new is the "Tag" button which allows you to load your customised settings so that even if CMOS has been reset, your OC profile will automatically be applied without having to manually change all of your settings again.
Lastly there is a set of 4 sliders which comprise of turning the PCI-Express functionality on or off for each individual lane, allowing users to remove graphics cards without physically removing them from the system by shutting down the lane completely which is perfect for those using LN2 and other extreme cooling solutions.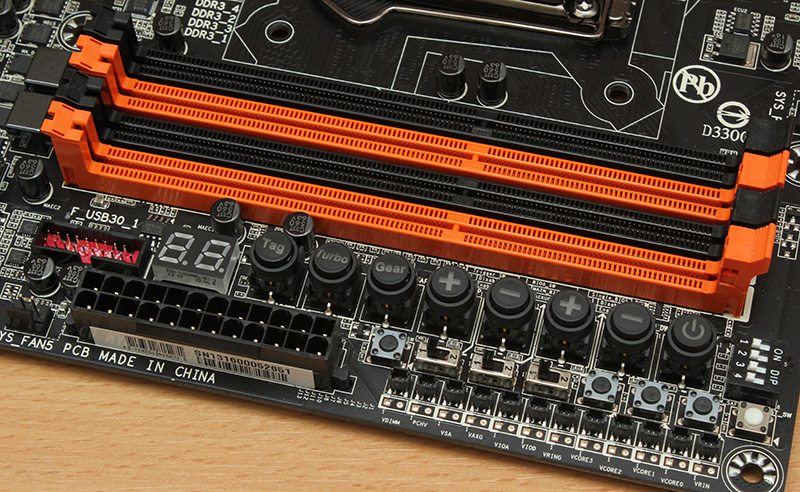 Moving over to the expansion slots, we find a simple layout of four PCI-Express x16 lanes, a single PCI-Express x1 slot and two legacy PCI lanes. Now normally I'd complain about a board having legacy PCI slots, but on a board like this, it's always handy having debug PCI cards for troubleshooting and overclocking, which happen to come on PCI cards generally speaking. The PCI-EXpress x16 lanes run at x16/x8/x4/x4 for those wishing to utilise quad SLI and CrossFireX technology and remember that this board has the ability to power down individual lanes thanks to the sliders on the OC Touch panel.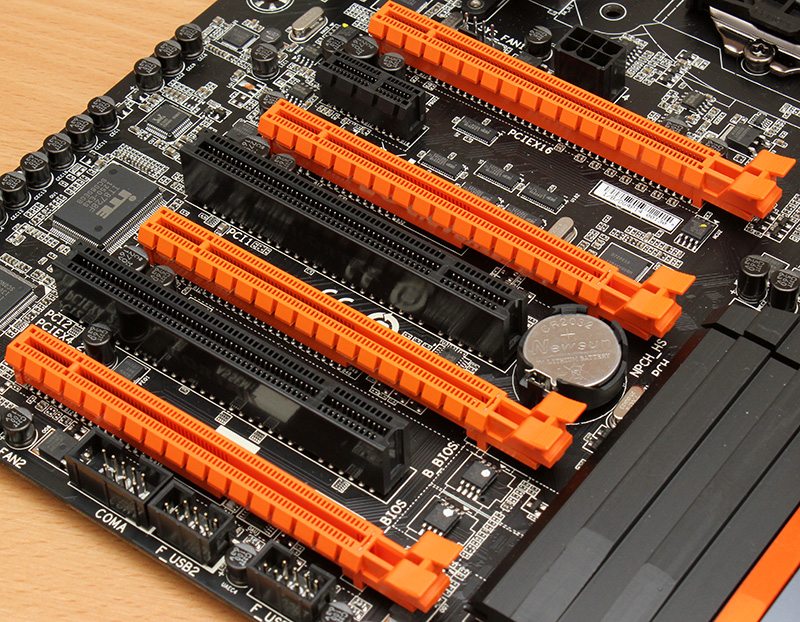 SATA wise we have 6 SATA 6Gb/s connectors utilising the Intel Z87 chipset but also nearby we have 2 USB 2.0 ports that you'd generally find on the rear of your chassis or front, but instead sees them snugly fitting in internally labelled as OC Connect allowing overclockers to use the functionality for controllers and other USB devices that will assist them when pushing their hardware to the limits.

The bottom of the board shows nothing out of the ordinary with a front audio header, SPDIF_OUT, system fan headers, COM port header, 2 x USB 2.0 connectors, another USB 3.0 header and the usual front panel LED and switch headers for connecting your chassis to your motherboard.

Finally we move around to the rear I/O where we find two USB 2.0 ports, an OC Ignition switch which keeps power running to the motherboard and eliminates cold bug situations among other extreme situations involving water cooling. Moving along we see two USB 3.0 ports, two HDMI ports and a full-size DisplayPort. Also present is an optical SPDIF port, a ps2 keyboard/mouse combo port, Intel Gigabit LAN and 8 channel audio connectors courtesy of Realtek's ALC892 audio controller.