Gigabyte Z97N-Gaming 5 (LGA 1150) Motherboard Review
---
---
---
Ryan Martin / 9 years ago
Introduction, Specifications and Packaging
---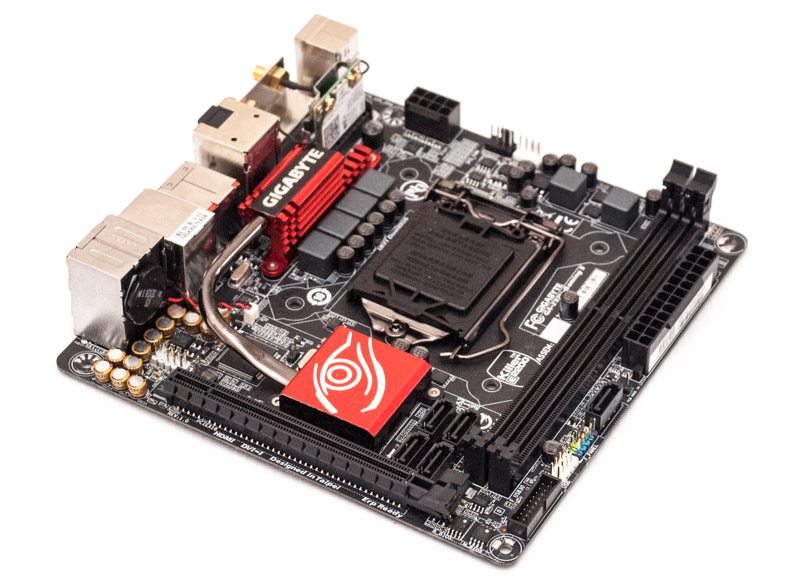 Intel's Z97 platform is a perfect basis for a mini-ITX system build as it features enough performance to please even the most demanding user while still being power efficient enough to be tamed by small form factor cases and modest cooling solutions. Due to those reasons it isn't surprising to see Intel's LGA 1150 platform dominate the mini-ITX landscape. Creating a mini-ITX motherboard from AMD's AM3+ or Intel's LGA 2011 platforms is unfeasible from a number of perspectives including heat and for LGA 2011, the size of the socket and number of memory lanes required. We have seen other mini-ITX motherboards emerge for low power platforms like Intel's Bay Trail, AMD's Kabini and AMD's FM2+ APU platform but relatively speaking all three of these platforms cannot rival Intel's LGA 1150 in terms of raw performance. In short, Intel's mainstream LGA 1150 platform offers the best balance of features, performance, pricing and power efficiency for the mini-ITX form factor.
On the subject of mini-ITX today we are reviewing Gigabyte's Z97N-Gaming 5 motherboard to see if it can match the high standards set by other motherboard vendors such as MSI with their Z87I Gaming AC or ASUS with their Z97I-PLUS. Gigabyte's Z97N-Gaming 5 is part of Gigabyte's gaming product stack meaning we see the usual audio and networking customisations found across the entire Gigabyte Gaming 9 series. The heart of this "Gaming" status is derived from a combination of Killer networking and advanced audio quality based on Realtek's flagship ALC1150 codec. Those two things aside the customisation options for mini-ITX motherboards are limited for obvious reasons: space. The new storage form factors for Z97, M.2 and SATA Express, both get ditched due to space constraints. Gigabyte haven't tried to reverse mount an M.2 port on the bottom of the board like ASUS managed to do with the Z97I-PLUS. Impressively Gigabyte have still managed to use all six SATA ports, offer a heatpipe cooling solution and a pair of fan headers for the CPU socket. The space on the Z97N Gaming 5 is used well, a point of congratulations goes to the decision to ditch the TPM header which ASUS and MSI both put on their mini-ITX boards for reasons unknown to the logical thinker: what gamer needs a TPM device?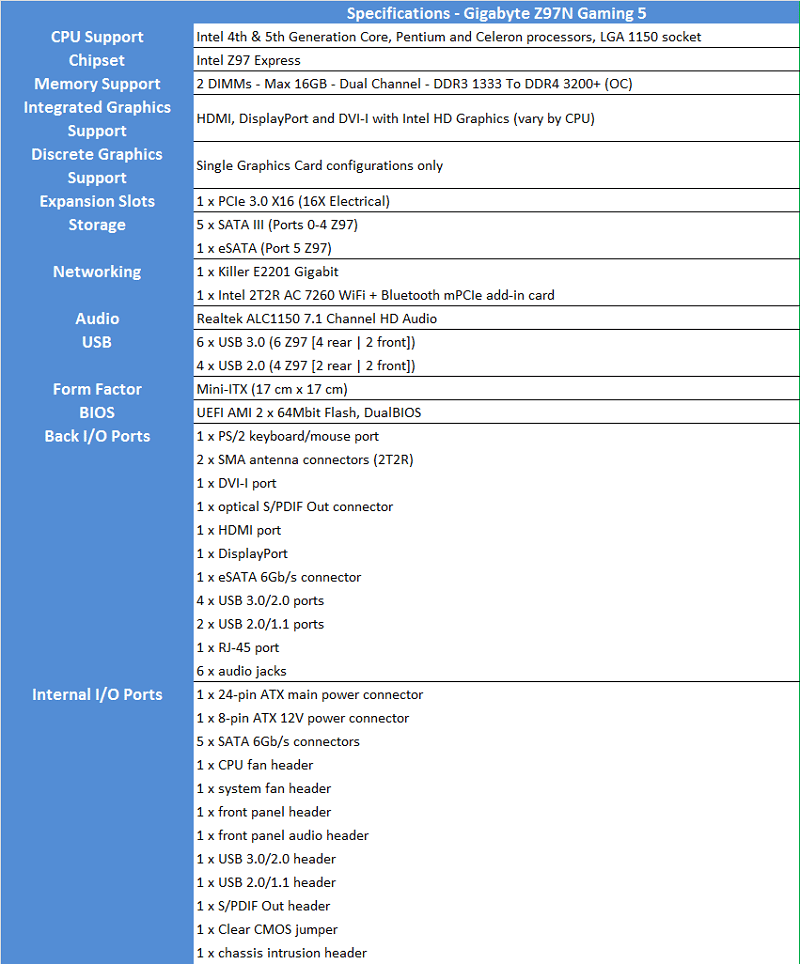 Packaging and Accessories
The accessory bundle and packaging for the Z97N- Gaming 5 is as small as the board. With the typical documentation and DVD we get a rear I/O, some stickers and a WiFi antennae.