Gigabyte Z97X-Gaming 5 (LGA 1150) Motherboard Review
---
---
---
Ryan Martin / 7 years ago
Audio Performance
---
RightMark Audio Analyser (RMAA)
RMAA suite is designed for testing quality of analog and digital paths of any audio device. The results are obtained by playing and recording test signals passed through the tested audio path by means of frequency analysis algorithms. A more common mark is also provided for those unfamiliar with measured technical parameters. Available here. We run the RMAA test using a 3.5mm to 3.5mm cable connecting the line out to the line in to test the quality of the motherboard audio codec not any external audio devices. We run the complete playback and recording test at default settings and then get RMAA to interpret the results giving the below outputs. We sync the playback and recording audio devices to the same setting as the test for accurate results.
16 Bit, 44KHz (DVD Quality)

16 Bit, 96KHz (Studio Quality)

24 Bit, 96KHz (Studio Quality)

By hardware design any Realtek ALC 1150 based motherboard will have strong audio, but Gigabyte's Z97X-Gaming 5 had particularly strong audio. On paper these results can easily rival some discrete audio solutions. The fact Gigabyte also equip an audio amplifier was notable in our testing, we only needed 44-45 system volume on each channel compared to the normal 65-70 that is required to satisfy the Rightmark test. I will also note that Gigabyte provide some Sound Blaster X-Fi MB3 software for additional audio feature enhancements if that is desired by the end-user.
DPC Latency Analyser
Thesycon's DPC Latency Checker is a Windows tool that analyses the capabilities of a computer system to handle real-time data streams properly. It may help to find the cause for interruptions in real-time audio and video streams, also known as drop-outs. Available here.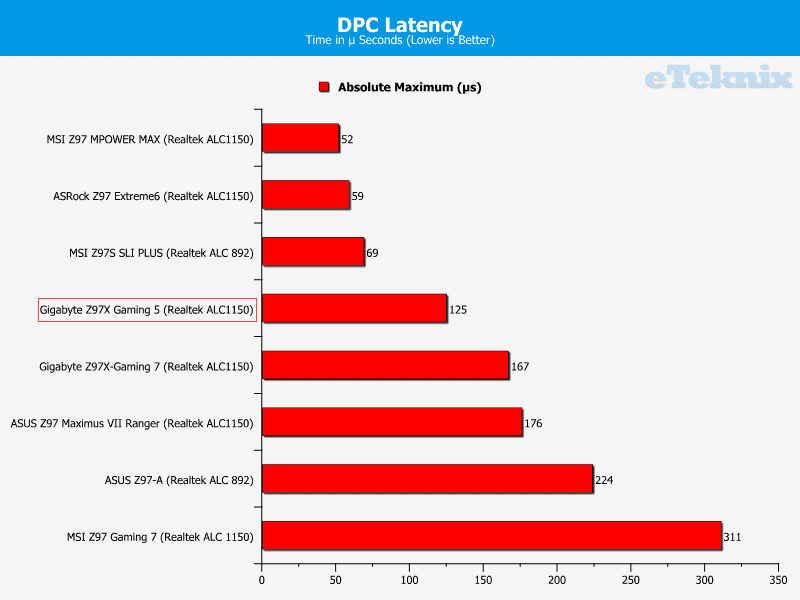 Latency has been improved greatly on all Z97 motherboards since launch and the Gaming 5 shows that. Anything below about 500-1000 is going to deliver a seamless audiovisual experience so all Z97 motherboards perform great.