Go Wherever You Want With This No Mans Sky Mod
---
---
---
Alexander Neil / 5 years ago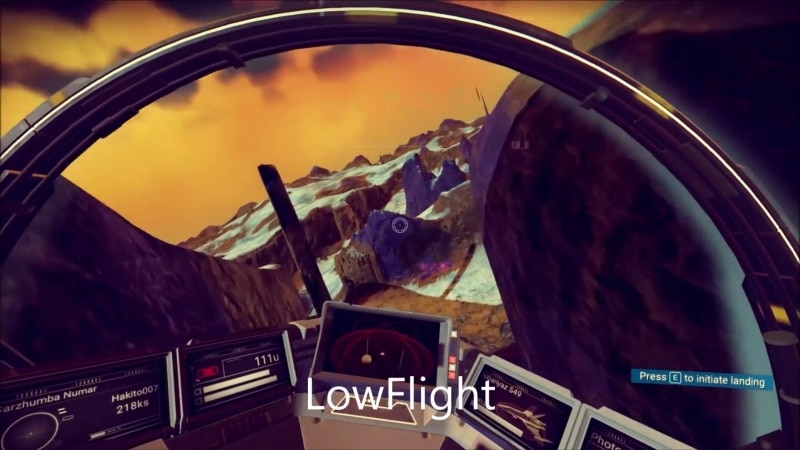 No Man's Sky has had a troubled life so far, suffering from major technical issues on its PC release and many players feeling frustrated at the reality of the game compared to gameplay trailers shown while it was in development. While Hello Games are patching the game to fix technical issues, thankfully for PC players, modders have also been quick to act, removing some of the restrictions placed on the player by the game and improving the experience for many.
One such mod is Lowflight by Hytek which, as its name suggests, adds low flight to the game, allowing players to fly their ships as close to the surface of a planet as they want and even allows them to 'fly' underwater. In the base game, unfortunately, flight altitude is limited to a certain height, with an invisible wall stopping you from diving into valleys and weaving between rock formations as you wish.
This mod does come with a number of risks, most of which involve wrecking your ship. For starters, the mod does allow you to crash your ship into the ground at high speed, causing major damage to it, although it doesn't explode. Additionally, the hitboxes for some of the planet's features like trees are a bit rough, meaning that while you may seem to be clear of an obstacle, your ship will collide with it, again causing major damage. Lastly, while you are now able to fly as low as you want, the ship isn't capable of interacting with planet-side gatherables, so you won't be able to take a leisurely cruise across the planet, harvesting it from the comfort of your ship.
Hopefully, there will be more mods like this in No Man's Sky's future, as while it is an enjoyable exploration and walking-simulator, many have found the game to be lacking in features and may end up suffering in the long term.