Good News: Gold PS5 For Sale – Bad News: It Costs $499,000
---
---
---
Mike Sanders / 11 months ago
Despite the fact that it's been over 3 months now since the PS5 was released, actually getting hold of one (and for a reasonable) price still, unfortunately, remains a very stubborn and keenly felt issue with gaming consumers. There is, however, some potentially good news for you. Well, if you're absolutely desperate for a PlayStation 5 while also having more than a little appeal towards the finer things in life. Well, actually… This 'good news' is actually pretty much entirely dependant on how healthy your bank balance is when you read this.
Why? Well, yes, there's a PS5 for sale! Better still, it's Golden!!! – The only downside is that it costs $499,000 (no typo). And just in case you were wondering, no, this isn't the work of an exceptionally optimistic scalper either!
Gold PS5 Goes On Sale
Announced from bespoke and luxury gadget firm 'Caviar', the Gold PS5 is officially available for purchase now. Yes, they actually have PS5's in stock and available to buy. The only downside is that these particular models cost $499,000. You know, since it has actually had its standard surrounding case replaced with actual gold. Something that should perhaps be a little mildly concerning as it's my understanding that gold is very conductive…
Anyway, on the plus side, if you can't quite afford the 'Gold' version, there will be a 'Carbon' and 'Leather' edition version released in the very near future with prices starting at only $5,800!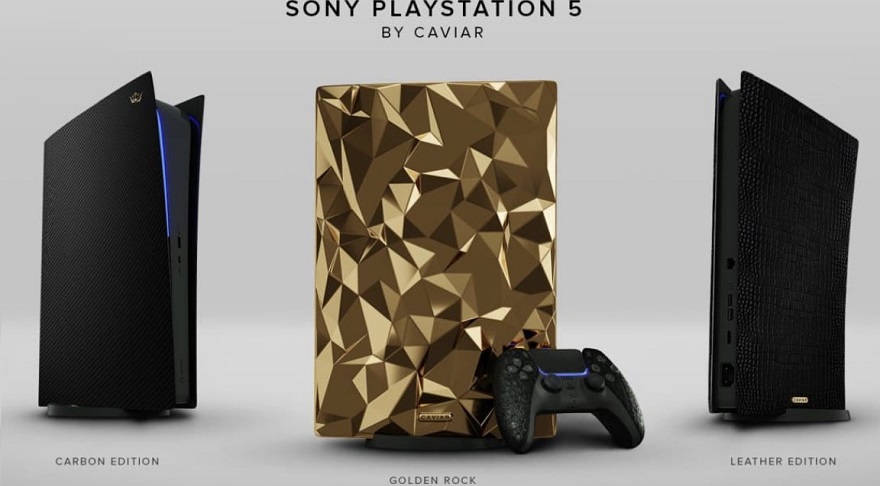 What Do We Think?
So, just in case it needed to be said, these consoles have not been produced for the likes of us. We're talking about the mega-rich with more money than brain cells. I have to admit though, on an aesthetic level, I do rather like that 'Gold' case. Albeit, I daresay that for about $20 you could probably buy a third-party one that looked exactly the same. Yes, it'd be plastic, but you could tell people it was actual 'Gold'! – If only you could actually get a PS5 to put in on though…
If you do, incidentally, want to learn more about these highly-bespoke PS5 systems, you can check out the official Caviar product website via the link here!
What do you think? – Let us know in the comments!