Google Adds Guitar Tuner to Search Engine
---
---
---
Mike Sanders / 2 years ago

I do not play the guitar. Well, strictly speaking, I try, but rather than being played, it is more played upon. However, if you are interested in musical instruments, the chances are pretty good that you might have an app installed on your smartphone to help you get the tuning right. Presuming you don't, or perhaps wished you had something a little more convenient, it seems that Google's search engine might, quite literally, have the answer for you!
Google Tuner
Although it's not entirely clear exactly when this feature was added, it will load up an integrated tuning solution if you choose to look for 'Google Tuner' within their search engine. Now admittedly, this is not 100% perfect as it does ideally require you to have a half-decent microphone to detect the tone correctly. Additionally, it does also need you to know exactly what note each string should be tuned to.
For a handy little tool though, I daresay that some of you will find this useful! As above, all you need to do to access it is visit Google and search for 'Google Tuner'. That's it!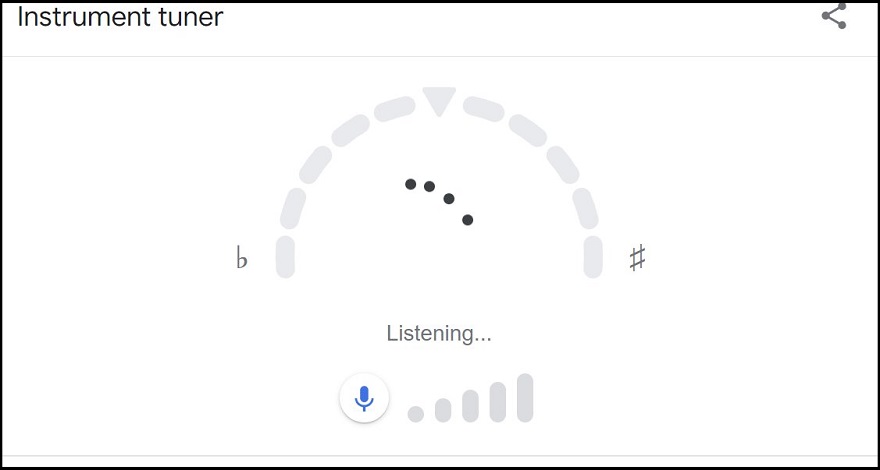 What Do We Think?
While certainly a convenient way of tuning your instrument/s, the only real grumble I have is the name. Surely it would've been more prudent for Google to automatically set this for searches such as 'tuning my guitar' or 'how to tune a guitar'. Albeit, we daresay that a lot of app firms might pay a fair amount of money to boost themselves up the algorithm for that, and while this is certainly a cool addition, Google isn't going to want to potentially lose any marketing revenue over it either!
What do you think though? Will you be using this tool in the future? If not, what apps do you currently use for tuning your intrument/s? – Let us know in the comments!