Google Reports That HTTPS Is Becoming More Popular
---
---
---
Cernescu Andrei / 4 years ago

Google's highlighting of unsecured websites is paying off.
In order to make the internet safer for everyone, Google took it upon itself to call out unsecured websites. This was achieved via a series of warnings implemented in Chrome, and since that's one of the most popular browsers in the world, many people got the message. This caused HTTPS usage to rise, which means that the internet is now a safer place. The messages in question warned users that they are visiting a non-encrypted website. At the same time, website owners strived to improve the security of their property in order to make it more user-friendly. At first, Chrome only issued warnings about pages that collected passwords or credit card details. The second phase included warnings for all data entered on HTTP pages. The warnings were visible in Incognito Mode as well.
Cybersecurity Awareness Month.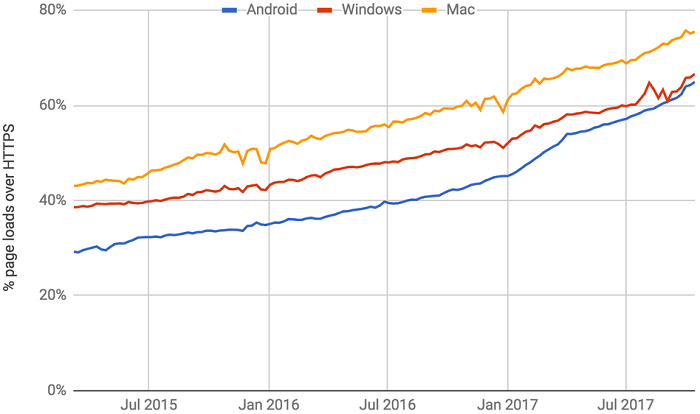 As part of this event, Google reported that that HTTPS usage has improved dramatically in 2017. Emily Schechter, Chrome Security Product Manager, stated that 64 percent of Android Chrome traffic is now protected. This is a significant increase when compared to last year's figures, which were just 42 percent. When it comes to ChromeOS and Mac, these figures rise to 75 percent from last year's 67 percent and 60 percent. Moreover, 71 of the world's top 100 sites use HTTPS. Last year, the figure was down to 37 websites. On a national level, Japan and Brazil saw significant improvements. Tools for combating those pesky stealth apps that use your CPU to mine cryptocurrencies will also be released in the near future.