Grand Theft Auto 5 – Collectors Editions Detailed
---
---
---
Shane Blume / 10 years ago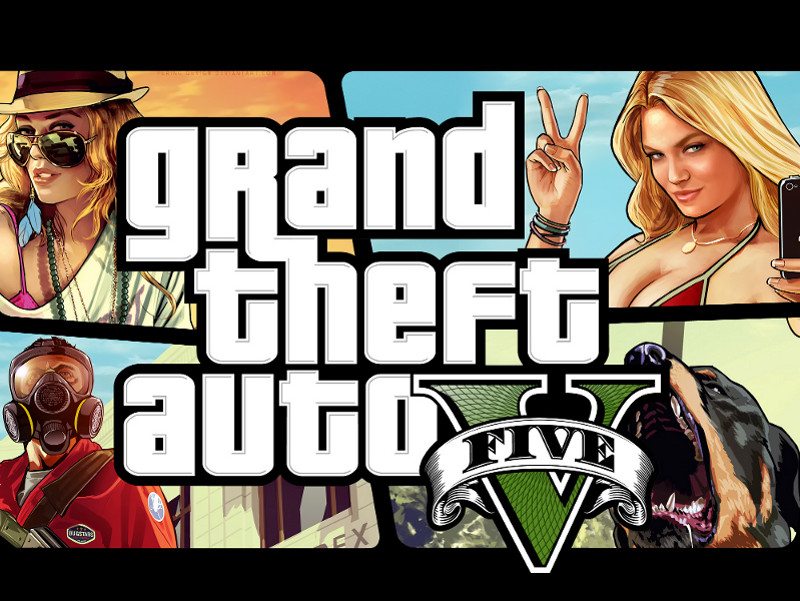 In less than 4 months we will be able to play GTA V, unless of course you are a PC Gamer. Rockstar has yet to announce a date for the PC Version of GTA 5, or if PC users will be given the same versions of the game with special content like the console users.
If you're a console user that is interested in playing the new Grand Theft Auto and cruising the streets of Los Santos, you will be happy to hear the news today of the 3 versions that will be offered.
First we will start off with the Standard Version, which is just the game itself, but anyone who pre-orders the game they will be receiving exclusive content, it isn't much but it is really cool. Wait for it… You will get access to fly the ATOMIC BLIMP! Of course everyone who pre-orders will have access to the blimp. I wonder if we will be able to crash it.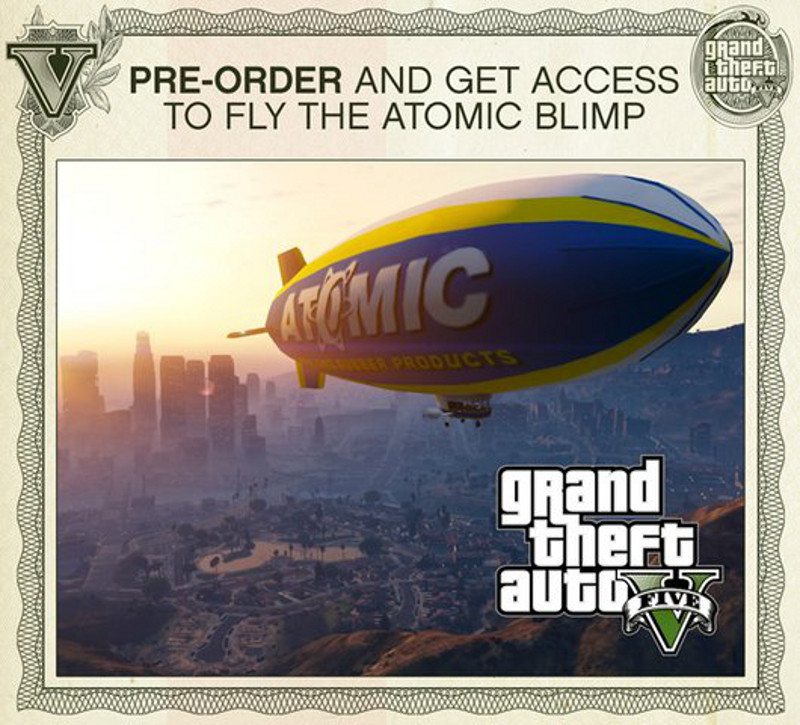 If you are planning to get the upgraded Special Edition you will get a couple of great extras! You will receive a collectible SteelBook with exclusive artwork. This special SteelBook features double-sided, never-before-seen artwork of Michael, Trevor and Franklin. Custom color and metallic treatments bring out the detail of the artwork created exclusively for this SteelBook. You will also receive a Blueprint map. This exclusive, additional 21.5″ x 26.75″ map displays a blueprint view of Los Santos and Blaine County. Cryptic markings indicate locations for fast cash and other points of interest for the up-and coming entrepreneur.
Not to forget the exclusive digital content, which will include:
1. STUNT PLANE TRIALS
Single player Stunt Plain Trials let you take on additional aerial challenges spread throughout Los Santos and Blaine County.
2. Special Ability Boost
Michael, Franklin and Trevor each has a unique special ability. With this boost, the special ability bar will generate 25% faster.
3. Bonus Outfits, Tattoos and More
Michael, Franklin and Trevor get bonus outfits in their wardrobes, character specific tattoos and tattoo parlors, and special deals from shopkeepers across Los Santos and Blaine County.
4. Additional Weapons
When visiting Ammunition stores in single player, merchants will have special weapons in their inventory available for free: the Pistol. 50, Bull pup Shotgun and melee Hammer.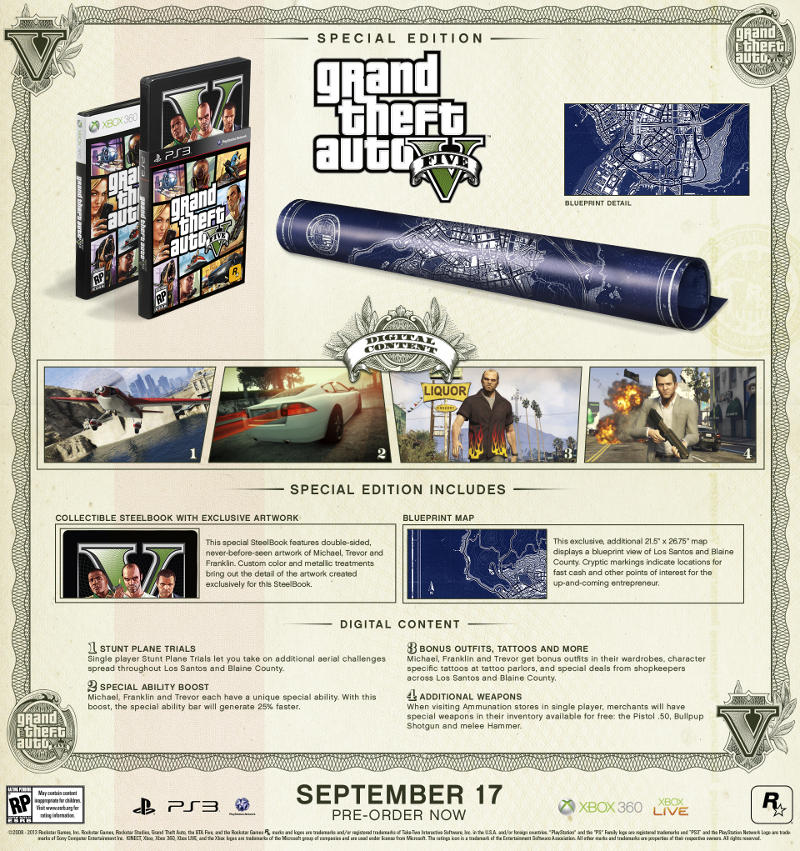 And if you are looking for the ultimate experience and going for the Collectors Edition you surely will get the ULTIMATE EXPERIENCE! On top of the things you get with the Special Edition you will also get a Grand Theft Auto V New Era 9FIFTY Snapback Cap. This exclusive New Era 9FIFTY cap features an embroidered Los Santos logo on the front, a stitched, black Rockstar Games logo on the wearer's left side, a Grand Theft Auto 'V' logo applied on the opposite side, and snapback closure for an adjustable fit. Also in the Collectors Edition you will receive a Grand Theft Auto V Security Deposit Bag with logo key. Inspired by the heists in Grand Theft Auto V this custom 10.75″ x 8.5″ money bag features a pop-up style lock and laser cut logo key to secure important items. the reverse side features a pressed Rockstar Games logo on the security mount with a framed ID window.
Collectors Edition Digital Content will include everything in the Special Edition but you will also have 2 additional pieces of content.
1. Unique Vehicles And Garage Property
Players will instantly receive a garage to store custom vehicles. In single player, the garage will be stocked with the 1930's style Hotknife hotrod and the CarbonRS sports bike. In Grand Theft Auto Online, layers will get the high-end Khamelion electric car.
2. Custom Characters For Grand Theft Auto Online
Get classic Grand Theft Auto characters to use within the Grand Theft Auto Online Character Creation System.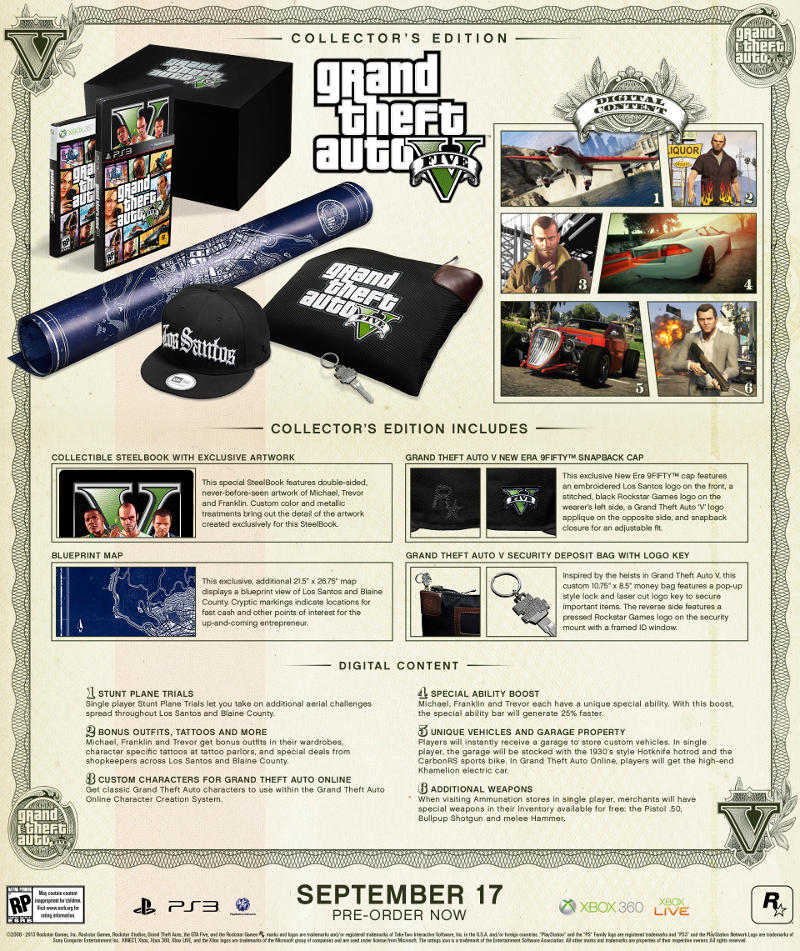 What version are you going to purchase? After reading over everything that is going to be offered I really can't decide which version I want, though I think I am going to go with the Collectors Edition. As always feel free to comment below letting me know what version you are hoping for, also let me know what you are most excited about for the new coming version of GTA5
Pre-Order pricing will most likely be $59.99 for the Standard Version, $79.99 for the Special Edition and a whopping $149.99 for the Collectors Edition. Due for release September 17th, 2013 for both PS3 and Xbox 360. PC Versions have yet to be informed on.