GTA 5 Bike Stunt is Incredible to Watch with a Grandstand Finish
---
---
---
Mike Sanders / 5 years ago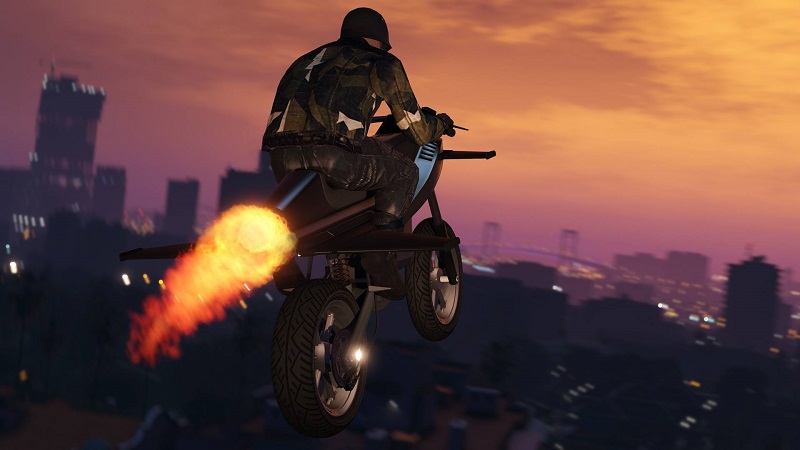 I could do that, I just don't want to.
For the vast majority of players in Grand Theft Auto 5, the height of skill is managing to pull off a flip on a bike. Maybe a double flip and spin if we're feeling lucky, but what popular YouTube GTA 5 stunt artist Ash Skyqueen pulls off is simply incredible.
In a recent video, Skyqueen pulls off at least 4 'threading the needle' style crane passes. In addition, she kicks the bike successfully off several buildings.If that wasn't enough for you, she manages to bail and land with some incredible style.
The Oppressor bike is available in GTA 5 online and basically, combines rockets and air maneuverability. It is, to the best of my knowledge at least, only available to those who participate in the cut-throat world of online play.
Frankly, after getting run over by the same guy in a fire truck 6 times in a row, the glamour of online play wore off a little for me.
If you are into the more traditional style on a bike in GTA 5, you might want to check out this awesome mod. Somebody painstaking (and rather better than you might expect) recreated Termination 2 in GTA 5.
GTA 5, the franchise just keeps going on.
It is amazing that how, after 4 years, GTA 5 continues to pull the fans. The vast majority of 4-year-old games these days are forgotten. Replaced if EA has anything to do with it.
Grand Theft Auto 5 does, however, appear to have that depth that keeps people interested. We recently reported how the mount Chiliad mystery had only just been revealed. Yes, it was aliens.
For something more recent, we recently showed how modders were attempting to re-create GTA London with pretty impressive results.
With over 10,000 subscribers, Ash Skyqueen is one of the most popular stunt artists in the GTA world. You can check out her channel here and her awesome stunt below.