Exquisite Hand-Written Walkthrough Found in Retro Game Box
---
---
---
Mike Sanders / 2 years ago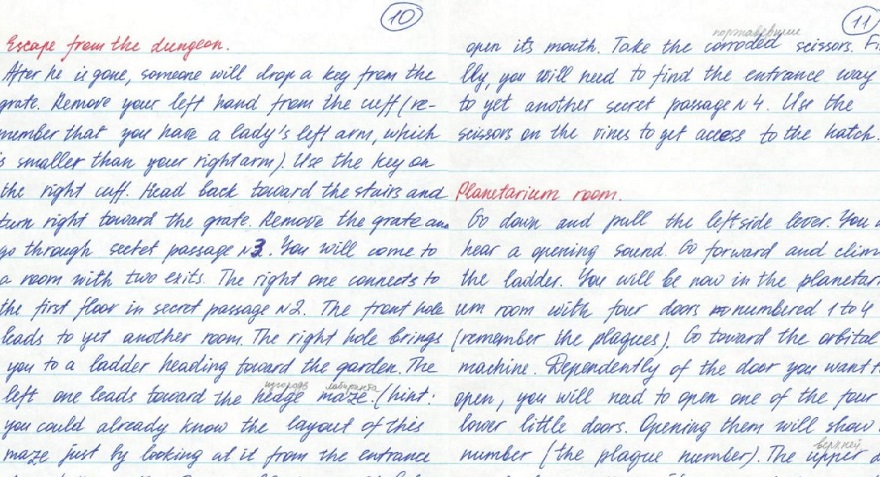 Gamers today are somewhat spoiled by the fact that if you get stuck somewhere in a title by a puzzle or mechanic you're having difficulties in figuring out, the internet is there, ready and waiting, to quickly provide you with a walkthrough to tell you exactly what you need to do or, perhaps, what you're missing. Given just how basic the internet was in 1995, however, let alone the fact that not many people had the facilities to connect to it at the time, if you got stuck in a game, you really only had two potential solutions. Hope that someone in the playground could help you, or risk the ire of your parents by dialling an '0891' phone number (UK readers will understand).
Following a new upload to Archive.org, however, we have something particularly special here and certainly well outside of the normal expected remits of a walkthrough gaming solution.
Walkthrough – 1995 Style – With Over 9,000 Penmanship Skills!
Following a post on Reddit, User 'Vadermeer' has relayed a story of how they found a 'big box' copy of 'Frankenstein: Through the Eyes of the Monster' in a local charity shop. A rare game no doubt (as are any big box title these days), but one largely only notable for including FMV cutscenes with Tim Curry. However, what they didn't expect to find is that when they opened up the box, a beautifully handwritten walkthrough was included that had presumably been created by the game's original (or at least last) owner.
Now, exactly why they made this walkthrough is unclear. Given the usual standards expected from the gaming community is not exactly high (and I'll freely admit my own penmanship skills are akin to a spider with ink on its feet running across the page), not only is this walkthrough in itself somewhat remarkable but also is the fact that in terms of handwriting, this is exceptionally neat to practically a caligraphy level!
What Do We Think?
Although the original owner has not (yet) been found, there is a part of me that sincerely hopes that with the game seemingly being sold or given away to charity, the person who had the copy decided to help out the next owner with this amazingly tidy, and surprisingly detailed, walkthrough.
If you do, incidentally, want to check it out for yourself, the current owner has uploaded this 'walkthrough' and you can check it out, in its full handwritten glory, via the link here!
What do you think? – Let us know in the comments!