High Performance Wireless PoE Access Point Released By TRENDnet
---
---
---
Gabriel Roşu / 8 years ago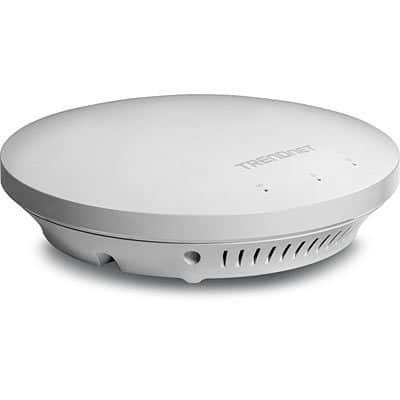 TRENDnet today announced the availability of the N600 Dual Band PoE Access Point, model TEW-753DAP, a business class PoE access point with a lot of features and dual band 300 Mbps Wireless N technology.
The TEW-753DAP has a white smoke detector shaped which allows it to blends into most environments and also offers the ability to turn off flashing LEDs to further reduce product visibility. A variety of installation scenarios are supported with Access Point, WDS Access Point, WDS Bridge, and Repeater modes.
Power over Ethernet (PoE) is also one of the key features of the access point, making it easy to install and reducing power consumption. It also gives the user the ability to choose between the two 300 megabit per second Wireless N bands. A steady 2.4 GHz band could be a suitable candidate for everyday work and activities, but if you also want the wireless to be reliable, a less congested 5 GHz band would be advisable. Both bands are supplied by a Gigabit Ethernet connection to maintain a high performance wireless connection.
The advanced features included in the TEW-753DAP Access Point are as following:
IPv6 support
A handy integrated AP scan feature
The ability to create up to 16 SSIDs
Eight system logs for network troubleshooting
Spanning Tree and SNMP support
Traffic shaping by allocating bandwidth to specific SSIDs
Thank you SPi World News for providing us with this information
Image courtesy of TRENDnet