HIS Radeon HD 6850 IceQ X Turbo
---
---
---
Andy Ruffell / 13 years ago

The radeon 6850 hit the market in October last year and was a big step up for AMD in regards to developing new technologies and harnessing older architecture by improving on its already successful reign.

This included improving on DirectX 11 technology whilst also pushing as much performance out of the card as possible whilst maintaining a low power draw. The 6800 series cards were all about performance vs power.

One of AMD's biggest partners in pushing the 6800 series forward are HIS, who offer some unique designs and higher clock frequencies when comparing to other brands on the market. This includes the HIS IceQ series cards which offer up some of the funkiest coolers pre-applied to the card and the Turbo edition cards which give that extra clock speed compared to stock cards.

HIS have now hit the market by storm with a new IceQ X cooler giving a "chilled" look style plastic design with the Turbo power giving higher clock speeds straight from the factory.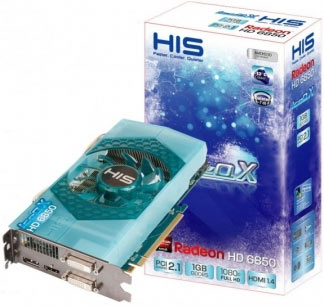 Specifications
[HR][/HR]
| | |
| --- | --- |
| Model Name | HIS 6850 IceQ X Turbo 1GB GDDR5 PCI-E DP/2xDVI/HDMI |
| Chipset | Radeon HD 6850 PCIe Series |
| ASIC | RadeonTM HD 6850 GPU |
| Manu. Process (Micron) | 40nm |
| Memory Size (MB) | 1024 |
| Memory Type | GDDR5 |
| Engine CLK (MHz) | 820Mhz |
| Memory CLK (Gbps) | 4.4Gbps |
| Memory Interface (bit) | 256 |
| Power Supply Requirement | 500 Watt or greater power |
| Max. Resolution | 2560*1600 |
| Bus Interface | PCI Express x16 |
| Display Port | Yes |
| HDMI | Yes |
| DVI | Upper Single-link DVI-D + Bottom Dual-link DVI-I |
| VGA | No |